What Marketing Students Need to Know About Getting That First Agency Job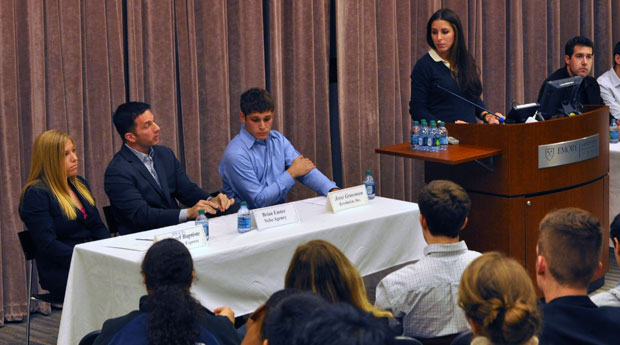 Brian Easter, CEO of Nebo Agency, had the opportunity last evening to speak to marketing juniors and seniors at Emory University's Goizueta Business School. He joined a panel of distinguished companies and agencies who talked about their businesses and what they're looking for in an entry-level employee.
Talking to the students was a blast. Their enthusiasm and talent was on full display. They largely have an understanding of the business world they will soon join. Their questions revealed some myths and misperceptions about what is and isn't important in finding a job and working for an agency. Some common themes emerged in these discussions that we'd like to share with a wider audience. These tips should be helpful for marketing students thinking ahead to their first job.
Stop Worrying THAT Much About Your GPA
GPA matters – but not as much as you think. Many students asked what kind of GPAs companies wanted in their hires. It's certainly an important metric to have on your resume, and having a 2.0 GPA will look bad. But worrying too much about a 3.8 versus a 3.6 entirely misses the point of what kind of people companies want. Ambition, drive, interest, curiosity, passion, knowledge about the industry, knowledge about the company, and personal enthusiasm have a big impact on who employers eventually choose to hire. Someone with a lot of energy and curiosity who demonstrates an ability to learn and grow may be more appealing than someone with a high GPA who shows few of those characteristics.
It's a "Show Me" World
Of course, character traits alone won't cut it. As Brian pointed out during the panel discussion, it's a "show me" world. Competition is so fierce for jobs that you cannot just look for a job and do nothing else. If you're into web design, then design websites. If you're into copywriting, then make sure you have a blog and publish regularly. If you're into search marketing, work on projects related to search engine optimization or analytics. Unemployment is no excuse for failing to rack up experience in your field. Even as you look for a job, work on projects pro bono, through volunteer efforts, and for your own benefit and skills. It shows employers you're sincerely interested in your field and self-motivated.
Pay Attention to Trends, But Don't Forget Principles
Students were naturally curious about marketing trends including smart phones, iPads (and other tablet computers), and gaming. While staying up on technology is good, some basic timeless principles will ensure that students don't just get caught up on the technologies. For example, smart phones and iPads need good apps, which requires great content and user experience. Integrating gaming into marketing requires creativity, understanding one's audience, and business relevancy. Creativity, critical thinking, user experience, and great content always apply – master those and the details (and technologies) will follow.
Be Open to Opportunities
Life (and one's career) does not always go as planned. The more restrictive you plan out your goals, the more you'll exclude exciting, skill-stretching opportunities. It's good to understand your core passion and talent, but be open to unusual companies, job responsibilities that go beyond your comfort zone, or learning additional skills (e.g. writing, communications, project management, etc.) that might not seem to fit into your core competencies. An oft-heard platitude from senior marketing executives is that you need to "understand the business." Perhaps a better way to state it is to "understand the bigger picture." The more you can understand the wider world around you and what makes it tick, the more valuable you are to employers because you understand how your skills fit into the bigger picture.
Network! Network! Network!
If students are not already networking while in college, it becomes absolutely essential post-college. There is no excuse. That means networking while looking for a job and once you're already in a job. The days of just shooting your resume out to job sites and HR departments is over. Find organizations and associations where you can network with people in your industry (such as Emory's alumni network, the Technology Association of Georgia, Atlanta Interactive Marketing Association, American Marketing Association, and others). Build a LinkedIn profile, add connections, and reach out to people in your field or at companies on your target list who may help you in your job search. While networking, be authentic and real. At the end of the day, even after your track record looks good and you seem to have the right attitude, appearing relaxed, real, and honest while networking with prospective employers will make you stand out.
Overall, Brian came back inspired by the students he met. The future indeed looks bright for interactive marketing! And for students reading this post, good luck (and feel free to let us know if you're interested in working for Nebo Agency).
A big thank you to Anne Margaret Kocurek and Andy Rabitoy for helping to arrange Brian's participation in this panel discussion.