Listen to Your Fans: An Interview with Jim Smith, Atlanta Falcons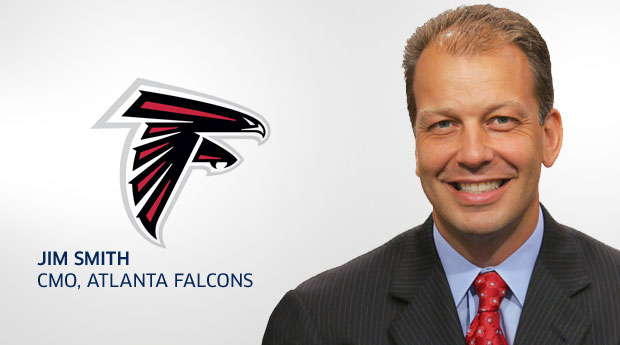 In honor of this week's NFL Draft, Nebo recently interviewed sports marketing veteran Jim Smith. Before stepping into his role with the Atlanta Falcons in 2004, Jim was President/General Manager of the Major League Soccer's Columbus Crew, held sports marketing positions at Ohio State University and the World Wrestling Federation, and worked in minor league baseball. Jim's impact on the Atlanta Falcons has been significant, ranging from creating a new standard for the Falcons brand to developing the award-winning "Rise Up" campaign featuring Samuel Jackson. Jim spoke to Nebo about the impact of interactive marketing on the Falcons.
You've been with the Atlanta Falcons in a senior marketing role since 2004. How has your approach to interactive marketing changed over that time?
In my eight years, I've seen a lot of change. I started with a digital staff of two – a webmaster and a copywriter. As the digital space has developed (and subsequently fragmented), we've evolved quickly. Today, you have to be in multiple spaces online to reach all segments of a growing audience. We're now reaching different people compared to who we reached in the past.
We're still very committed to website and digital message boards. It's a great space to hear the concerns of Falcons fans and their overall frame of mind regarding the team. From a traditional marketing standpoint, understanding that frame of mind and being able to address our customer's questions and concerns from a campaign and messaging standpoint has been quite positive for us.
So social media is probably a natural extension of listening to fans?
We've always used social from a listening standpoint, but we're now utilizing it more to communicate back. We deliver a message, create posts, and engage, but primarily in response to what we're hearing. Digital marketing has helped to evolve customer service and experience. We see the customer service and experience as a very important part of our brand, and it's really part of our DNA. One of the core values of our brand is to listen and respond. Using these social platforms as a way to do that is fantastic. Part of an overall brand presence is to make sure traditional messaging is carrying through to social.
We use Twitter, Facebook, Pinterest and Google+. Today, we find ourselves needing to cover all social spaces. While there is some duplication, understanding where different segments of our target market are hanging out is crucial. People on Facebook are not necessarily the people on the Falcons message boards. We use the team's website as a place to answer questions from season ticket holders. Through a service called Get Satisfaction and our live online chat feature, we are able to quickly and efficiently respond to our customers. That saves us time so that we're not answering the same question from 400 different people, and we're able to reach everyone with that question in one response on the right medium.
What are your online goals and objectives today?
Every year, we define what we want to accomplish online - whether it's growing our digital presence, growing our interaction, or looking at other goals. Data is important, but what we're really trying to do is enhance the engagement with our customers. Engagement happens while you're developing fans. We have a limited number of tickets to sell, but we have a nearly unlimited number of fans we can develop. That is our ultimate goal. Engaging people using unique information and content is a way for us to engage deeper and engage longer in an effort to develop more fans.
How has the convergence of social and mobile impacted those objectives?
From a tactical standpoint, this convergence has allowed us to enable social more from mobile devices (e.g. using our mobile app). This is critical. We're taking our core fan and giving that person a vehicle to express their experiences at our games as well as allowing fans who aren't at our games to interact wherever they are. You can be at your kids' baseball game or at home watching a Falcons game and still be able to interact with others who are live at the game.
The second screen at home and at the stadium is very important. We've seen the amount of time people spend watching games at home and simultaneously doing something else dramatically increase. For example, you might look up player stats while watching the game. Having the ability to provide that information to fans and deliver that information is critical. But here is the big challenge: If our customers can do all of that at home, how can we create a unique experience at the game for our ticketholders?
This challenge is something we are continuing to work on. Football has a tribal element to it. Team fans generally feel like they're part of one big family. So, how much do we want to encourage the use of the mobile device at games, which takes away from the tribal experience of being with other fans? The real interaction at games is why many people go to games. If they're interacting with other people on their mobile devices, they're ultimately having an experience that they can have anywhere – one that is not unique to the live experience. As a result, we're constantly refining our strategy to balance the mobile experience with ensuring that people still attend the games in "real life."
How do you incorporate SEO and paid search into your advertising efforts?
We look at SEO and paid search more as micro-goals. We don't invest a lot in paid search. From a brand perspective, our website is a destination in and of itself. However, we do look at SEO opportunities for our ancillary businesses (i.e. retail and physical therapy).
What interactive marketing trends do you feel will impact you the most this year?
I see four major trends - enhanced content creation, gamification, continued evolution of the second screen and data management - as major interactive marketing trends that will have a significant impact on our digital platform in 2012.
With social followings on Facebook and Twitter on the same scale as traditional web properties, the importance of creating compelling, unique and channel-appropriate content has never been greater. Brands are best served treating these new social mediums as content and engagement channels, rather than advertising zones. Any high profile brand is well beyond the establishment and experimental stage when it comes to social. To that end, our focus this year is on further engaging and retaining our existing audience.
We're embracing the "gamification" trend this off-season, creating programs on Facebook and Twitter that reward those fans who are most active and invested in the Falcons. From their inception, social platforms have provided a way for us to quickly gather real-time feedback on ideas and products, but we've seen the tools for managing and measuring this type of data dramatically improve over the last year. To that end, we're able to be much more granular with our monitoring, and we're able to create regular "buzz" reports for many different aspects of our business.
The second screen definitely has our attention. Somewhere between 15 and 20 percent of our overall online page views now occur via mobile devices (phones and tablets). Any new piece of content we create for our web properties must be optimized for viewing on the major mobile operating systems. With some recent studies suggesting that 86% of tablet users and nearly 80% of U.S. smartphone users use their devices while watching television, we have to adapt to this type of consumption. We're exploring ways to integrate the social conversation within our preseason games via our local broadcast partners this year. And our mobile app offering will be upgraded to cater to this "companion-viewing" type of experience, both from a content and advertising/promotion perspective.
Finally, with many of our fans consuming our brand via social and/or mobile platforms, we're actively involved in trying to unify our data and understand how metrics (e.g. on a social site) compare to more traditional dot-com web metrics. We'd love to be able to consolidate our data into a "digital dashboard" that gives us a wide-ranging snapshot of our online reach.