Juneteenth: A Day of Celebration & Confliction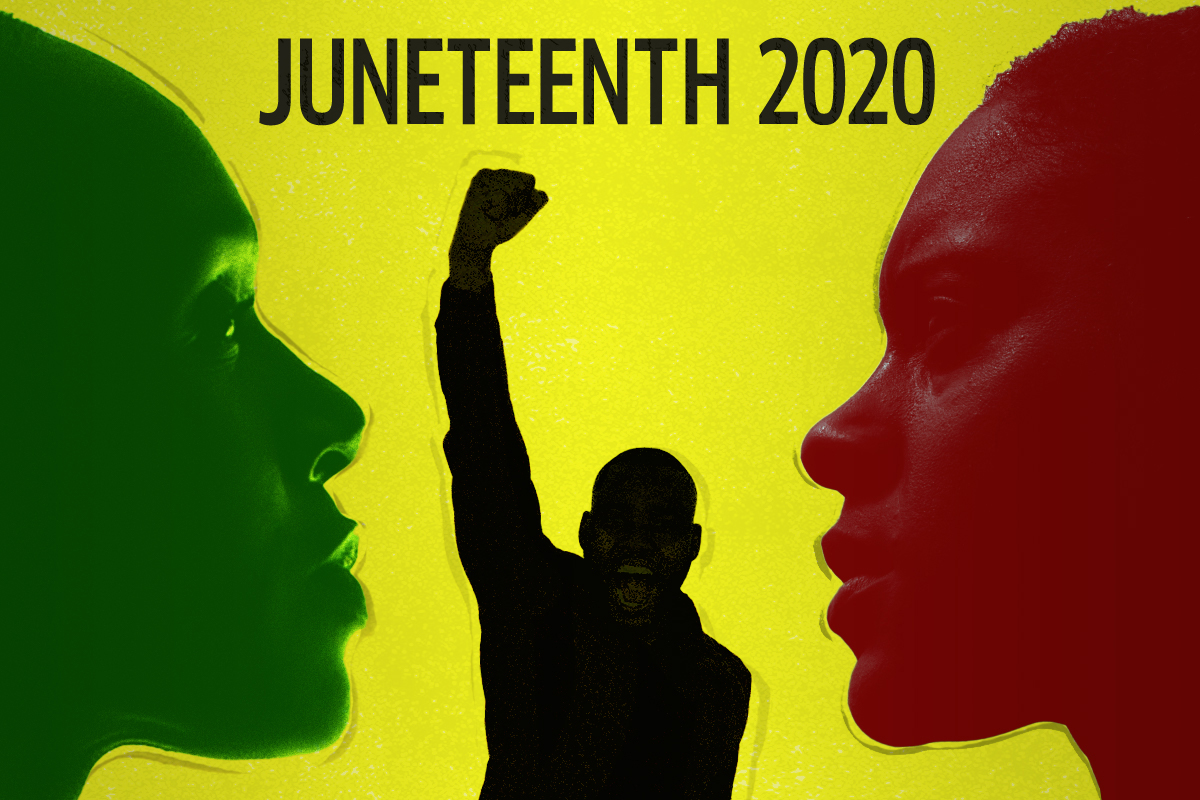 Juneteenth marks the end of slavery for African Americans on June 19, 1865. This holiday is a time for both celebration and reflection, an opportunity to look back at our past as a country, to assess where we are in the present and to imagine a new future.
To commemorate the end of slavery during this historic time, we put together a brief history of Juneteenth, as well as a wealth of resources about systemic racism and how it continues to operate in America today.
Why We Celebrate Juneteenth
The Emancipation Proclamation was issued on January 1, 1863, however, it would be over two years before all enslaved Africans were free.
On January 31,1865, Congress adopted a new constitutional amendment prohibiting slavery. But it wasn't until several months later, on June 19, that Major General Gordon Granger and a band of Union soldiers would arrive in Galveston, Texas, with news that the Civil War had ended, bringing people a form of freedom. Freedom from chains.
By the time slaves were freed on that first Juneteenth in 1865, it had been 246 years since the first ship with enslaved Africans arrived in Jamestown, Virginia, from West Africa in 1619. In that time, generations of people lived and died, were tortured, stripped of language and bred like animals. Slavery was the fabric of our economy and our culture. Slave-backed mortgage bonds fueled the economy. Meanwhile, the combined value of enslaved workers was more than that of all the railroads and factories in the United States. The corporations that profited from the enslavement of African Americans still exist today. Many African Americans still carry the last name of slave owners. This is the legacy of slavery in America.
Today, we celebrate Juneteenth to remember the lives lost and the pain endured under slavery, but also to acknowledge this major step toward freedom.
In many ways, it feels like we still have a long way to go before we are truly free and no longer face oppression. This is especially true now as protests continue, and many feel frustration and anger about the killing of unarmed Black men and women at the hands of law enforcement.
We are generations removed, but the impact of slavery and systemic oppression are still prevalent today. It is important to recognize that on this day, physical chains were broken, but systemic racism and symbols continue.
Before writing this blog post, I thought carefully about what I could add to the discussion. I don't speak for everyone who is Black — because we are not monolithic — but I do support everyone that is Black. (Thanks to my wife for helping me figure out exactly what I wanted to say in the previous sentence.) So I tried to include some of the best work and articles that Black people and allies have written and researched, on various topics in relations to how systemic oppression exists in our society today.
Below are some resources for education and reflection on this Juneteenth and beyond.
"Systems of oppression haven't been abolished, they are constantly redesigned."
-Slow Factory Foundation via Instagram
Resources for Learning More About Systemic Racism
What Is Systemic Racism?
If you want to understand how racism functions in America today, you need to look at systemic racism. This video provides an explanation of systemic racism and the factors outlined below affect outcomes for Black people in America.
Housing Discrimination and Gentrification
In 1968, the Fair Housing Act "prohibited discrimination concerning the sale, rental and financing of housing based on race, religion, national origin or sex." However, discrimination based on those characteristics still exist today.
The resources below delve more into issues regarding housing and gentrification, and especially their affect on Atlanta.
Education
In 1954, the Supreme Court ruled that segregated schools were unconstitutional in Brown versus the Board of Education. Even still, it wasn't until the sixties that many colleges were finally desegregated, including UGA in 1961. My mother was in college during these years. I am one generation removed from not having access to schools because of the color of my skin.
Disparities in our education system continue to disproportionately affect people of color. According to one 2016 study, a Black student with the same scores as a white student is only half as likely to be placed in a gifted program.
These resources discuss issues in education that impact Black youth today.
Medical Experiments on Black Bodies
It is common knowledge that in the early 1900s, a majority of white people felt superior to Black people. But many don't know about the medical experiments historically conducted on African Americans.
These articles detail inhumane health experiments conducted on Black people in the last century.
Law Enforcement
The Black Lives Matter movement has brought unprecedented attention to the violent repression of African Americans by law enforcement. Today, Black Americans are two and a half times more likely to be killed by police than white Americans.
The Way Forward
As I assembled this list of required reading, a quote came to mind:
"It's alright to tell a man to lift himself by his own bootstraps, but it is a cruel jest to say to a bootless man that he ought to lift himself by his own bootstraps."
-Dr. Martin Luther King Jr.
This quote comes from a Sunday sermon given just four days before his assassination, called "Remaining Awake Through a Great Revolution." In it, Martin Luther King spoke about the Emancipation Proclamation — about how slaves had been freed, but they had not been given any land or resources to begin their new lives of "freedom." Because of racist policies and systemic discrimination, this lack of resources continued to affect African Americans hundreds of years later, when MLK delivered this speech — and it still continues today.
If we are to see a future where we are all truly free, we must begin by correcting the unequal policies and systemic injustices that give Black people an unfair start. This Juneteenth, that future of fully realized freedom is what I'll be thinking of.