Hide Your Footballs, Tom Brady's Coming to Town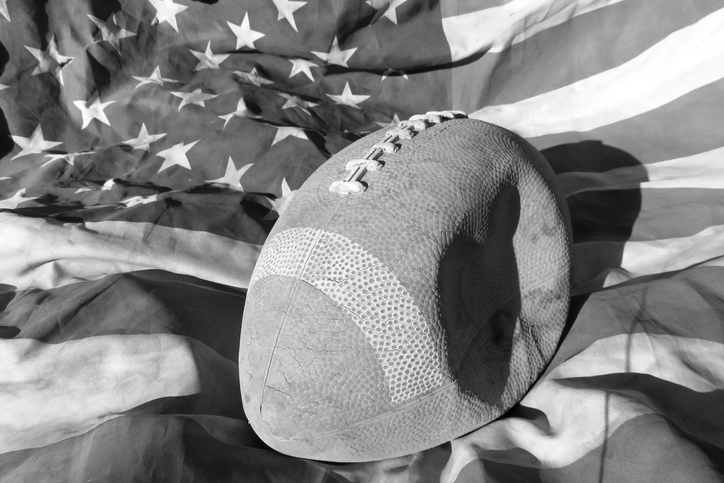 If you follow American football, or the news, or literally anyone on any social medium, you know what's happening in Atlanta this weekend.
Our precious city in the trees is being invaded by throngs of inebriated Bostonians in TB12 jerseys, here to pilfer our bars' supplies of Sam Adams and shout "28-3" in Waffle Houses from Adairsville to Zebulon Rd. These outlaws will stop at nothing until everyone in the state talks like Ben Affleck in Good Will Hunting.
Also here to make their presence felt are the much-less-rabid L.A. Rams fans. A loosely-organized conglomeration of bitter Missourians, Eric Dickerson, and the few surfer/vegan types who realized a pro football team moved to Los Angeles, these Rams fans represent an extremely confusing fan base. A timely no-call against the Saints helped them on their way to Atlanta, and our city is safer for it.
Off the field, the two teams have very little in common. The Patriots represent a unified, alcoholic force of Tom Brady devotees, while the Rams have yet to develop an identity for themselves.
On the field, the matchup is similarly diverse. The Rams feature an incredible depth of talent at the skill positions and a truly fearsome defensive line. What the Patriots lack in electricity, they make up for in grit, experience, and superior signal-stealing and ball-deflating coaching.
One thing these teams have in common is they, unlike the Atlanta Falcons, won their respective conferences and made it to the Big Game.
This leaves Atlantans pondering a difficult question — who do we root for?
The Lesser of Two Evils
Of course, most of us will be watching primarily for the commercials on Sunday night. But what about those pesky moments in between commercials? Which players do we hope carry the ball further, for more points?
Let's start with some obvious storylines. Two years ago, the Patriots were playing for the same crown against our hometown Falcons. In order to comply with NFL regulations and preserve my delicate sanity, I will not provide an account of that game. I will, however, note that Falcons fans have a very obvious reason to root against the New England Tom Bradys.
If that hasn't driven you to buy a seat on the surprisingly-roomy Rams bandwagon, your character is admirable. You recognize greatness when you see it and aren't totally turned off by the Pats (*shudders*). Witnessing history is definitely a fair argument. A win Sunday night would launch Brady into an echelon of his own with six championships — the most of all-time. This sentiment is understandable and, while I will attempt to dissuade you, your position is defensible.
Maybe hometown loyalty is your thing! The Rams feature two former UGA players, Ramik Wilson and Todd Gurley, and a Georgia-bred coach in Sean McVay. The Patriots, on the other hand, feature three UGA players, one Georgia Tech player, and one Georgia State player, giving them a bit of an edge as far as numbers go.
Serve Up Some Carl's Jr.
What numbers don't capture, though, is the TG3 X-factor. People know him by many names — Todd, Carl's Jr., Mr. Gurley, my close personal friend Todd, etc., but he is officially known as Todd Gerome Gurley II. The Patriots feature Sony Michel, another incredibly talented and admirable UGA running back, but he doesn't quite match up here.
Gurley is one of three or four running backs who have a legitimate claim to the "Best in the Game" title, and he's the type of person who just makes you happy to be a real, live human.
He jumps over people!
He loves cats!
In my book, no volume of college football players from our state could outweigh this heavyweight (how many people can run like that at 231 lbs?). He's a miracle of modern sport and embodies the pinnacle of athleticism and sportsmanship.
Deflating an Empire
Maybe my ode to the man they call Carl's Jr. isn't enough to change your opinion, and maybe you still want to root for the New England Patriots. The lying, cheating and general skullduggery aren't enough to swoon you away from the Evil Empire, and one Todd Gurley isn't changing your mind. That's fine with me, your support is yours to do with what you please.
I will leave you with this, though, sports fans. These New England Whomevers have appeared in five of the last eight "Big Games", and nine since 2002. I, for one, am done with this virtual monopoly on sustained success.
I hear you, the league has the same rules for everyone, there's a "salary cap" and "playoffs" and "referees." The Patriots just figured out a way to make the most of an "even" playing field. I absolutely get it. That doesn't make me want to root for them, though. I'm mad!
If you feel how I feel, join me in this peaceful Rams revolution. I'm not asking for money, though I'll take it if you have it. If you're attending the game, all I need is your word that you will make at least a little bit more noise than the Bostonian neckbeards who shelled out a whole mess of lobster to buy tickets to see Tim Brody in the flesh.
Even if you aren't at the game, you can still support the cause. Remind our New English guests of all the Gates they passed through to get to this point, from Spy-gate to Deflate-gate to Ugg-gate (made that one up). Show them this Twitter thread. Show them highlights from a certain 2018 game against the Dolphins.
Show them whatever you want, just please make sure to show them to the airport first thing Monday morning.
Go Rams.