Groundhog Day: A Strange Holiday That Should Have Stayed In The 1800s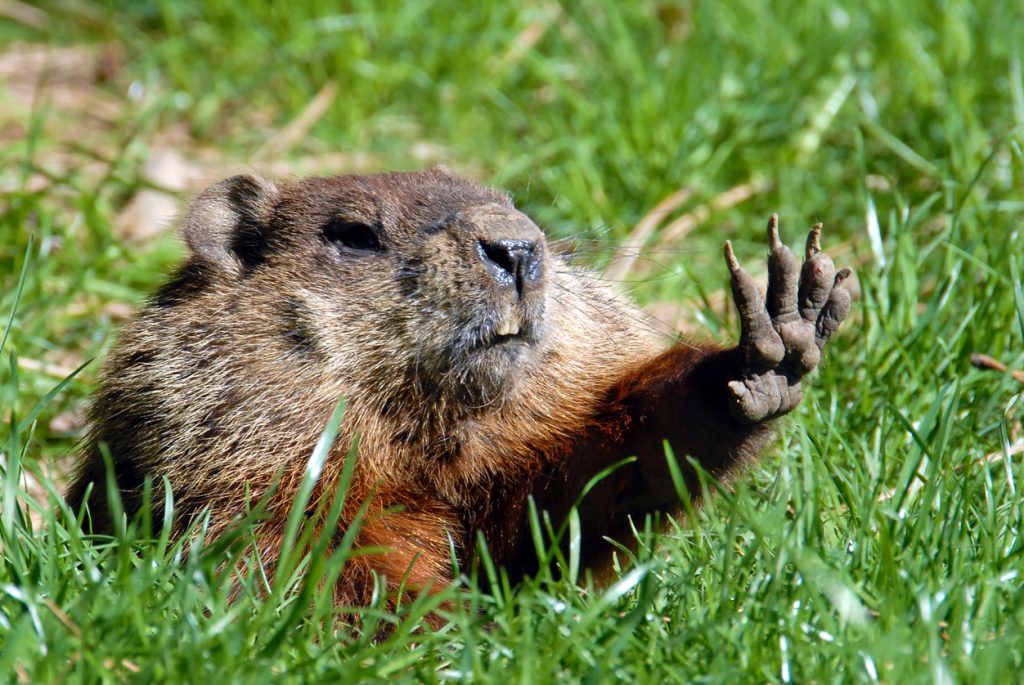 I'm just going to come right out and say it.
Groundhog Day is bullshit.
Look, I get that it's a longstanding tradition that dates back to the 1800s and it's based on a fun little bit of superstitious lore. But haven't we moved past all that as a society?
Think about it. An old white man from The Inner Circle of the Punxsutawney Groundhog Club holds a rodent up in front of the sun, interprets the "Groundhogese" said rodent speaks in order to relay his thoughts on future weather patterns, and then makes sure ol' Phil gets his yearly dose of the "groundhog punch" that has kept him alive for the last 130 years so he can keep repeating this pattern every February 2. And a ton of grown adults turn out every year to watch it all go down.
Sure, speculating how close we are to spring is way more fun than reading about how close we are to a human-made global catastrophe. But if it's not going to be a real holiday where I get the day off from work to properly celebrate or mourn the outcome with some solid day drinking, then I ask you: What is the point?
We know that no matter what happens with that furry rodent and his shadow, spring will come when it damn well pleases. And it'll be because of global warming or changing wind patterns or the rotation of the earth or Jupiter being in Aquarius or something, anything, slightly more scientific than a woodchuck and his supposed dislike of a dark spot on the ground.
Don't get me wrong, I think groundhogs are kinda cute in a weird woodland creature sort of way. And I love me some Bill Murray. But in the grand scheme of things, I'm not sure why this holiday exists. And I think the only thing more ridiculous than my mother sounding genuinely concerned that today's forecast called for sun, and thus the likelihood of a shadow appearance was higher (love you, Mom), is that articles like these also exist.



As a marketer, and someone who routinely works with brands that offer sales and promotions, I'm appalled. Maybe even a little nauseated. And I'd love to say these are the only three articles you'll find, but there are 555,000 results in Google for "groundhog day marketing."
I think we can do better.
This is why people don't trust brands — they use any and every excuse to churn out a sale and make a buck. Like car companies that consistently run a promo even bigger than the biggest promo ever they just ran last month. Or clothing stores that follow that first article's advice and decide to bring in a live groundhog for the day to entice customers to stop by. (I'm hoping no one has actually done that.)
Companies should be connecting with customers in a genuine way — not relying on gimmicks and games to hit a sales quota. In general, brands try to use holidays as a legit excuse to sell more stuff. But unless you're Publix and it's Thanksgiving or Christmas and you're making me cry with your sappy, family-oriented commercials, you should probably look for another reason to put yourself in front of people. Especially if the holiday you're "celebrating" is made up and/or stupid. You guys already know how we feel about Black Friday, so this mindset should come as no surprise.
But, if companies are going to insist on running sales for any reason under the sun, they should at least capitalize on the things people actually care about these days. Here are some helpful ideas:
TAKE 40% OFF ANY ITEM SINCE YOU'RE PAYING 40% MORE FOR AVOCADOS NOW
ENTER CODE JAYZ4PREZ FOR 10% OFF
SNEAK YOUR EMOTIONAL SUPPORT PEACOCK THROUGH AIRPORT SECURITY WITH OUR PEACOCK TOTE — FREE WITH ANY PURCHASE OVER $50
USE CODE TIMESUP FOR FREE 2-DAY SHIPPING
IN STORE ONLY — VOTE FOR YOUR OSCAR PREDICTIONS FOR A CHANCE TO WIN A NINTENDO SWITCH
I'm still pretty certain we've got another few weeks of frigid temperatures ahead of us no matter what. A March snow day is never that surprising, even in Atlanta. And no rodent's shadow or the associated online savings is going to make me hate the cold or the remaining weeks we have left to endure it any less.
But a free peacock tote for my emotional support peacock? Now that would make me a little more cheerful.