Why Eating a Ghost Pepper Makes Business Sense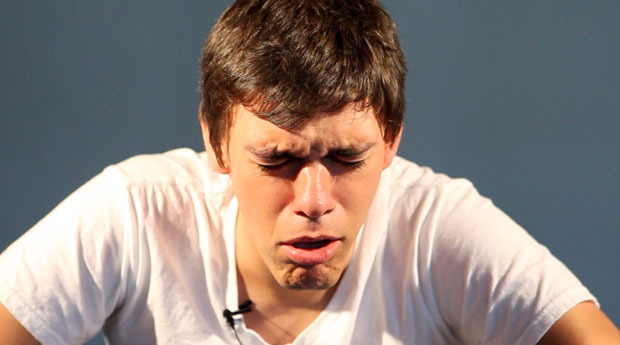 In late July, a few weeks after I joined Nebo Agency, I witnessed my colleague Chris Allison eat a ghost pepper – the hottest pepper in the world – in front of the entire Nebo team. Nebo called it the Ghost Pepper challenge. The team filmed it, took pictures, and watched in amusement and sympathy as Chris rolled around on the ground dealing with the effects of the fiery pepper. As the ghost pepper's intensity waned over the next hour, he met the challenge and won $1000.
Many companies might look at the Ghost Pepper challenge as a waste of time, a distraction, unprofessional. Or it might be an idea that flits through the mind ("Wouldn't it be funny if…?") but never happens because there is just too much work to do.
Even with heaps of thought leadership about knowledge-based business settings (Google, Apple, and Silicon Valley influenced creative work cultures), you'll often hear the following protests when staff recommends Google-izing a company's culture:
No, it'll be too distracting.
There is a certain prestige we must maintain.
Mr. So-and-So needs his own office.
But cubicles keep people focused.
We're billing by the hour, so we can't waste money.
We don't have time for that.
The employees don't seem into that.
That's not following process.
Obviously, you want to avoid legitimate distractions, consider office politics, and respect budgets. From my experience though, these are often used as fear-based excuses to ignore the human side of work and what actually makes people happy and productive in a work environment.
Nebo's company culture works. We've grown every year. Hired every year. Never laid anyone off. Grew from 2 to 32 employees over 7 years. Over 60 awards. Made it to the Inc. 5000. Nebo's company culture is an integral part of that success.
Now that I've seen the Nebo magic at work for almost three months, here are my reflections on four key aspects that most help lighten up and improve a company culture.
Get Rid of Your Private Offices – That Means Everyone
I know. You work hard all of your life. You're rewarded with an office. Privacy! Your own space! Your own domain! I've had my own office in previous companies. It feels good – sort of. But I've found it also leads to disconnection from my team, a false sense of prestige and ego, and a waste of space. At Nebo, we're in the trenches with each other. Three groups of people: design, development, and search. Interns, directors, and founders of the company all sit in the same room. We're in it together.
You protest, "But sometimes it's hard to concentrate with people around!" At Nebo, we put on headphones, sit in our quiet studio, go to Octane Coffee (which, really, is still working with people around), or occasionally work from home if intense concentration is required. Otherwise, we're always staring at each other, talking to each other, and collaborating with each other. I also know I'm more on my game knowing the people around me are working and depending on each other. Compared with past companies, I now feel more like I'm part of a team than if I was by myself all of the time.
And no – cubicles don't count. Give everyone a desk and make them all stare at each other.
Do something fun on Friday – or any day!
At Nebo, we enjoy ourselves on Friday. Sometimes we bring in food to cook. We might BBQ using the Nebo smoker. Sometimes we have Finer Things Friday where we'll enjoy fine meats, cheeses, crackers, and wine. We always have Beer Friday where we buy unique beer for people to enjoy in the afternoon. We invite all Nebo employees to participate in a Turntable session, playing our favorite music for each other.
By contrast, I have worked at companies where one day blurs into the other. People either work in their office or cubicle. They focus on work and worry about getting home. Stress builds over time, and work gradually becomes numb and boring. Fun events help release tension, encourage socializing, and increase morale. At Nebo, many employees look forward to Fridays. And not just because it's the end of the week.
Get together and celebrate…everything!
At Nebo, we celebrate everyone's birthday by getting a cake (or some tasty equivalent) and spending 20-30 minutes singing happy birthday, eating cake, and socializing. Over the top when you have 32 employees? A waste of time when it interrupts a day? Tell that to the employees who blog, Tweet, and talk about these experiences. As one of our employees (who works in San Francisco) said in a Facebook post: "So thoughtful - my Nebo colleagues Skype video called me to wish me happy birthday! Thanks guys, I hope the cake was tasty." When employees work extra hard, we celebrate. When new employees join, we celebrate. When employees move on, we celebrate. Do you celebrate your employees?
Do bizarre and unusual things
Keep your employees surprised and amazed. It doesn't have to be expensive or time-consuming. But if employees feel the workweek holds spontaneity, excitement, and adventure, they will have a tendency to like their work environment. If you like your work environment, you will want to stay…and work. At Nebo, here are the things that have surprised and delighted me in just three months:
One or two adventurous souls pick random places for lunch and bring out various members of the team to socialize.
The team BBQs on the Nebo smoker and we all have lunch together.
One of our employees successfully met a ghost pepper challenge (see above).
I rode a homemade hovercraft made with an air mattress and a leaf blower.
When employees are spontaneously delighted, they're happy. We tell our friends. Those friends wished they worked at Nebo. These stories help recruit more talented people. More talented people help us produce better work. Better work produces better sales and more revenue. Interesting how silliness and spontaneity can affect the bottom line!
As I near three months at Nebo, my experience has not only challenged me professionally but also I feel my company understands that life is not all about work. It's when companies lose sight of their employees' humanity that workplaces gradually become toxic. Management wonders, too late, why they cannot keep or recruit talented people. In the modern workplace, it's alright to eat a ghost pepper or two. And celebrate.
(Tune in next week to see the ghost pepper video!)