Deck Your Desk: Designing a New Nebo Tradition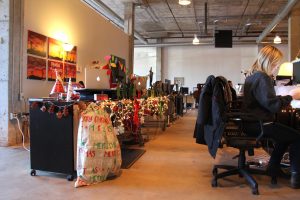 For a 12-year-old agency, Nebo sure has its share of myths and legends. Of course there's Neboween, the most sacred day in our cultural calendar, but there's also the beer goat, impromptu Ping-Pong tournaments and the time Hot Pockets were ordered en masse at the W Hotel after a particularly "festive" holiday party.
When you become part of this insanely talented group of people, there's no real initiation rite. Still, the stories seep in day after day, until you know all about Texas Pete, the beer-and-donut eating contests and the time a developer brought gasoline to an office gift exchange. As a still newish employee, it's all a little intimidating. How exactly does one become part of Nebo history?
For me it all began in early December, when I strung a sad strand of plastic lights above my monitor. Add in a silly putty snowman and a chat with fellow copywriter Chelsie Buckley, and the first-annual Deck Your Desk contest was born!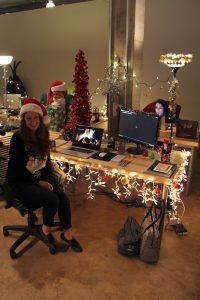 We sent out a festive, emoji-filled email, secured a $10 trophy budget and began adorning our desks with icicle lights, tacky tinsel and gilded ornaments. We were feeling the spirit, but the rest of the office seemed skeptical about the whole thing. As a holidork of the highest order — a cross between Olaf and Will Farrell in "Elf" — I was sadder than Frosty the Snowman melting in that locked greenhouse.
But then the Nebo magic happened.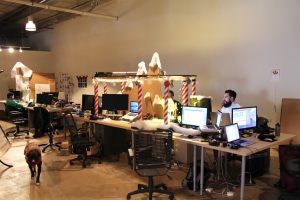 The design team, in their infinite creativity, began constructing an elevated alpine railroad encircling their desks. You heard that right — it's a freaking train and it actually works!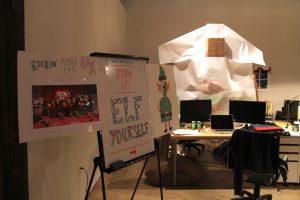 Inspired by the design team's enthusiasm, or perhaps the allure of the still-mysterious prize, the office began to glow. One team brought in a Christmas village, UX erected a gingerbread shack and the SEO team hosted a cookie frosting station.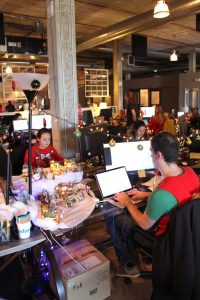 I can still remember the exact moment when my skeptical, Grinchy heart grew three sizes. I was busy typing at my tacky, tinsel-strewn desk when a five-foot Stormtrooper began to rise from the pod behind me. Looking around at the lights scattered throughout the office, I knew then that a new Nebo tradition was born.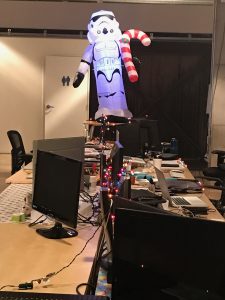 Of course the rest of us were no match for the design team's epic trainscape. After losing to Chelsie's Party Parrot pumpkin during Neboween's annual carving event, the artists were hungry for the win — though they seemed underwhelmed by their gingerbread cookie jar trophy.
Walking around the office on our best-ever Ugly Sweater Day, organized by email extraordinaire Julie Marks, all that tacky embroidery seemed right at home among the lights strewn from desk to desk. In moments like these, it's easy to see why Nebo's culture sets it apart from the rest.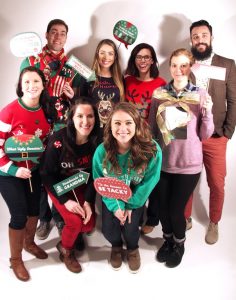 If Neboween is any guide, next year's Deck Your Desk will be even bigger, with more garland, more lights and even more animatronics. Maybe we can even convince Santa to bring us a better prize. Perhaps a leg lamp or a weekend stay in the Kevin McAllister suite at The Plaza.