We Choose ATL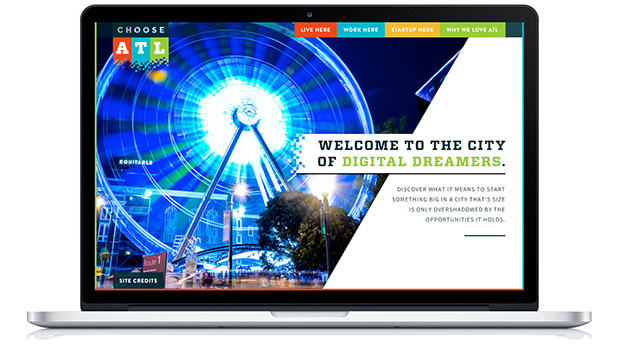 This city has given us a lot. We first started Nebo in a third floor walkup in downtown Atlanta – on Mitchell Street to be precise. The rent was $925/month. It had big windows and great lighting, and we had access to the best shoe cobbler in the city on the bottom floor.
Atlanta was the perfect place to get a company off the ground. It had big brands we could pitch, an abundance of talent to recruit and a community who opened their arms to welcome us as a new firm. Even potential competitors gave us advice and guidance when we first started. Southern hospitality is real.
Then eight years ago, we moved to the fledgling West Midtown design district. Nebo, Octane Coffee, Rocket Science Group (best known for MailChimp) and a few other digital firms were some of the first to migrate to this now vibrant part of town.
In the last 10 years, this city's digital industry has exploded. Recently, we've seen tons of local digital firms like Engauge, Pardot, Vitrue, BLiNQ Media, Vocalocity and numerous others get acquired.
But acquisitions are only a small part of the story. Our town has some of the best digital creatives in the business, top ranked startup incubators, world-class universities, and soon we'll have the largest digital entrepreneurship center in the Southeast.
While our digital scene is reaching critical mass and Atlanta is now legitimately a digital hub, most people across the United States – and a few people in our own town – don't realize everything Atlanta has to offer.
Solving the Problem
That's where Choose ATL comes in. The idea first came about when fellow digital marketers Brian Easter, Joe Koufman and others were discussing how their colleagues in other cities don't realize how many great companies and digital firms are right here in Atlanta.
So we decided to form a taskforce of some of the most talented people we know to work on solving this problem. The taskforce included people from some of Atlanta's biggest brands, startup leaders, government representatives and non-profit partners.
We wanted to create a grassroots movement to help shine the light on our digital ecosystem. This wasn't going to be "Brand Atlanta" – no big ad budgets, shiny slogans or million dollar theme songs. Just a group of talented, passionate people who donated their time and efforts because they want to see our city thrive.
Our goals were simple:
Tell the story of Atlanta's thriving digital industries and help attract the creative class.
Remind people that live here why they love it.
After conducting research interviews with digital-focused startup CEOs, designers and engineers around the country, we realized that there were two key audience segments:
People who want BIG opportunities move to New York City and Silicon Valley. But there's another segment of people who want natural beauty and a high quality of life. They move to Seattle, Portland or Austin.
Atlanta wasn't considered in this tier. Interestingly enough, when we interviewed folks who lived here, quality of life and natural beauty were the reason they loved this city – not to mention the economic opportunity Atlanta presented.
Based on this insight, we created the Choose ATL campaign.
We designed the brand and created a microsite to tell people why Atlanta is the perfect place to live, work and start a company. The microsite serves as the cornerstone of the campaign.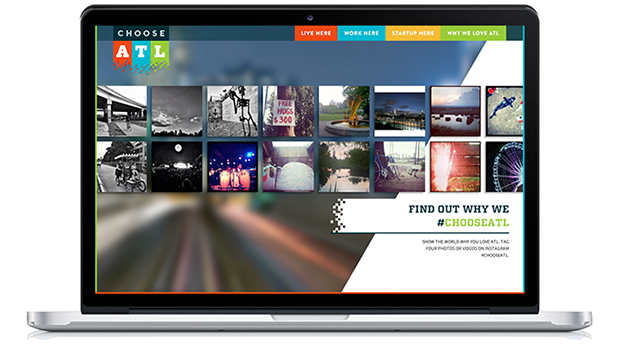 We also worked with our talented partners at Lyda Interactive, Lyda Video & Photo and UpThink Lab to film a cinematic love letter to our city. We captured some of our favorite scenes and interviewed a diverse group of talented people that call Atlanta home.
The campaign also includes an Instagram-focused social campaign around the hashtag #chooseATL. Hundreds of people have tagged their photos, and they're now feeding into a live stream of city pride.
Since the campaign has launched, the groundswell of support has been amazing. Over 250 people attended the launch party. The city council and mayor's office have voiced their support for the campaign. Clear Channel has donated 50 digital billboards. Numerous talented people have volunteered their time and effort to help scale the campaign and spread the word.
Thank you, Atlanta. Let's keep it going.