Pumpkin Spice: Summer's Worst Flavor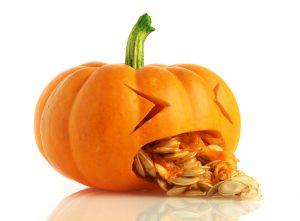 Picture it: A sunny Atlanta afternoon — certainly not the hottest all year, but, still, a solid summer day. It was August 27.
I was having friends over that night to watch the Game of Thrones season finale, so I popped into Kroger to pick up some beer. My heart was set on something light and refreshing, the kind of beer you want to drink when you're crammed in a room with 10 other bodies overwhelming the air conditioner. But instead of the wall of Leinenkugel Summer Shandy and Anderson Valley Summer Solstice I was craving, I was faced with a wall of bullshit pumpkin beers.
Spiced, heavy, unwanted pumpkin beers.
Where was the Hell or High Watermelon? The Son of a Peach? I didn't want beer brewed with brown sugar and notes of cinnamon and nutmeg. I wanted a hint of grapefruit, a little hibiscus and a goddamn sprinkling of sea salt. I wasn't there for beer that would wrap me up like a warm blanket. I needed something that would course through me like liquid A/C to keep me from sweating through my clothes.
But someone, somewhere had decided summer was over and pumpkin season had begun. In August. With an upcoming forecast of 80 degrees in most parts of the U.S.
So, with a sigh, I turned away and grabbed two six-packs of PBR to comfort me, my jaw set with disappointment and maybe a little twitch of rage.
I don't know if you've noticed, but pumpkin has been having a moment. And I get it — pumpkin stuff is great. But instead of enjoying pumpkin cookies and coffee with a nice chill in the air, pumpkin season now kicks off before the kids even head back to school.
This year, Milano released their pumpkin spice cookies on August 2. Halo Top's Pumpkin Pie ice cream and White Pumpkin Pie M&M'S both launched on August 11. The OG pumpkin item — the Starbucks Pumpkin Spice Latte — was restrained in comparison, and actually waited until September 5 to make its 2017 debut.
No matter how you slice it, everyone's been wanting a piece of the pumpkin pie, and they've been serving it up earlier every year.
The rise of pumpkin spice is largely thanks to a can't-lose marketing tactic: a limited time offer plus nostalgia.
It's pumpkin pie at grandma's house each Thanksgiving. Pumpkin patch visits with your parents and siblings every year since you were four. Cool fall nights sitting around a campfire, drinking hot cider. And it's packaged in pretty much anything your heart desires, from coffee to almonds to mouthwash. But you can only enjoy it for a few short weeks each year, so get it while it lasts!
Except now, those few shorts weeks have stretched from August through November. What used to be a special occurrence around Halloween and Thanksgiving now spans one-third of the entire year, every year. So while the nostalgia aspect is still going strong, "limited" isn't quite the case anymore.
Pumpkin is the perfect example of why we can't have nice things. When pumpkin as a cultural phenomenon began gaining traction, companies took note. And they bastardized it. And they flooded the market with it. And pumpkin stopped being special.
Instead of letting summer lazily give way to football tailgates that eventually see us into crisp fall weather, we're getting fall shoved down our throats before we can comfortably walk outside in jeans and long-sleeve shirts. We're getting smacked in the face with mountains of pumpkin flavored everything with every trip to a grocery store.
Pumpkin spice coffee and coffee creamer, pumpkin spice almonds, pumpkin spice M&M'S, pumpkin spice Blizzards at Dairy Queen, pumpkin spice ice cream, pumpkin spice butter, pumpkin spice bagels and cream cheese, pumpkin spice cereal, pumpkin spice hummus, pumpkin spice dog treats, pumpkin spice Jif Whips, pumpkin spice Pop-Tarts...you get it.
I think it's safe to say we've reached peak pumpkin. Which means pumpkin only has one place left to go — and that's the bargain bin.
I know what you're thinking: "But oh em geee I love pumpkin and it's the best thing ever and you don't get to say when pumpkin is over because I'll never stop loving it!!!!11!!1!"
Sorry, Charlie. You can love pumpkin all you want, but you better stock up on that pumpkin cream cheese at Dunkin' while you can.
All major trends go through roughly the same cycle: There's the Discovery Phase, where early adopters of a trend sing its praises among their own niche communities (I'm talking about you, "I loved the PSL before it was cool" crowd). Then we move into Spark Phase, when influencers jump on the train and more people start to take note. Consumers want more, so companies start producing more.
Then comes the Blazing Fire Phase, which is exactly where we are right now with pumpkin. It's an internet sensation. Specific products have their own Twitter accounts. Every person on the planet is flipping their collective shit over pumpkin. So we get pumpkin beers in August and lattes in early September and my Instagram feed blows up with pictures of people baking pumpkin cookies while I'm sweating at the beach.
But after the Fire, comes the Fizzle. Like a rained-on campfire, the trend gets a little sad and not quite so hot, hot, hot. People get tired of it. They realize the PSL really is disgustingly sweet and no amount of social media likes can make it better. And that, folks, is where we're heading.
Pretty soon, we'll all get bored of pumpkin. The staples of pumpkin culture will always be here — pumpkin baked goods, pumpkin beers and pumpkin spice coffees will never go away — but we'll reach a point where we don't feel the need to feed our dogs pumpkin treats or drown our pasta in pumpkin sauce.
We'll finally let pumpkin be special. We'll enjoy it in its limited, seasonally appropriate quantities, and we'll be happy about it.
But for now, I'll mourn the loss of my beloved summer brews with every tart sour and salty gose I can get my hands on. And I won't even think about cracking open a Pumpkin Ale until I can enjoy it from the warmth of my favorite flannel shirt.