Should Black Friday Take a Backseat to Cyber Monday?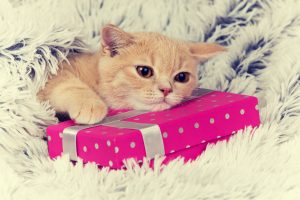 When Black Friday rolls around, the same thought always crosses my mind: do we really hate our families this much? On the day after Thanksgiving we could be sitting in our pajamas, having a wholesome breakfast of leftover pumpkin pie and lukewarm mini-quiches. But no. Millions of Americans will brave parking lot traffic jams and stand in long lines with turkied-up grumpies, ready to elbow anyone who stands in the way of their deeply discounted, 60-inch flat screen.
Lots of people love Black Friday, but surely, there's got to be a better way to stock up for the holidays. Maybe I just don't love America enough, but nothing about this spectacle appeals to me. For starters, I hate mornings and I love pajamas. And I have no interest in being tased by a security guard or receiving a shiner from the overzealous shopper coming up fast on my left flank.
But before we talk about how messed up this whole phenomenon really is, let's go back to the holiday's sinister beginnings. It may sound like a term for a stock market crash, but Black Friday was born in 1950s Philadelphia. Every year, hordes of suburban tourists would descend upon the city in preparation for the big Army-Navy game, running store clerks ragged and unleashing shoplifting, fistfights and general bedlam on the City of Brotherly Love.
Over the years, retailers turned this Philly frown upside down. After unsuccessfully trying to rename the holiday "Big Friday," merchants eventually accepted "Black Friday" and took it all the way to the bank. During the "Greed is Good" 1980s, these same retailers convinced Americans that Black Friday was a chance to unleash their inner Gordon Gekko. Shoulder pads, metallic blue eyeshadow and giant boom boxes flew off the shelves. Soon, retailers came to depend on Black Friday as the high holy day of capitalism. It became known as the day each year when retailers raked it in and their bottom lines moved from red to black.
The Black Friday Creep
Black Friday madness held steady until the Great Recession of 2008 turned the retail world inside out. In a desperate effort to make their sales goals during a depressed economy, big-box retailers kept moving the goalposts. Sales that used to start at 8am Friday morning became 5am and then 3am. In 2010, struggling retailers like Sears and Toys 'R' Us went rogue and opened at 10am on Thanksgiving Day. Apparently the early bird gets the bottom line, because retailers as diverse as Victoria's Secret, Kmart and Target followed suit.
For retail workers who were already denied Friday mornings filled with pie and pajamas, this insidious Black Friday creep put a real damper on the holiday season. But in the ultimate act of anti-marketing, some companies responded to the backlash by taking a stand against Black Friday madness.
In 2015, T.J. Maxx, Marshalls and HomeGoods released an idyllic commercial that begins with the line, "imagine a world where the only thing you have to wrestle for on Thanksgiving is the last piece of pumpkin pie." By urging its customers to refrain from buying stuff, T.J. Maxx reinforced its image as a family friendly company. This anti-marketing strategy appealed to customers like me — those who hate the idea of anyone outside a hospital or a patrol car working on Turkey Day.
Opting Out of Black Friday
Other stores like Apple, IKEA, DSW, Costco and Staples also hopped on the anti-marketing marketing train — keeping their doors closed on Thanksgiving Day. And in the ultimate marketing coup, REI won big when they realized their ideal customer isn't exactly the doorbuster type. Already closed on Thanksgiving Day, in 2015 REI gave its 12,000 workers Black Friday off as a paid holiday. That same year the company launched its award-winning #OptOutside campaign, featuring picturesque billboards encouraging Americans to stay away from parking lots and spend the day outside instead.
The campaign garnered millions of impressions, as followers Instagrammed photos of themselves and their families hitting the trails. Last year the company brought pets and shelter dogs into the mix. This year REI is releasing 20 community-created films and an "experimental search engine" featuring pictures, videos and journals from people offering up their favorite outdoor haunts for others to enjoy.
Amazon Takes Over
I'd like to think all these retailers have taken a pro-Thanksgiving stance out of the goodness of their hearts, but the dollars and cents reality is that Black Friday matters way less than it used to. And for that, you can thank Amazon. Missing out on all the brick-and-mortar money, the online retailer pushed Cyber Monday to new heights.
Offering deep discounts on a wide variety of products to customers who prefer to shop from the comfort of home, Amazon helped spread the Cyber Monday gospel via top billing on its homepage. In its first year, Cyber Monday sales reached $610 million, and by 2016 the holiday raked in $3.45 billion — making it the busiest online shopping day in U.S. history.
As the phenomenon catches fire around the world — scuttling any hope of workplace productivity the Monday after Thanksgiving — Black Friday has lost some of its luster. Small Business Saturday has gained ground thanks to promotions from American Express. And Amazon's summer-based Prime Day promises bigger sales than Black Friday. These days there are just more opportunities to shop and save — no door-busting required.
This year only 35 percent of shoppers intend to hit the streets on Black Friday — down from 59 percent in 2015. For the last three years in a row, Black Friday sales have been eclipsed by Super Saturday. This procrastinator's holiday the Saturday before Christmas is now the busiest in-person shopping day of the year.
A New Holiday Landscape
While Americans say they'll do more than 40 percent of their holiday shopping online this year, there are still plenty of retailers who ascribe to Black Friday mission creep. Kmart, Toys 'R' Us, Sears and Target will all be open bright and early on Thanksgiving Day. Many of these retailers are trying to rehabilitate the day known for fainting and fistfights by hosting holiday parties featuring cookies, cocoa and toy demonstrations.
OK, so Americans don't hate their families. Many enjoy Black Friday as a trial-by-fire family bonding ritual. Perhaps they enjoy their flatscreens even more knowing they were hard-fought and hard-won — at great prices too. And with $1 trillion in sales expected this holiday season, can you really blame them? Regardless of where Americans shop, holiday sales are expected to grow by 6 percent this year. Cyber Monday sales alone could top $3.81 billion.
Black Friday is great for discount TVs and bargain-bin laptops, but over the years it's also been responsible 10 deaths, 105 injuries and countless retail-worker Thanksgivings ruined. If you're not cool with this kind of mayhem and you want families to enjoy their turkey comas in blissful togetherness, wear your pajamas and eat your leftover pie. Then spend your hard-earned holiday money on Cyber Monday, Small Business Saturday and these fine retailers who will be closed on Turkey Day. Now that's something to gobble about.