Beyond Keywords and Google: Build a User-Centered Strategy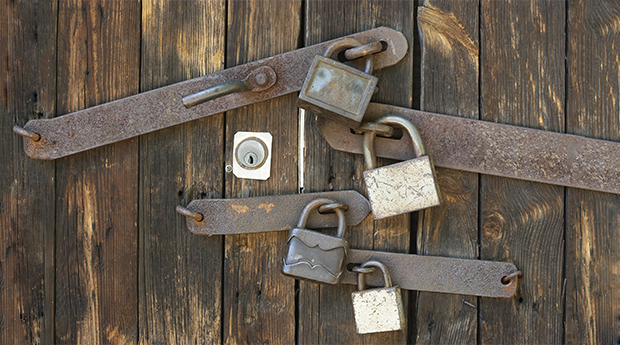 There's a barrier standing between you and your customers. We'll call it a door. No matter how relevant your brand, you're not going to reach those customers unless you get through the door.
You can bang on it, you can yell at it, but you're only getting through with the help of a few tools—we'll call it three keys (to open the door) and a crowbar (to bust that mother open). Different keys work on different locks. This door is pretty locked down, so you'll need to use all of the tools in conjunction to be successful. If you're still following the metaphor, please continue.
These aren't tricks. These are tools, and they work if they're the basis of your marketing strategy. This is what everything else builds on.
The Skeleton Key: Optimize
(Editor's note: The type of key is totally irrelevant. We're just Nebo-ing around.)
Every second, there are 40,000 search queries on Google. This translates to 3.5 billion per day and 1.2 trillion per year.
People want answers to everything from Where should I get a hair cut? to What are the names of three different kinds of keys? to When will the rash on my buns go away? Our job as SEO strategists is to provide answers. Keyword research, content strategy, and social media strategy should all center on optimizing for the right customer. Make it easy for search engines to trust that your site has the answers to specific queries.
In the past, SEOs' main job was to position websites for Google to crawl and discover. The more crawl-able, the better the search engine results page (SERPs) position. But SEO and optimization strategy has moved beyond pleasing the all-knowing Google gods.
Today it's about the users. Google came out and said you must create the best, most relevant content you can. The technical stuff comes second.
And this is a good thing. It's no longer acceptable to spam title tags with keyword after keyword or to try deceiving users and search engines with misleading meta descriptions and shallow copy. Now it's about focusing your SEO elements around your target audience, offering solutions to users' problems and truly aligning your business goals with those of your customers.
Focus your optimization efforts and good things will happen. You'll see increases in your qualified traffic and organic visibility, a change in the way people perceive your brand and, of course, an increase to the bottom line.
Don't keyword stuff or go #hashtag crazy. It won't help. Instead, take the time to understand user needs and actually optimize your brand, your content, and your business goals.
The Dimple Key: Focus on the Experience
It's about the journey, not the destination. In marketing, the customer's journey not only influences purchasing decisions, but also brand advocacy and loyalty.
Seventy-eight percent of Millennials would rather spend money on desirable experiences than coveted goods, and people will pay almost 50 percent more for a product if the buying experience is easier or more pleasurable. If you have slow page load time, people won't wait. Bad design? Users won't feel an emotional connection. A bad experience with live chat? You'll read about it in Yelp reviews.
At a basic level, experiences should elicit an emotional response in the user: a smile, a connection, curiosity.
Start with research and development — and a lot of it.
Determine what your users believe is important about companies and buying experiences. Put time into understanding their goals, how they think, interact, and share their experiences. Get into the head of a user and see what makes them feel a connection with a company, what colors elicit what emotions, what messaging has the most powerful impact on conversions.
Then invest in good design. Users make decisions in the first 10th of a second as to how they feel about a website. Good design makes decisions easier, and it makes the experience enjoyable and emotional. When people are happy they take positive action. That positive action leads to purchases, and those purchases lead to returning customers, recommendations, and new customers.
And good design isn't limited to the website. Every aspect of your brand and product should involve design. Logos, typefaces, color schemes — even photo sizes — can influence how customers feel about your brand.
Finally, let's talk about content. It can be the best or the worst tool in your marketing arsenal depending on you approach it. Content should educate, inform, or entertain. Put together a strategy that utilizes informational blog posts and shares relevant content and news. If you do this part well, then you can even share that funny cat picture every now and again to remind everyone that it's Monday.
The Tubular Key: Measure & Analyze
From analytics data you can understand your users at a level that they themselves might not understand, and this leads to better buyer personas, better qualified leads, and more conversions. Use analytics to inform A/B testing, empirically supporting why someone clicks one link or one version of a page versus another. Draw conclusions from data about how to structure a title tag to gather the most clickthroughs, or which color to use in a call to action. You can collect keywords and queries to find content topics that interest your users.
For the bottom line, data gives concrete ROI figures that can make or break your efforts and help your bosses (or clients) understand why doing something one way versus another is worth the extra marketing spend.
Simply put: measure and analyze data. Doing so turns gut feelings into irrefutable truths.
The Stanley Hand Tools 55-124 24" Wrecking Crowbar w/ Goose Neck Pattern
Do the above and you will set your brand apart from the ho-hum marketer using black hat and quick fixes for short boosts in traffic.
But if you really want to break through to your customers, use the crowbar: Have a purpose.
It's so simple, yet the majority of companies lose sight of their purpose in the day-to-day. At Nebo our purpose is changing the game and taking a human-centered approach to everything we do. We don't just focus on awards, ROI, or the bottom line. We focus on giving the best to our clients who want to market to people, not metrics, conversions, or machines.
A purpose doesn't have to be complex. Keep it simple and keep it about the end user.