Why are This Year's Back-to-School Ads all the Same? Blame 90s Nostalgia!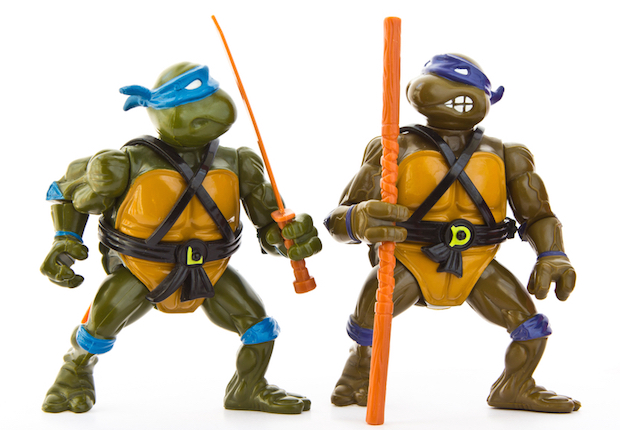 It doesn't take much to get me excited about back-to-school season. Though I graduated years ago, there's something magical about office supply stores this time of year. The smell of graphite, rubber pencil toppers and dry erase markers takes me back to the years I spent sitting on molded plastic chairs, writing my name over and over in Elmer's Glue.
The first day of school is fraught with a heady mixture of anticipation and anxiety, which makes a perfect recipe for creative exploration. So why are all of this season's back-to-school commercials pretty much the same?
Tune in to any channel and you'll spot Macy's kids jamming out in the gym to De La Soul's 1989 classic, "Me Myself and I," and H&M children looking dangerous on a basketball court with a backdrop of oversized boomboxes.
Rounding out this collection of creative kismet is a J.C. Penny commercial featuring a baby Britney Spears clone with a Cobain-style flannel wrapped around her waist, being driven around by none other than Fresh Prince of Bel-Air favorite Carlton Banks, aka Alfonso Ribeiro.
Giant boomboxes, waist-wrapped flannels, the Fresh Prince and Britney Spears — if you haven't already solved the puzzle, the 90s are back in a big way. Sure, chokers, unstructured denim and Converse sneakers have permeated popular culture lately, but these back-to-school commercials share an eerily similar style of synchronized dancing and hollowed-out rhythms, which are heavily reminiscent of the early 90s hip-hop era.
Looking at all the bright Lisa Frank-ish colors and old-school dance moves, you'd be forgiven for thinking that you were watching miniaturized outtakes from Yo! MTV Raps. To sum up the ethos of these commercials, think early TLC, Digital Underground, Tag Team's Whoomp! (There It Is) and Kris Kross' iconic Jump, with the modern flair of Hot Cheetos & Takis thrown in for good measure.
While it may be tempting to wallow in sweet thoughts of hemp-braided chokers and neon slap bracelets, it's important to remember that all this 90s navel gazing is being delivered to us on a silver platter by some very savvy marketers. CarlByrd&Co., the ad agency behind the Macy's spot, is unapologetic about their vintage inspirations. The ad's De La Soul aesthetic is a direct allusion to the group's original video, which takes place in a classroom lined with rows of tiny desks. The Macy's ad even features the slogan, "Get Back/Throwback" and is directed by iconic 90s music video director Nigel Dick.
Yes, the Clintons have returned and the airwaves were recently glutted with O.J. Simpson retrospectives, but these particular ads are aimed at the oldest Millennials — those of us who were born in the 80s, came of age in the 90s and are starting to have children in that coveted, back-to-school sweet spot. Perhaps some of the blame for these near-identical ads comes from the ad agencies themselves. As older Millennials advance in their careers and reach decision-making status, they may want to see themselves reflected through their work. Yet a more likely explanation may be that advertisers want to unspool our Trapper Keeper-filled memories with a vintage soundtrack that will get young parents to buy, buy, buy.
To market nostalgia for the masses, the only magic ingredient you need is time. Distance rounds out the rough edges, softens bad memories and coats everything with a hazy, Hypercolored glow. Marketers and ad agencies know exactly what they are doing mining these precious memories, which is why 90s nostalgia is suddenly cropping up everywhere in pop culture. From Full House and Gilmore Girls reboots to the return of the grunge aesthetic, everything old is new again, and perhaps we hunger for a simpler, more analog decade with fewer wars and bigger speakers. Just as advertisers cashed in on Beetle-hungry Baby Boomers and electronica-loving Gen Xers in the past, Millennials are poised to experience the first of many spins on marketing's manufactured wheel of nostalgia.