An Intern's Perspective on the Importance of Preparation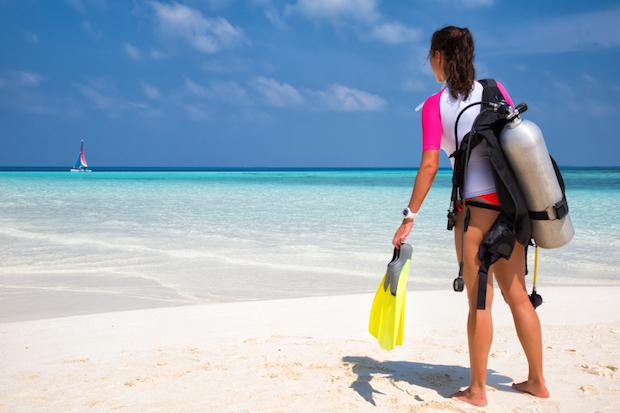 Imagine yourself immersed in a tropical paradise, almost 100 feet underwater off the coast of Cozumel, Mexico. The water is clear as you swim by endless colors of coral reefs on top of sandy valleys. It's the most extraordinary dive you have ever performed… until you realize your tank is low and you didn't pack your spare air.
With scuba diving, it's all about preparation. After all, great preparation leads to a greater dive. The same can be said for preparing for an internship.
Bringing an insufficient amount of air for a dive is like drowning on the first day of work. It should be a no-brainer to prepare for your first day as an intern, but this part of the process is like murky water: a little hazy and a lot of untapped potential.
If I spent this whole post explaining why an internship is valuable, I would be wasting your time. You already know internships are valuable — you hear it all the time. Instead, I want to discuss a part of the intern process that doesn't get elaborated on enough. And that part is what it takes to be a successful intern before you show up at 9 a.m. for that work grind.
Do Your Research
The first step in any preparation process is research. Obviously you aren't going to book a scuba dive and fly to Cozumel all in one day without researching any other dive sites. First, you're going to do some research to figure out the most epic sites imaginable (we're all looking for ways to get a new Instagram high score, am I right?).
These same principles apply to an internship. This may seem redundant because you should've already researched during the interview process. But this is about taking that research one step further. Read the company's blog, learn the culture of the work environment, and, most importantly, learn the company's voice. The company's blog is one of the most insightful tools on the Internet. It's your portal to everything they value and find interesting.
Once you have a solid foundation for their values as a company, research what marketing tools and platforms they use on a regular basis. Google Adwords and Google Analytics are always a good place to start, but there are so many more tools companies rely on in the digital sphere. As an intern, you'll have to wear multiple hats — so don't be afraid to learn tools outside of your department, like Screaming Frog for SEO or Cision for public relations. Anything that can set you up to gain as much real experience as possible is worth it!
Ask, Ask, Ask
Wondering how to find out what tools your company uses? Ask! Email the HR lead — they'll be able to provide you with insights. From there, hopefully you can search YouTube videos or get free certifications. The quicker you can get your training finished, the sooner you'll learn what working in your career field truly feels like.
As an intern you might not expect a lot of emails. At least that was my thinking before my first day. Imagine my panic when I showed up on my first day and saw a full inbox. A cold panic of "I'm already behind!" set in immediately.
Needless to say, asking for access to a work email before your first day can also be extremely beneficial. Get ahead of the game and organize your inbox, read emails to get a better sense of what is going on in the office, and — if you feel comfortable — go ahead and write a first day bio about yourself to send to the office.
Test Dive
My last piece of advice before you jump into the endless ocean of possibilities is to take a couple practice laps in the kiddie pool — AKA take a test dive. This is something I'm glad I did before my internship, and I am passing this advice onto you.
My office is in the middle of Atlanta, where traffic is unavoidable on any day. I wasn't sure how bad the traffic would be on my first day of work, so instead of worrying about it the morning of, I decided to be proactive and take a test drive the Sunday before. Acting like a pro on the Atlanta highways really eased my nerves on the first day and actually made me more excited. I was able to be myself walking through the door instead worrying about hiding my armpit stains after searching for the parking lot.
Employer Preparation
Preparing for an internship is just as important on the employer's side. Coming into my first day on the job, I suddenly realized how much different my school environment is to the real world. As a student, I was used to a syllabus, a fixed schedule, and a rubric telling me how to be a "100%". These assets don't exist in the real world.
For employers, the best way to help interns through this transition is with an onboarding document for the first day at the very least. This can help interns feel comfortable and prepared to work on their first day, and can also save you time during their onboarding process.
Along with an onboarding document, scheduling a way for the intern to meet their coworkers is a great way to make them feel like a part of the team quickly. On my first day I wasn't expecting any special treatment. I was just hoping for anyone to let me learn their Jedi advertising ways. Instead, I was pleasantly surprised to be with my boss and HR lead for the majority of the day. My team and I went out for lunch, and I was personally introduced to the entire office (remembering all those names was easier said than done). Even throughout my first few weeks, we had team building activities outside of work.
As an intern, I really appreciated the effort Nebo took to make me feel like part of the team, and it definitely paid off. It didn't take me long to know everyone's name at the office, and I even felt comfortable enough to plan a ping pong office tournament with our Culture Team.
Going the extra mile to make an intern feel like part of the team goes a long way in furthering work culture.
Lastly, make sure you give your interns an intern project. My project has lasted the length of my internship, and will act as a training manual for future interns. I have included everything I have learned at Nebo with videos, screenshots, and step-by-step guides. Having this project to withstand the length of my internship has been a great way to receive feedback from my boss, assess everything I've learned in the past couple months, and leave something with Nebo that I am proud of and that they can use to guide other interns through their internships.
In Closing
Whether you're about to be an intern, looking to hire interns, or preparing for a scuba dive and happened to stumble upon this blog post: preparation is key to getting the most out of any experience. Interns — don't look at an internship as delivering coffee and receiving a resume filler. Let it be something that benefits the company and something you can leverage for a career. It's an important time being an intern, so get the most out of every day you have to work and learn.