Cleaning House with Oreck, Hoover and Dirt Devil
Challenge
TTI Floor Care approached Nebo with the desire to elevate their paid media strategy and help them gain more visibility in a highly competitive marketplace.
Solution
Developed insights-driven cross-channel campaigns with tailored creative.
Result
Exceeded ROAS goals by 60% during peak shopping season.
Increasing market share through personalization
TTI Floor Care is the largest floor care business in North America, owning some of the most iconic names in the industry, including Oreck®, Dirt Devil® and Hoover®.
Brand & Audience Insights:
All three brands had moved almost all marketing efforts online to solely focus on eCommerce, but increasingly saw a need to unify their online and offline campaigns and take a more buyer journey-focused approach.
TTI also realized that who their buyers are and how they buy floor-care products was changing. They needed to recalibrate their marketing efforts with who their audience was and how they made purchase decisions. The ability to tie both online and offline purchases would be critical in understanding how their audience behaved.
An initial quantitative audience analysis showed that the highest brand-engagement rates came from users with household incomes of $60k - $100k, and although 50 - 64-year-olds demonstrated the highest click interaction, 30 - 39-year-olds closely followed. This showed Oreck® that there is a younger, middle-class audience with strong potential outside of their previously defined target audience.
Nebo also partnered with Digilant to run a test to compare shopper personas before and after Oreck's large year-end sale. Nebo found that the largest persona in the pre-sale wheel was "Discount Shoppers Likely to Apply for credit cards" (34%). This audience decreased to 10% in the post-sale wheel, insinuating based on the timing that this audience prefers to complete most of their holiday shopping earlier in the month. This led Nebo to recommend that Oreck® potentially move their EOY sale to earlier in the month, given that this large converting audience is heavily influenced by deals.
Solving the Problem:
Our strategy began by conducting initial keyword research and a thorough account audit of previous campaigns. Nebo looked at the historical account data, including ad copy, keywords and landing pages in order to identify successes, pain points and opportunities. Nebo also sought to clearly define the needs and wants of the target audience, emphasizing the overall buyer journey in every step of our research.
Nebo found that Oreck® audiences valued strong performance from their vacuums and weren't willing to trade off on design and style. Additionally, Oreck® audiences tended to be pet owners and/or allergy-sensitive with a high interest in home decorating. After clearly identifying Oreck's existing audience, Nebo sought to identify the most important attributes that the average consumer valued when deciding to purchase a vacuum: suction power, easy maneuverability, limited dust pollutants and a lightweight design. These attributes were highlighted prominently across all new ad messaging.
Nebo also conducted additional industry and competitive research, including in-depth analysis on one of Oreck's competitors — Shark Clean. For this project, Nebo began with a technical audit, noting the code on Shark's website used to monitor user behavior and retarget visitors. Nebo also assessed Shark's paid media and organic social strategy, identifying key messaging, keywords and estimated traffic costs. This allowed Nebo to identify opportunities they were able to exploit and pitfalls to avoid. Overall, the competitive research resulted in our capability to craft a unique paid media strategy, differentiating Oreck from Shark's digital strategy and brand positioning.
To execute the digital strategy, Nebo restructured Oreck's paid media accounts across multiple search platforms (Google, Bing, Yahoo), organizing campaigns between branded and non-branded keywords, further broken down by product type (vacuums, air purifiers, floor cleaners, etc.). Additionally, Nebo segmented non-branded campaigns even further by dividing them into high- and low-intent keywords.
Our high-intent campaigns contained keyword variations most likely to capture customers in the consideration stage of the buyer journey (long-tail keyword variations and/or contained "buy," "shop," etc. in the search query), whereas our low-intent campaigns contained keyword variations most likely to capture customers in the awareness and research stage of the buyer journey. Segmenting high- and low-intent users allowed Nebo to allocate monthly budgets accordingly to find the delicate balance between brand awareness (placing emphasis on numerous touchpoints along the Buyer Journey) and eCommerce (with a ROAS goal specified by the client).
To tie offline and online data, Nebo added tags to the Oreck® website to track and report on users who searched for their local store when they came in through a paid media ad. This provided insights into user behavior as well as an example of online efforts contributing to offline results.
Additionally, Nebo launched local search campaigns for the California market, driving users to a PPC-specific, mobile-optimized landing page with the opportunity for users to claim a coupon. Nebo was able to track micro-conversions in the form of local phone calls, direction requests and coupon redemption, as well as tie back online efforts when customers showed the PPC-specific coupon to the local store owners.
Finally, Nebo partnered with Digilant for a programmatic buy. To drive eCommerce sales, Digilant used contextual and behavioral targeting paired with algorithmic optimization. Unique to Digilant, their Consumer Personal Wheel — created through consumer demographics, interests and online content via first-, second- and third-party data — allowed Nebo to identify new audience segments. This is because the wheel departed from a singular-view data strategy (targeting and reporting on individual audience segments). Rather, it offered insights about the connections and overlap between clusters of audience segments. This helped reveal unknown nuances in Oreck's converters while providing a multidimensional view of their audience.
Results:
Our strategic partnerships not only helped to exceed revenue goals with a CTR 30% higher than the industry display standard, but also provided key insights to Oreck's audience and opportunities to explore in the year ahead.
Hyper-local search campaigns drove nearly 300 micro-conversions to drive in-store traffic including directions, online coupon redemption and POS coupon usage.
Campaigns maintained a nearly 100% impression share during campaign run time, ensuring our locally tailored ads maintained full visibility for our target markets.
Campaigns drove ROAS that exceeded the client goal by 60% during their peak season.
Promotional ads drove incremental revenue by retargeting those who had shown interest but had not yet purchased.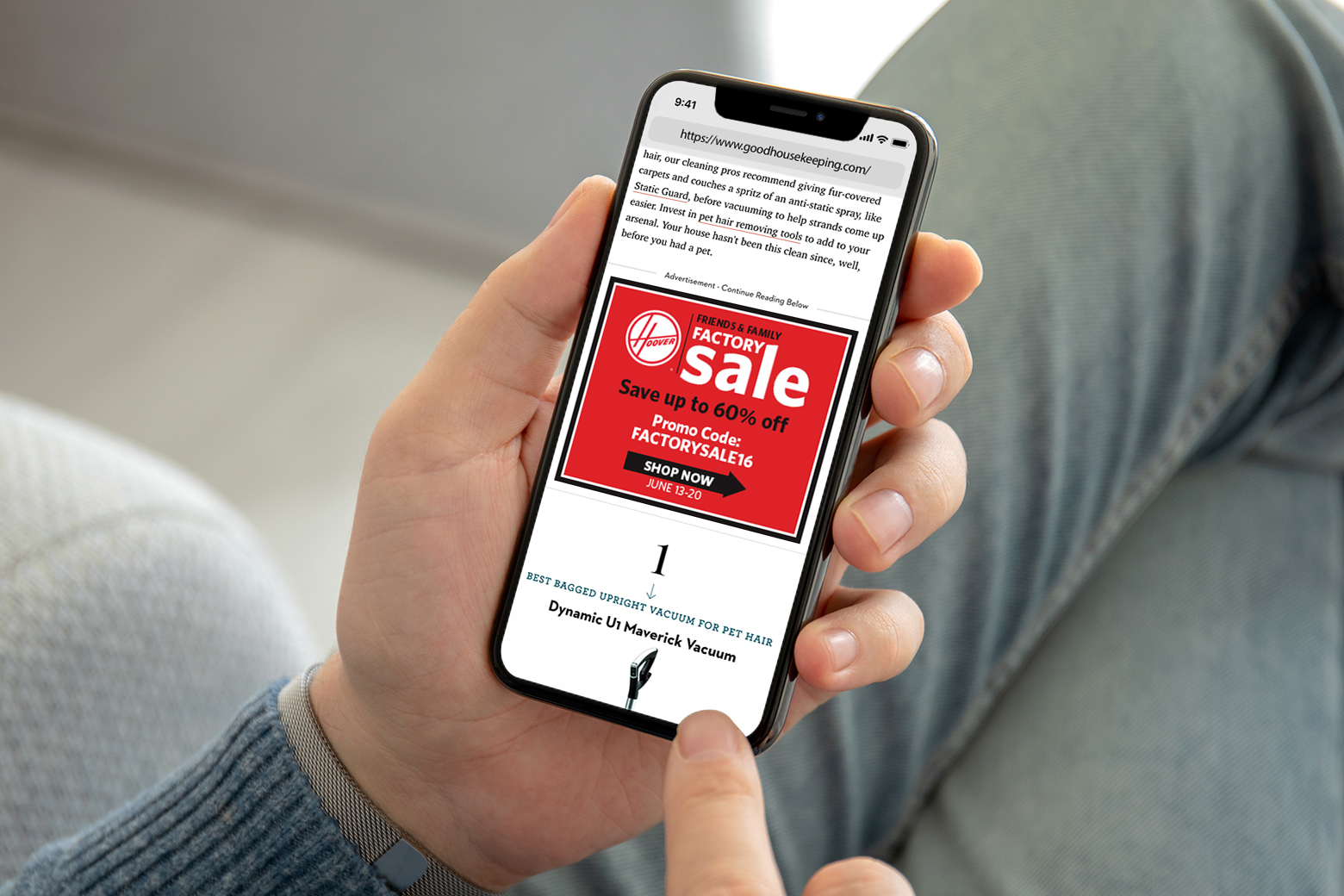 Advanced tagging and coupon redemptions were used to tie online engagement with offline foot traffic to brick-and-mortar stores.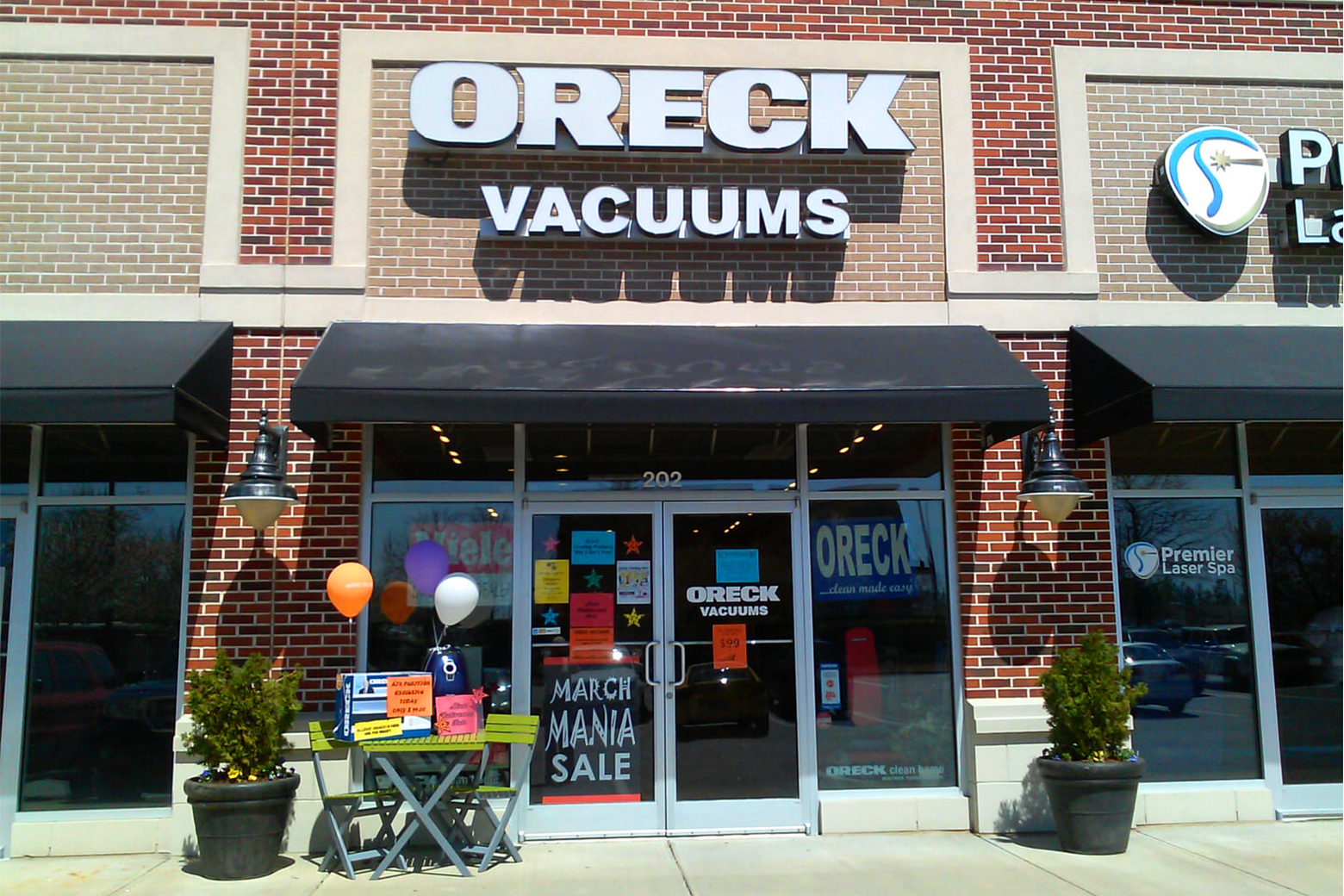 First-, second- and third-party data drove media planning, messaging and optimization.