Enabling Growth Through a Holistic Website Optimization Approach
Challenge
Optimize the website experience and online visibility to drive traffic and better meet visitors' expectations.
Solution
A user-centric approach to site design and a holistic SEO strategy aimed at meeting new business demands.
Result
A reimagined web experience that drives traffic and speaks to an ever-expanding audience.
Scaling a website at the speed of growth
The Challenge
SalesLoft provides customers with an engagement platform that helps B2B sales teams close more deals. By integrating with top CRMs to turn data into simple, actionable, multi-channel steps, they help sellers get to "yes" quicker. While they initially focused on supporting small businesses, their base was evolving — with mid-market and enterprise quickly becoming their fastest-growing markets.
Rapid growth is good news, but SalesLoft was unable to scale their website with their brand or speak to their new audiences. They partnered with Nebo to optimize the website, enhance the experience and scale to meet new business demands.

Solving the Problem
Starting with a User-Centric Approach
SalesLoft knew their target audience but felt unsure of who was using the website and why. Not wanting to make assumptions, Nebo began by launching an audience poll on the original site to get concrete data on the roles, industries and business sizes that were visiting the site and the reason behind their visits, helping us to further define the target.
After defining who was coming to the website, it was time to understand what they thought about it. Nebo conducted usability interviews to get feedback from users on key pages and new navigation options, to confirm known pain points and identify other areas for improvement. These interviews uncovered several opportunities around content, positioning, visuals and page structure.
Developing a Research-Driven Information Architecture and Page Structures
With a solid understanding of user expectations and pain points, we began bringing the foundational research and insights to life.
We started with a more intuitive Information Architecture, creating a new navigation that's optimized for SEO crawlability and improves overall usability by combining sections from the previous navigation that were confusing for users.
Next, we created a new homepage experience based on interview insights and copy provided by SalesLoft's content team. Finally, we overhauled the page structures in key areas of the website to provide more details around what the SalesLoft product is and how it benefits users. Plus, we designed and launched 13 additional pages.
Implementing a Holistic SEO Strategy
To ensure potential users could find the site, Nebo's SEO team worked to develop and implement a foundational SEO strategy to increase visibility for SalesLoft. The goal was to drive qualified organic traffic to the website.
First, we developed a strong technical foundation, conducting a technical audit to identify and resolve critical errors to ensure search engines could easily crawl and index the website. From there, we adapted and expanded the on-site keyword strategy to match the new site experience by mapping priority keywords into implementable metadata.
Once we optimized the new site experience, we expanded SalesLoft's visibility for priority topics. We performed a broad organic search competitive analysis to evaluate SalesLoft's competitive positioning and identify strategic opportunities to capture more share of voice in the market.
Thought leadership was critical for targeting their always-on audience early in the buyer journey, so we identified visibility gaps and mapped out a strategy to target relevant opportunities with content clusters and blog topics.
Another key component of the buyer journey uncovered in the competitive research was platform reviews and comparisons, with peer-to-peer review sites dominating upper-funnel query visibility.
Our team delivered barnacle SEO recommendations for adding and improving SalesLoft's presence on top-ranking third-party sites to gain visibility for those competitive queries and establish relevance with search engines.
Engineering for More Functional Flexibility
To ensure that the new website would grow with SalesLoft and function optimally for the end-user, Nebo's Engineering team assisted on the backend to make the site more flexible and improve the site's scalability from a content standpoint.
Nebo implemented a range of new functionality for the CMS. We exposed post data within the CMS and developed a Content Hub for the website, making it easier for the SalesLoft team to highlight key content pieces to users. All of this ultimately helped support the SEO strategy.
We also audited plugins within WordPress to determine what could be deleted, making the site easier to maintain and reducing the likelihood of code errors. Last but not least, we onboarded to a new hosting infrastructure that allowed SalesLoft and Nebo to collaborate on managing the site functionality, reducing the strain on internal resources.
Results
There was only one way to confirm our changes were impactful: feedback from the users themselves. Nebo contacted the original participants of the usability interviews to measure progress in addressing the needs and frustrations they reported on the original site.
Participants were highly impressed with the updated structure, content and imagery. They also had a much better understanding of SalesLoft's offerings and benefits, leading to some participants' renewed interests in SalesLoft that they planned to follow up on.
This feedback gave both teams confidence in our success. Today, we continue to evaluate the website performance and identify any areas where there may be opportunities to iterate and even further improve the site experience.
Using a new, bold design, the reimagined homepage better explains how SalesLoft can benefit users from the start.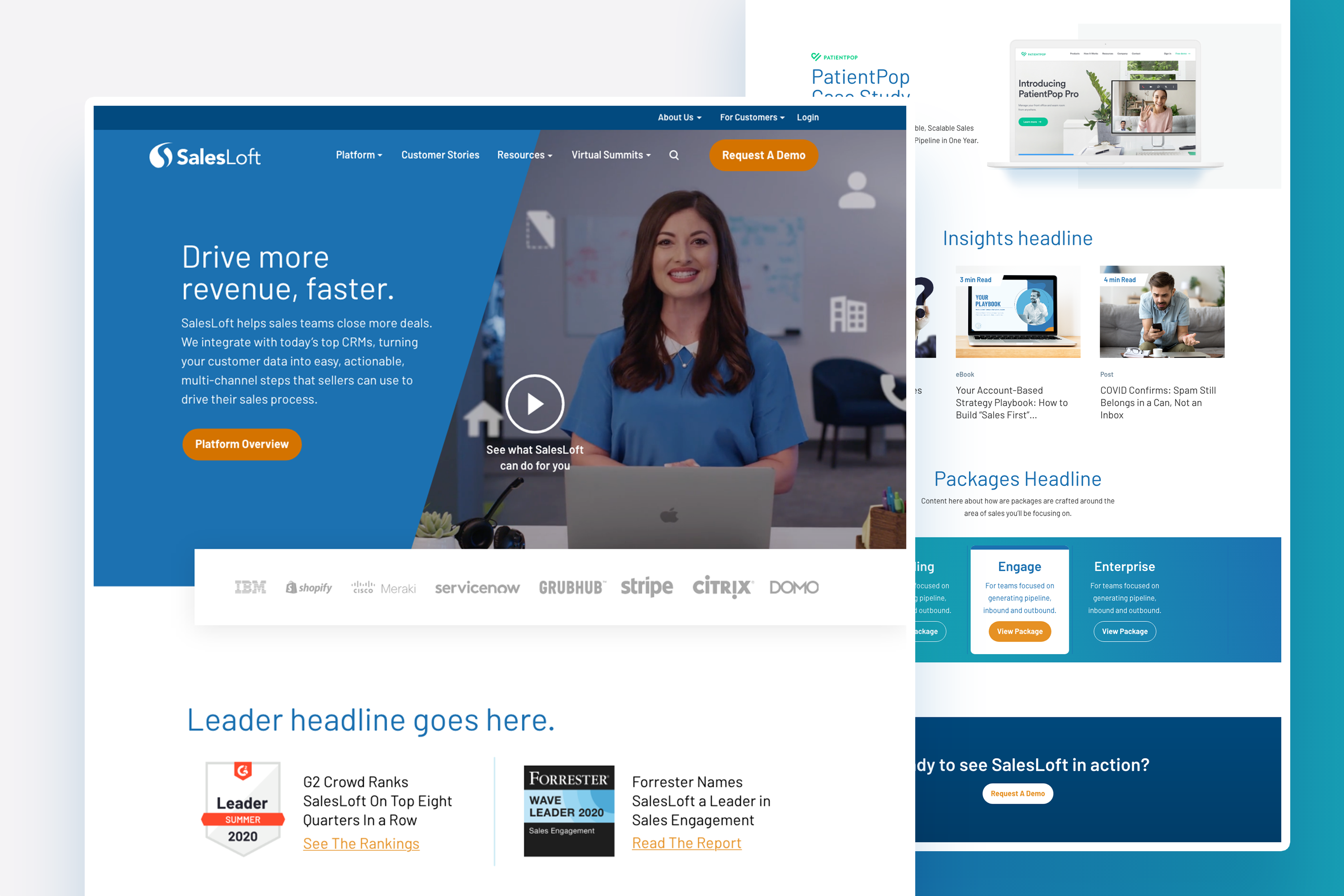 The new navigation makes finding the right information easier and faster to find, plus supports the SEO strategy.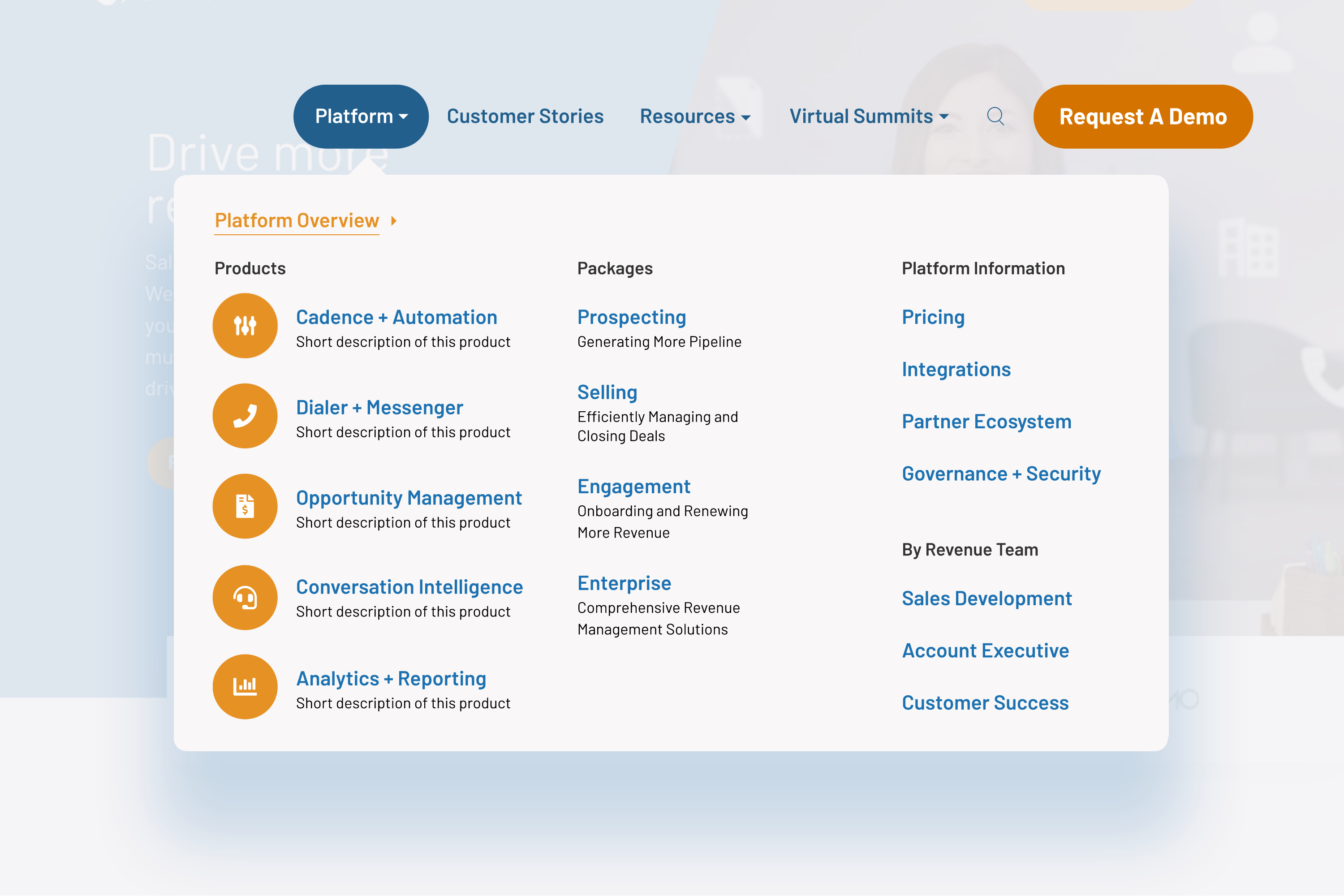 The new design was translated across the website to provide consistency and strengthen the brand.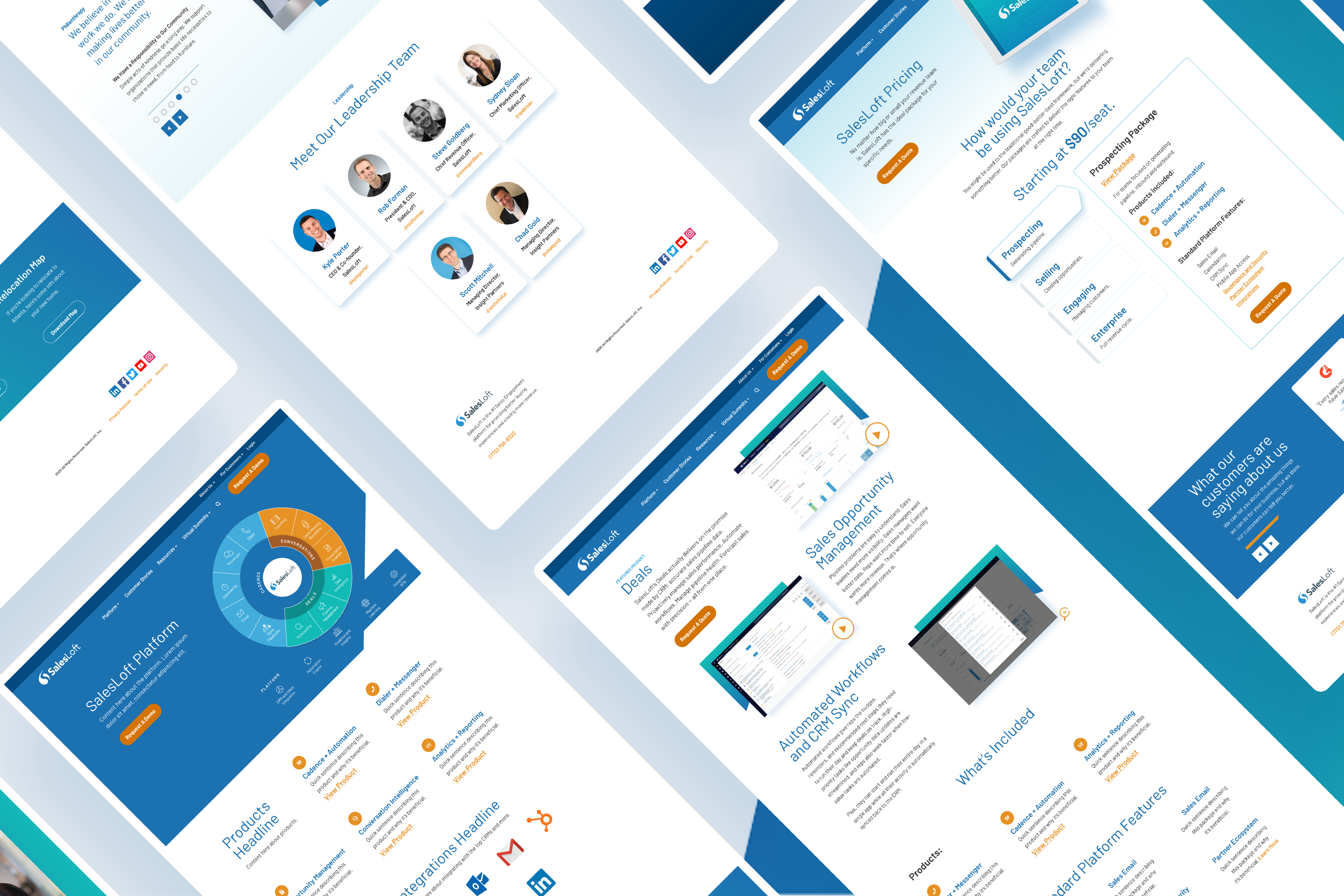 The SalesLoft Content Hub makes it easier and faster to find helpful resources.