Changing Perceptions of Transit & Increasing Ridership
Challenge
Redesign the digital experience to change perceptions
Solution
A human-centered approach to design that solves real-world problems
Result
A more engaging and useable experience that delighted riders
Improving the Transit Experience
For over a quarter of a century, MARTA has moved more than 3.5 billion people throughout Atlanta and the surrounding cities. They provide cost-effective and reliable transit, spurring economic growth, enhancing the lives of citizens and leading the way to a less congested and more connected future.
To help improve brand perception and increase ridership, MARTA undertook a comprehensive project to better understand its audience, evolve its brand messaging/story and launch a new more-mobile friendly digital experience.
Brand and Audience Insights
The project started with in-depth audience research to better understand MARTA's core audience/user segments. This research was aimed at understanding their perceptions of MARTA (and transit) as well as identify potential opportunities to better engage the audience. Research interviews were conducted at stations, via screeners placed on the MARTA website and through existing key audience relationships. These findings were used to develop goal-oriented personas that informed all our work moving forward.
Solving the Problem
Utilizing our research findings as a foundation, we then worked with the MARTA communications team to update their Brand Messaging. This included overhauling their Brand Purpose, Promise, Positioning Statement and Key Messages. Evolving the brand from internal-focused language/jargon to more authentic and language that better reflected the role of MARTA in the city it serves. This messaging shift helped riders rethink MARTA and reappraise the transit system by changing their perceptions and making the case that MARTA was better than ever before.
To bring the brand story to life we designed a new website experience. Content was created that aligned to gaps identified in the strategy phase and included new articles focused on trip ideas, answering common questions and showcasing key information at relevant times via new real-time alert functionality. The website design and user experience were built for intuitive ease of use with simple paths to help ensure each audience segment could accomplish their goals with just a few clicks.
Results
As a result of our effort, website engagement metrics improved across the board with organic traffic increasing, bounce rate declining and overall user satisfaction improving. More importantly, this project helped change the perception of MARTA and improve the perception of transit in our region.
Human-Centered Design & Simplified Navigation
We interviewed actual MARTA riders to learn what they needed from the new website. Our interviews helped us identify different types of riders and align their needs with site functionality, content and navigation.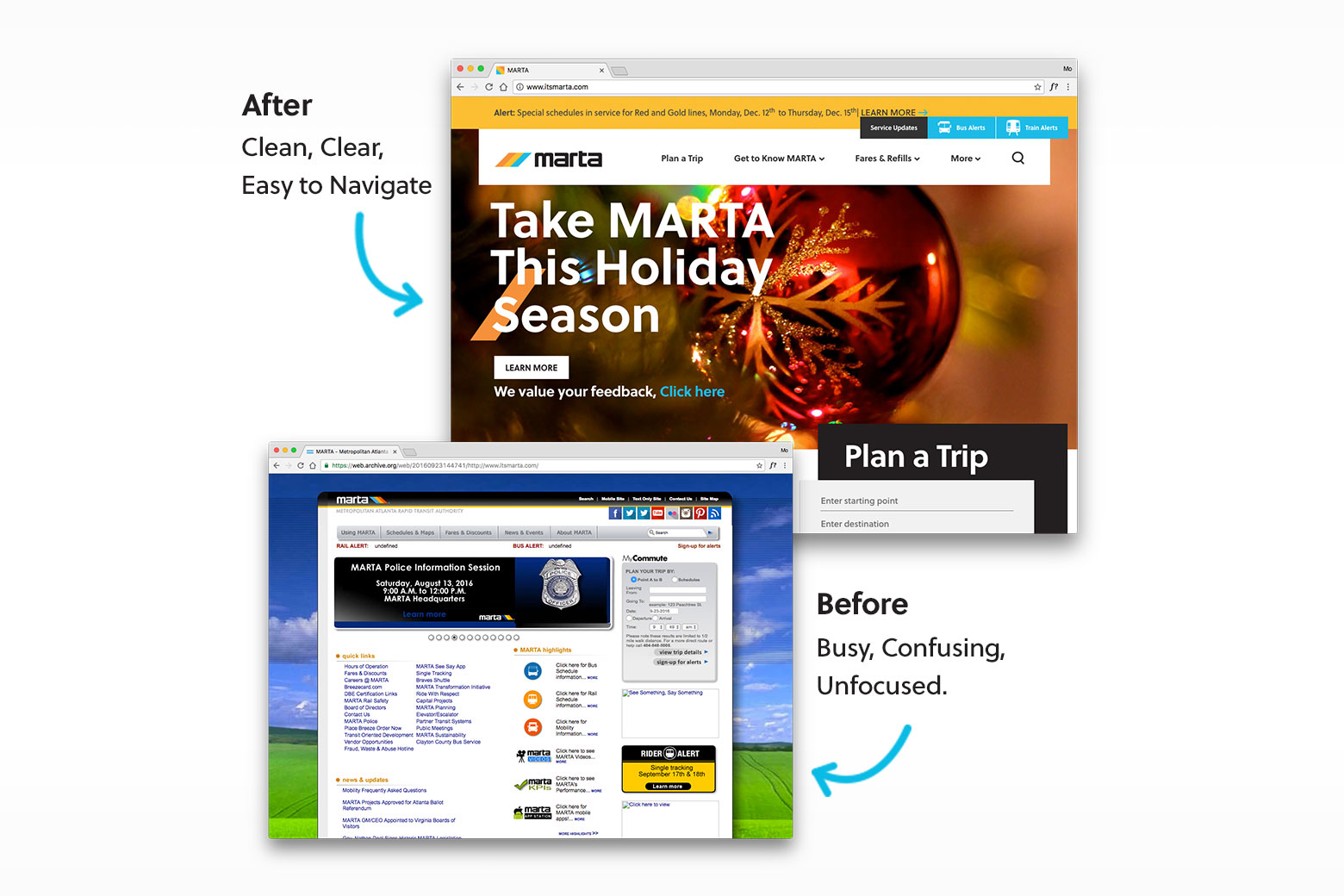 Real-Time Alerts
To help riders plan for delays, we added delay alerts to the top of each page, separating them by bus and rail delays. We also added a site interruptor for global messages such as inclement weather. These global messages show on each page of the site so all riders are notified of major delays or service interruptions.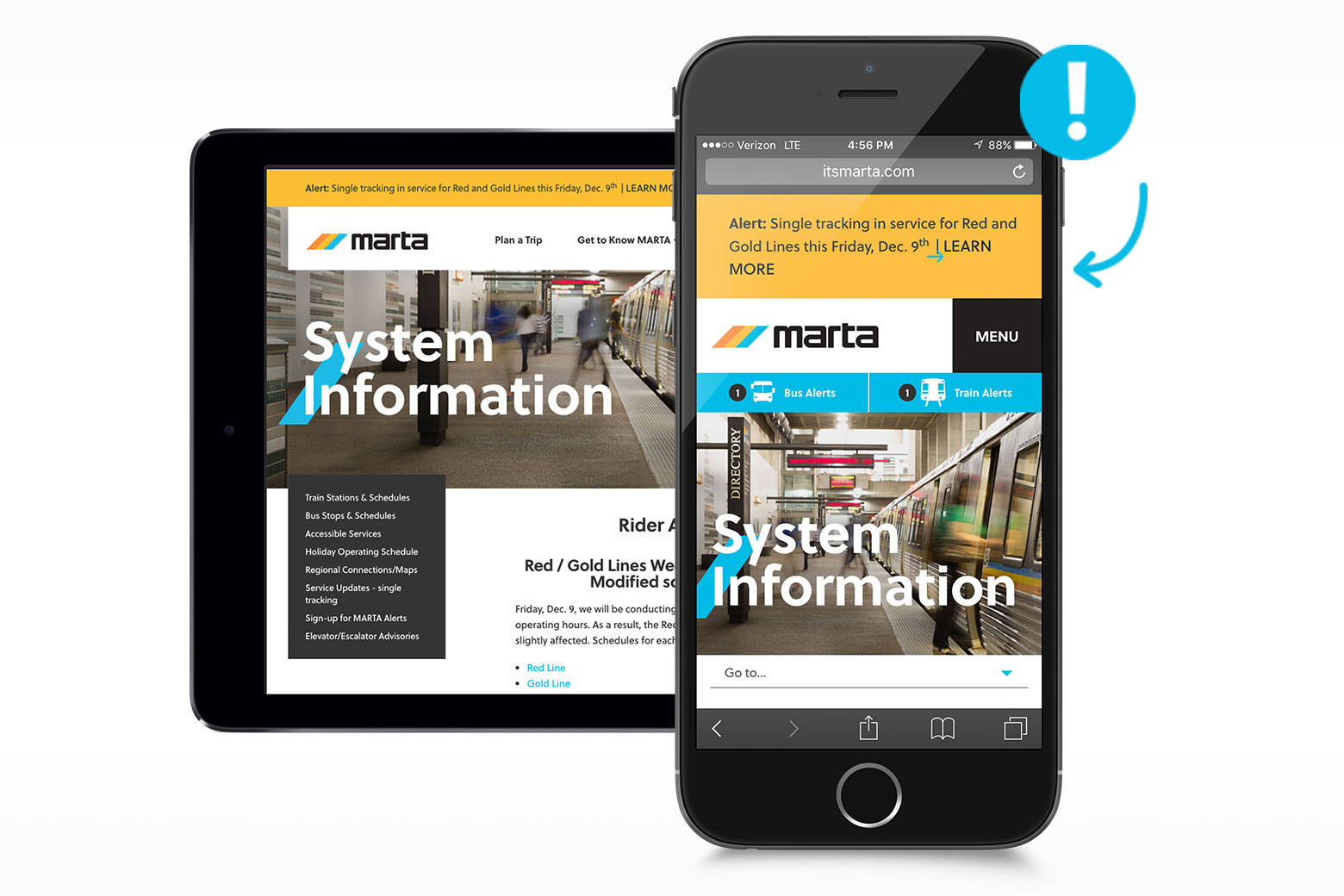 Real-Time Information
During our interviews, we discovered a common problem: riders wanted easy access to real-time arrival and delay information. We added real-time arrival information to the MARTA website, and riders can now see when trains and buses will arrive at each station.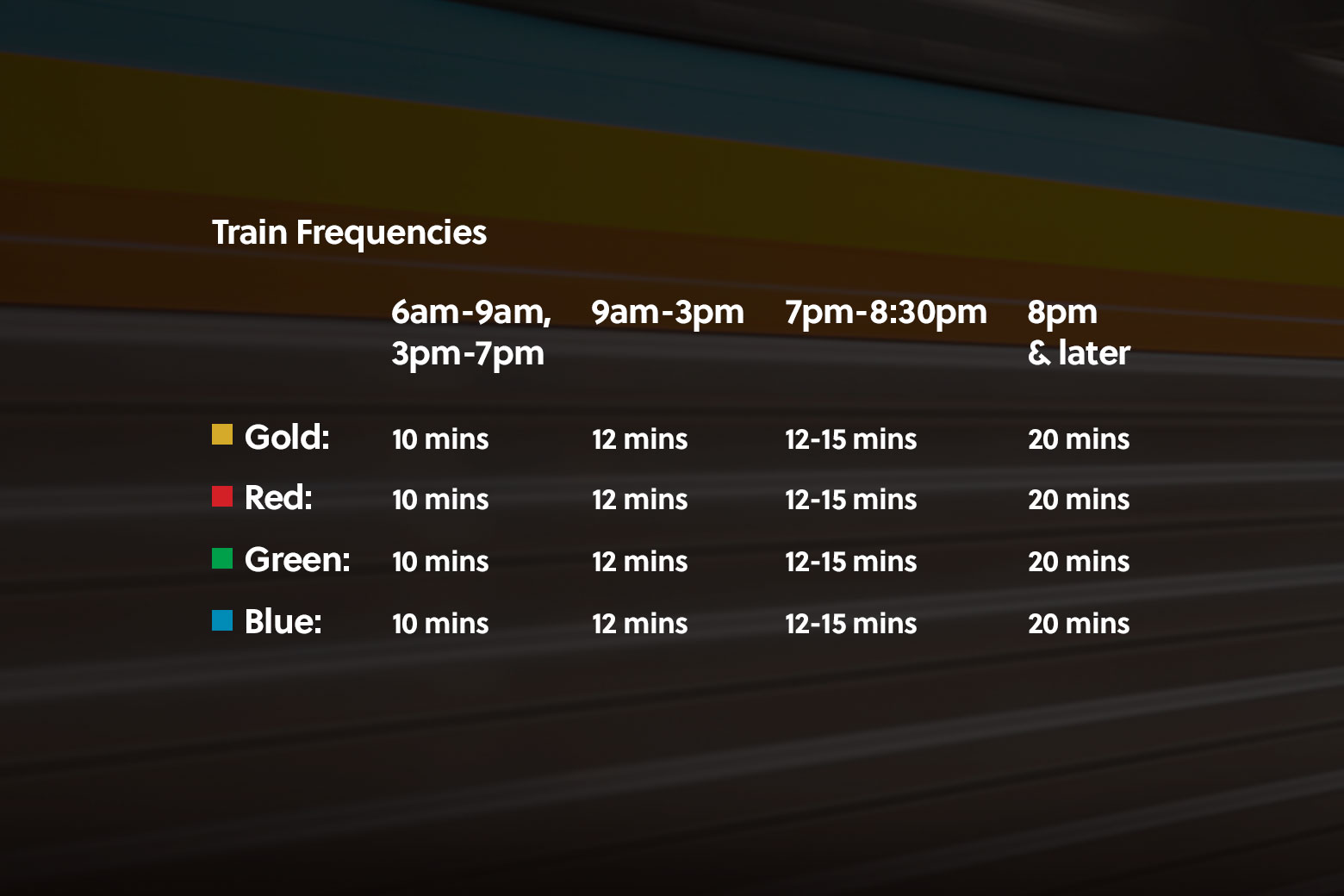 Enhanced Multi-Modal Trip-Planning Tools
To help riders navigate their routes, we built a mobile-friendly trip planner that integrates all regional transit partners, including surrounding county transits. Users can now enter starting and ending addresses from anywhere in the metro area to find routes, time estimates and travel modes (bus or train) to reach their destinations.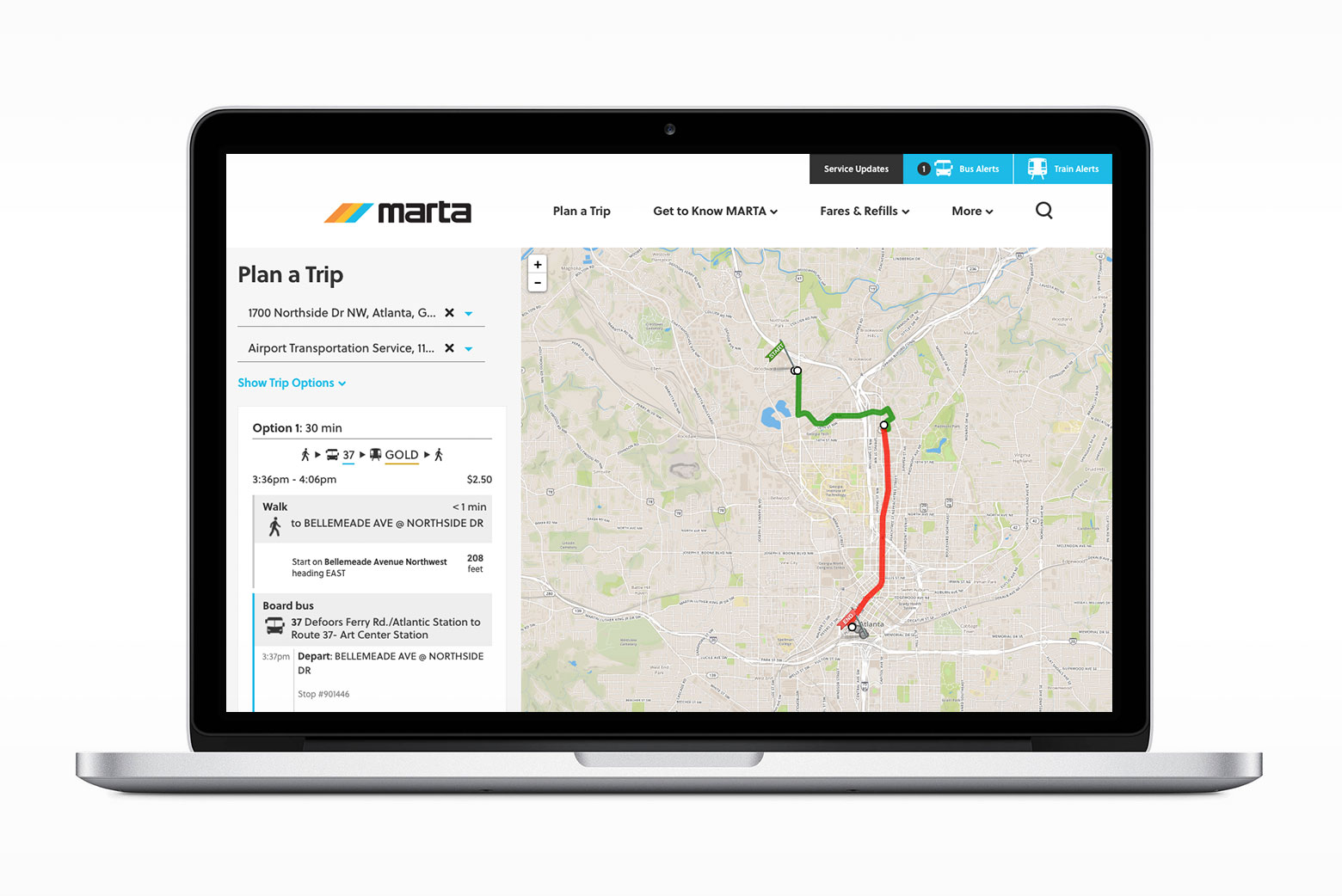 Accessibility for All
In the past, the MARTA site was not compatible with screen readers, meaning users with visual impairments had to visit a separate, text-only website. Now everyone can visit MARTA's site with the same screen reader-friendly code base.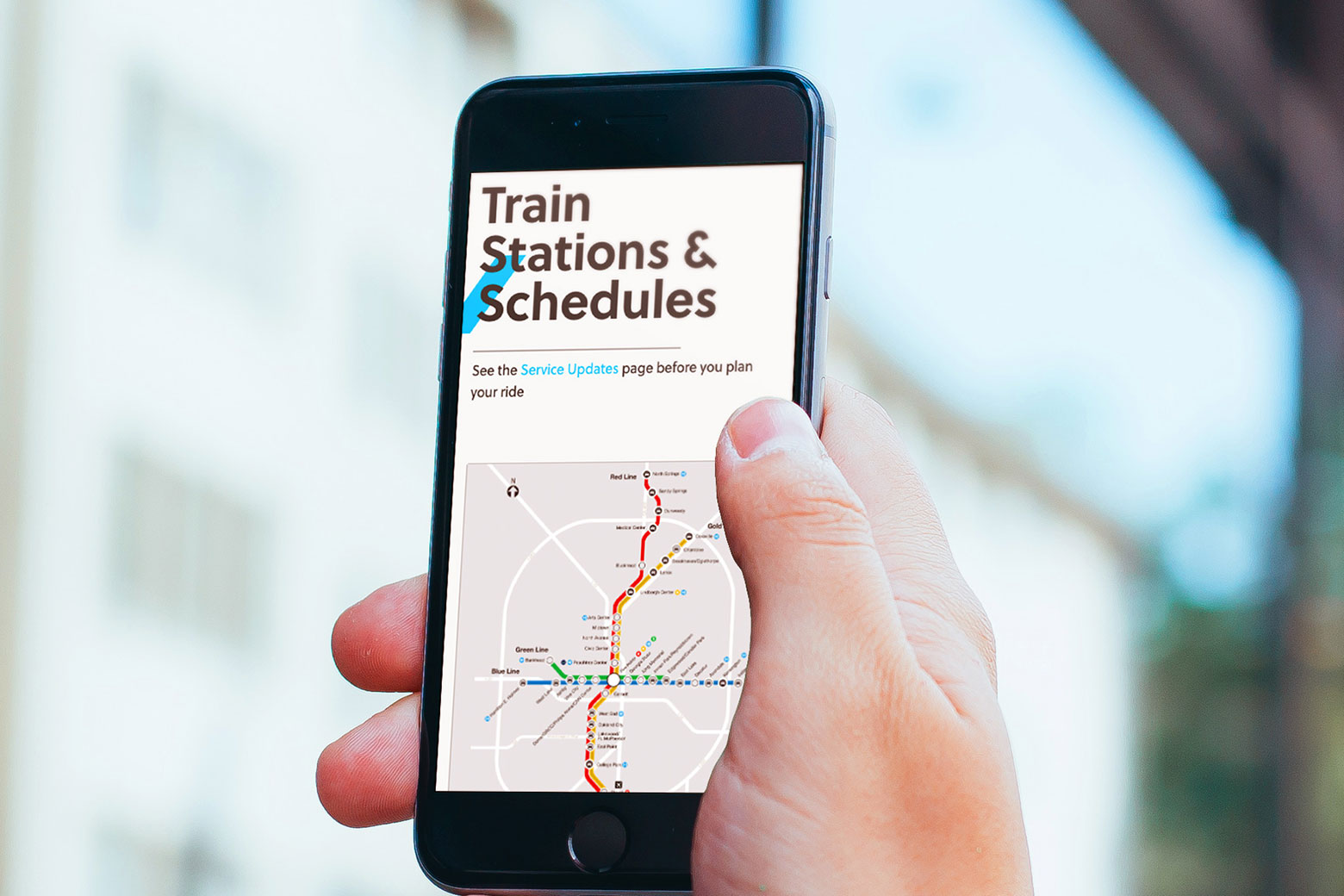 Inspiring Ridership
To inspire people to explore the city with MARTA, we created content to show folks how they can take MARTA to fun and interesting places in Atlanta, from a food and bar tour to how to ride your bike on MARTA and more.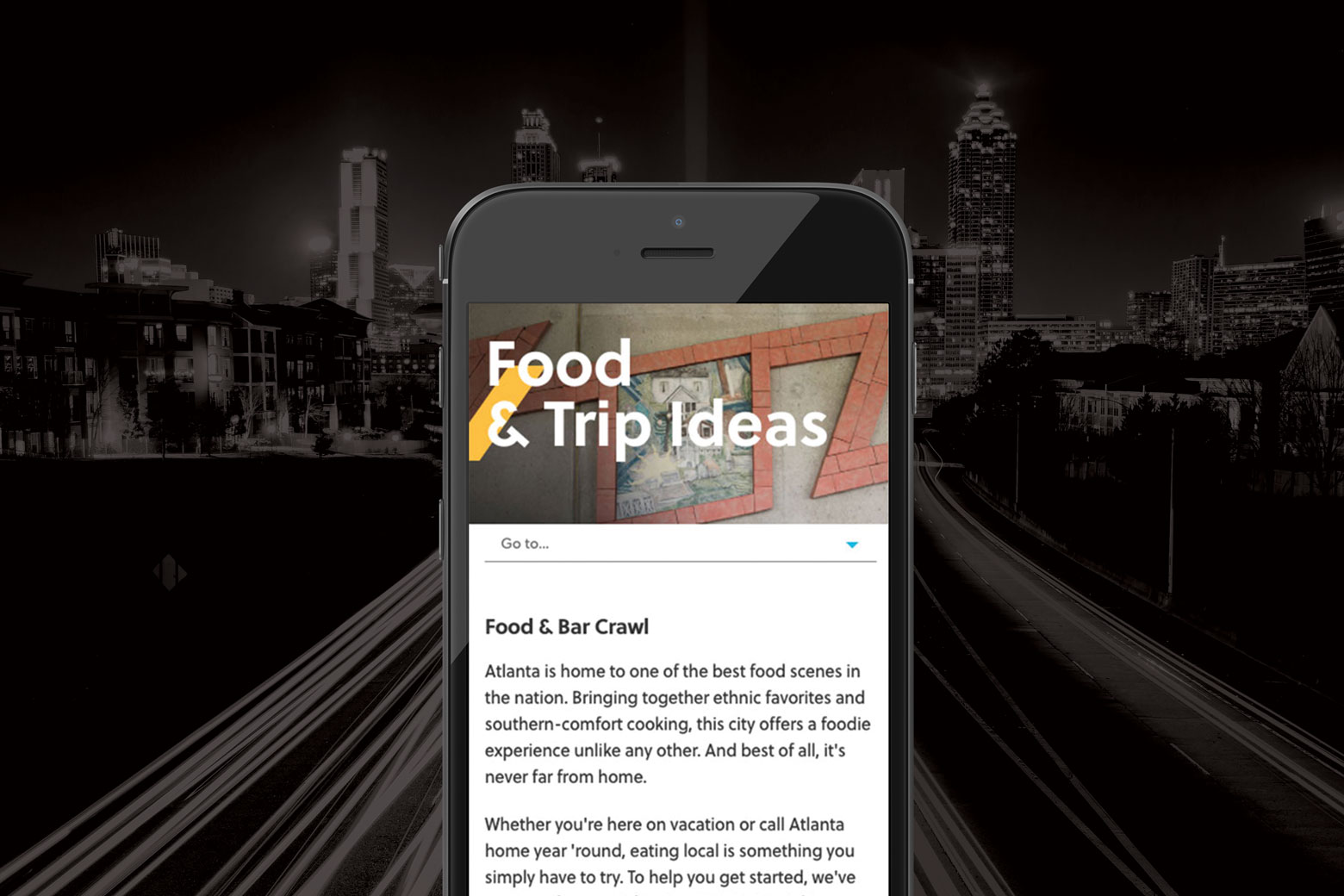 Real-World Testing
We tested the site with real MARTA riders to ensure the new website met their needs and were able to identify and resolve areas of friction. Riders reported that the new website "feels more modern and more relevant," and that delay alerts and route planning made traveling on MARTA easier.