Stronger, Cleaner, Smarter - Meet the New Player in Healthcare Furnishing
Challenge
Help a successful senior living furniture brand break into the healthcare arena
Solution
Developed a comprehensive paid media, SEO and UX strategy to introduce Kwalu to key stakeholders in the healthcare industry
Result
Doubled healthcare furnishing sales year-over-year
Healthcare Furniture Built to Last
A leader in senior living furnishings for 30+ years, Kwalu's products are made of steel frames covered in high-strength polymer, made to look like home furnishings. What sets them apart? This furniture is made to take a beating and

designed to be cleaned with bleach. Kwalu approached Nebo ready to expand their success into the healthcare arena.

BRAND & AUDIENCE INSIGHTS

In the world of healthcare, cleanliness is mission critical. One outbreak of hospital infection results in an intensive — and costly — cleanup protocol. And even worse, patients with already fragile health may be exposed to life-threatening diseases. Hospital waiting rooms and patient rooms are filled with furniture that cannot be easily sanitized with bleach. Kwalu knew they had a solution to the problem, but needed help communicating this message to the key decision makers: healthcare interior designers and hospital office admin.

SOLVING THE PROBLEM

Nebo's integrated marketing strategy focused on three things: improving the organic visibility of the Kwalu website through on-page and off-page initiatives; utilizing digital paid media campaigns to introduce Kwalu to potential customers who have never heard of Kwalu; and using research and testing to improve the user experience on the Kwalu website, providing an enjoyable product exploration and conversion experience. This digital strategy, paired with Kwalu's traditional efforts at trade shows and industry events, would bring an integrated marketing approach to fruition.

Nebo started its work by addressing technical issues on the Kwalu site, which were negatively impacting organic visibility, including a lack of on-page content on healthcare product category pages, as well as a duplicate site which was being indexed by the search engines. To establish Kwalu's authority as an expert in healthcare furnishing, Nebo formed a strategy to create thought leadership content, including subjects such as healthcare furniture design trends, the unique issues different types of healthcare patients face, and the benefits specialty furnishing can provide for patients.

To complement SEO efforts, Nebo completed a full restructure of Kwalu's paid media campaigns, with a focus on introducing Kwalu healthcare furnishings to users who have not considered Kwalu before. These campaigns highlighted the unique product offerings and showcased the beauty in design. In addition, Nebo planned hyper-local, geo-targeted campaigns focused on key industry events, such as the Healthcare Design Expo, to reach industry professionals in the right place at the right time.

Anticipating the increase in traffic to the Kwalu website, Nebo's UX team conducted user testing, as well as a heuristic audit of the site to uncover potential barriers for conversion or ways to smooth the user's on-site experience. Projects included redesigning the homepage, optimizing for ease of navigation and optimizing top landing pages and top conversion-focused pages. From full-page redesign to small updates in images and CTAs, each test measured ways to improve a user's interaction on the site.

RESULTS

In addition to increased organic and paid site traffic, as well as improved conversion rates across multiple touchpoints on the Kwalu site, Kwalu's healthcare furnishing sales doubled year over year. Our challenge? Do it again.
Ensuring an Effortless Experience
Through a heuristic audit, redesigns and A/B testing, improvements to the Kwalu site resulted in a 30% lift in contact form submissions and a 136% lift in requests to schedule a showroom tour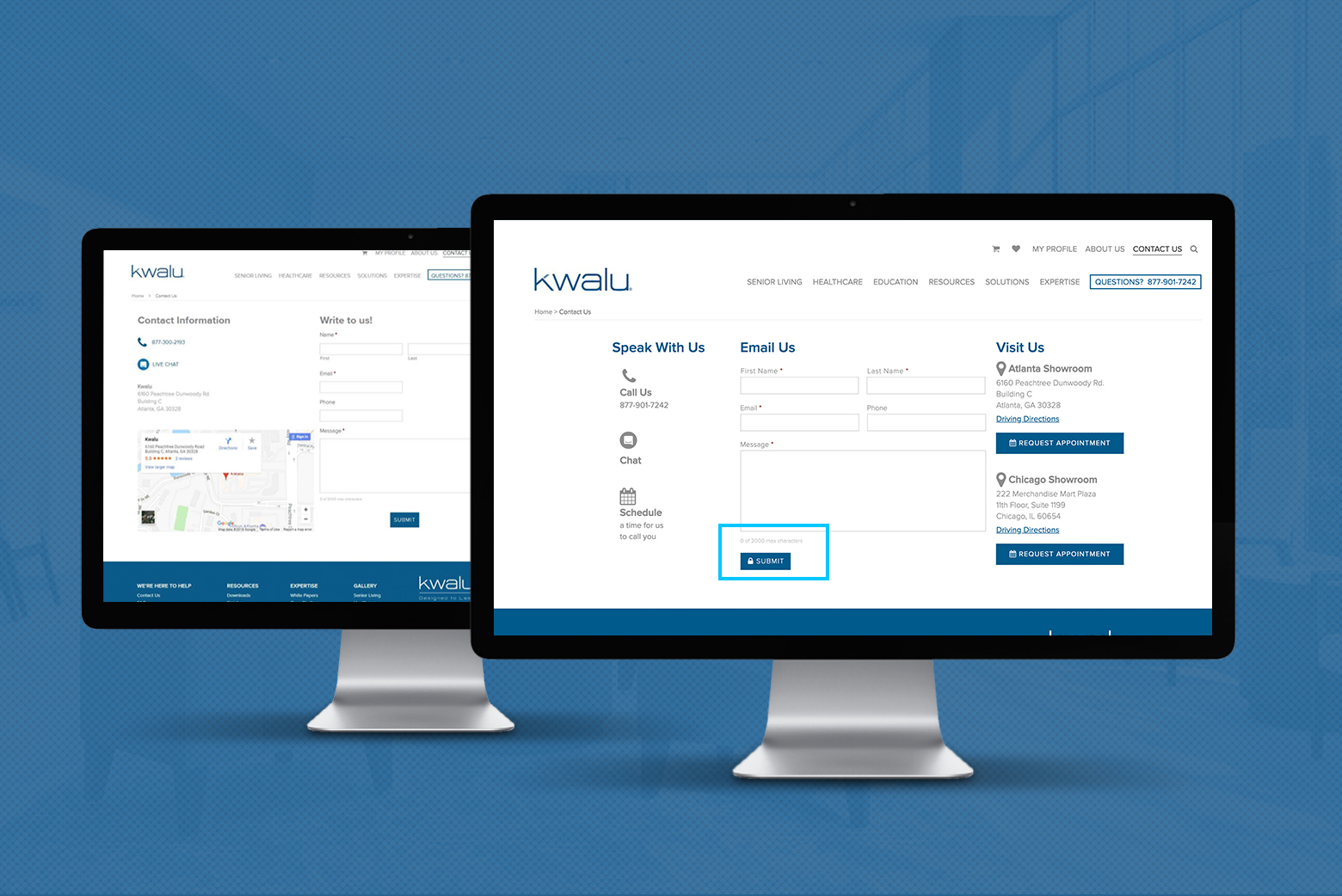 Improving Organic Visibility for Healthcare-Related Queries
By addressing major technical health issues and developing a robust on-page and off-page SEO strategy, organic sessions to healthcare pages increased +32.59% YoY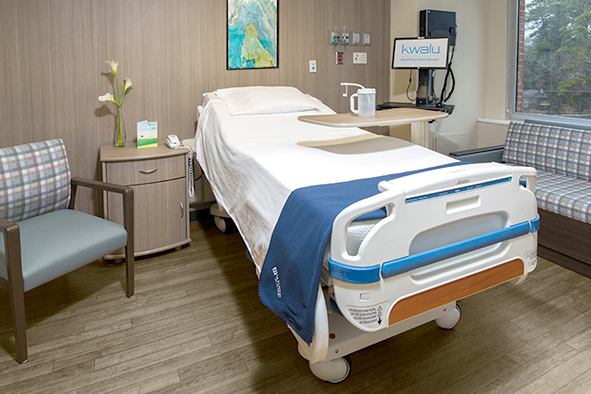 Showcasing Kwalu's Unique Selling Points
Kwalu furnishings are made to be used in healthcare environments. Paid media campaigns communicated the unique selling point to a new audience, driving a +64.69% YoY increase in paid conversions from healthcare campaigns