Warming Things Up
Challenge
Drive turn-ons in a competitive market
Solution
Buyer-journey focused campaigns that generate demand
Result
Record digital results and cozy customers
Driving Demand for Natural Gas
With more than 280,000 residential, business and governmental customers, Atlanta-based Gas South is one of the Southeast's leading natural gas providers, with customers in Georgia and Florida.
Gas South's customer-first approach is emphasized by its hometown value promise — to always provide great, everyday low rates, outstanding local customer service and strong support for the communities it serves. Gas South hired Nebo to act as a digital AOR with the goal of creating long-term growth in digital enrollments.
Brand & Audience Insights
Until recently, Gas South had the general assurance that cold temperatures in the fall and early winter months would create demand and drive the anticipated number of enrollments. However, changing weather patterns meant the company couldn't just rely on temperatures dropping to drive sign-ups. Nebo realized Gas South had to a take a new approach and reach consumers throughout the year, with a focus on creating urgency outside periods of cold weather.
The other big opportunity Nebo identified was in mobile. With the percentage of traffic on mobile devices increasing dramatically, that demand could be effectively converted into new customers.
A Holistic Approach to Driving Demand
Nebo's integrated campaign strategy focused on improving the conversion rate at each key customer touchpoint, launching new campaigns to expand reach and improve efficiency in paid media, using SEO to improve local presence and increase organic visibility and, finally, leveraging content to communicate consistent messaging across all channels by highlighting Gas South's straightforward pricing and overall value.
The overarching goal was to be more efficient by creating alignment across all key channels and fostering a seamless brand engagement experience.
To improve local visibility, PPC leveraged zip code geo-targeting and launched geo-modified messaging on the ad variation level, directing users to location-specific landing pages created by the UXO team. SEO worked to create consistency with NAP across all local citations — a key local ranking factor. SEO also ensured Gas South was visible on the appropriate local platforms and added Local Business Schema Markup throughout the site.
To create a more agile approach to weather patterns, Nebo built weather scripts for our PPC campaigns. This increased our bids when the weather got colder, and ensured our ads were prominent during periods of cold weather. Additionally, prior to the cold months, SEO worked with content to analyze search trends and find the key issues consumers were researching. This allowed content to compose blog posts that ensured Gas South would be top of mind when users were ready to convert during the Light Up period.
Nebo also worked to significantly expand reach in key markets through SEO and PPC. PPC worked with programmatic partners to target users throughout the buyer journey, leveraging advanced capabilities such as competitive conquesting through search-powered audiences, device ID and geo-fence targeting.
By researching important buyer journey websites where Gas South could not compete organically, Nebo's SEO team made sure Gas South was listed on relevant external domains. Gas South experienced maximum visibility through these additional efforts, and Nebo was able to dramatically increase visibility and brand awareness.
Lastly, to improve our conversion rates for mobile users, Nebo worked with development to effectively route mobile traffic into a mobile-optimized flow. UXO tested different landing page layouts to assess the effectiveness of multiple CTAs and featured proof points and incentives more prominently on those pages. Insights from these tests were then used to improve conversion rates by leveraging the most effective pages, copy and CTAs.
To better reach users during spring and summer months, Nebo created a social-focused campaign aimed at consumers moving homes, called #HackYourMove. A household move is the most likely non-weather related reason for enrollment, so Nebo wanted to reach this audience early in the buyer journey and create brand connection. By creating 10 short videos highlighting tips and tricks to make moves easier, Nebo helped the brand stay top of mind for this key audience.
Results
As a result of our efforts, Gas South saw a significant increase in conversion rates at a decreased cost per conversion, leading to a record number of digital enrollments for the year.
Smarter Advertising
We capitalized on the nature of Gas South's business by using custom scripts to fire certain ads leading up to and during the coldest weather, allowing for increased spend to customers in need at just the right time.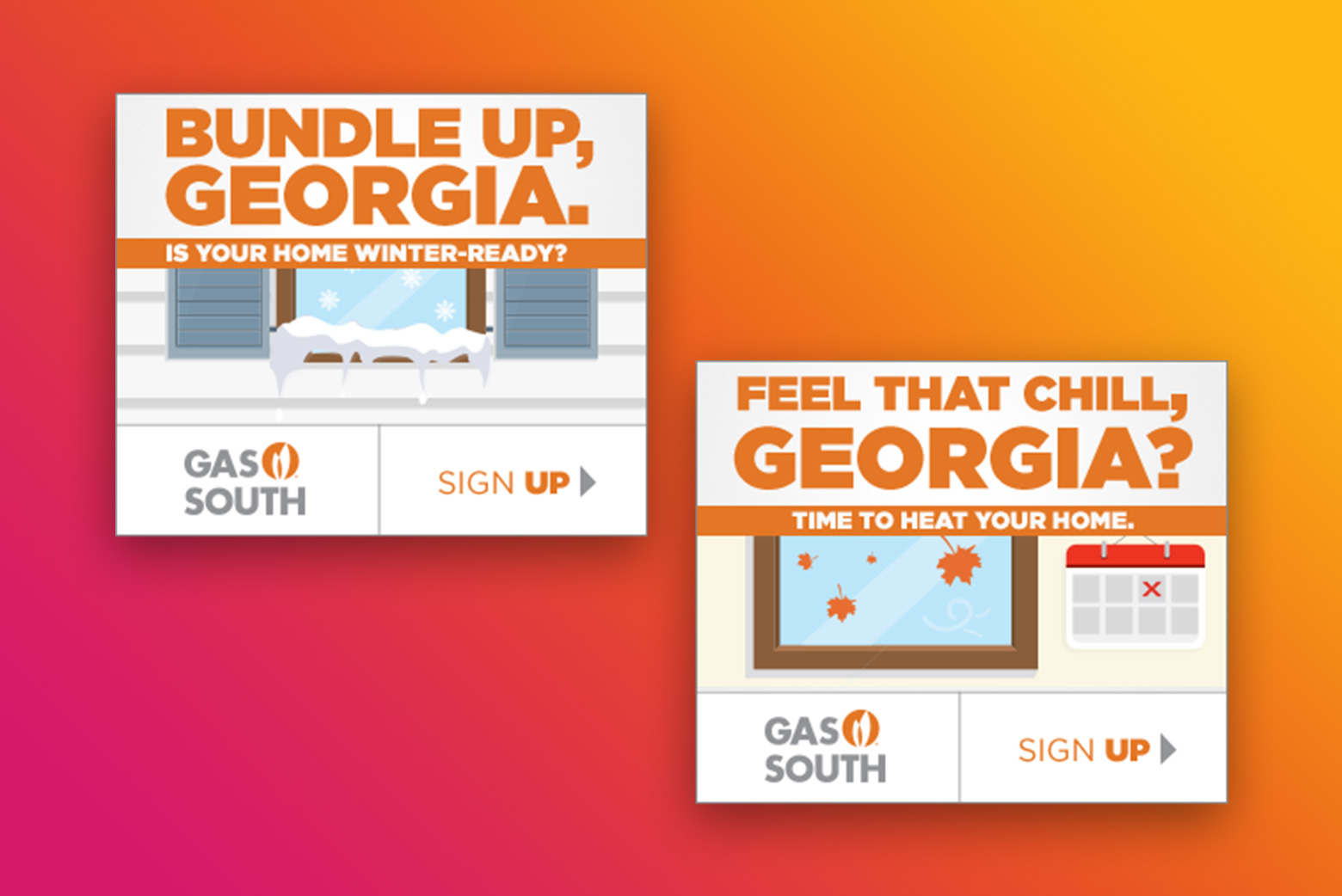 Building a Connection
Gas South isn't just low rates on therms. We brought their "Difference is good" messaging to life across the digital experience through engaging landing pages and creative.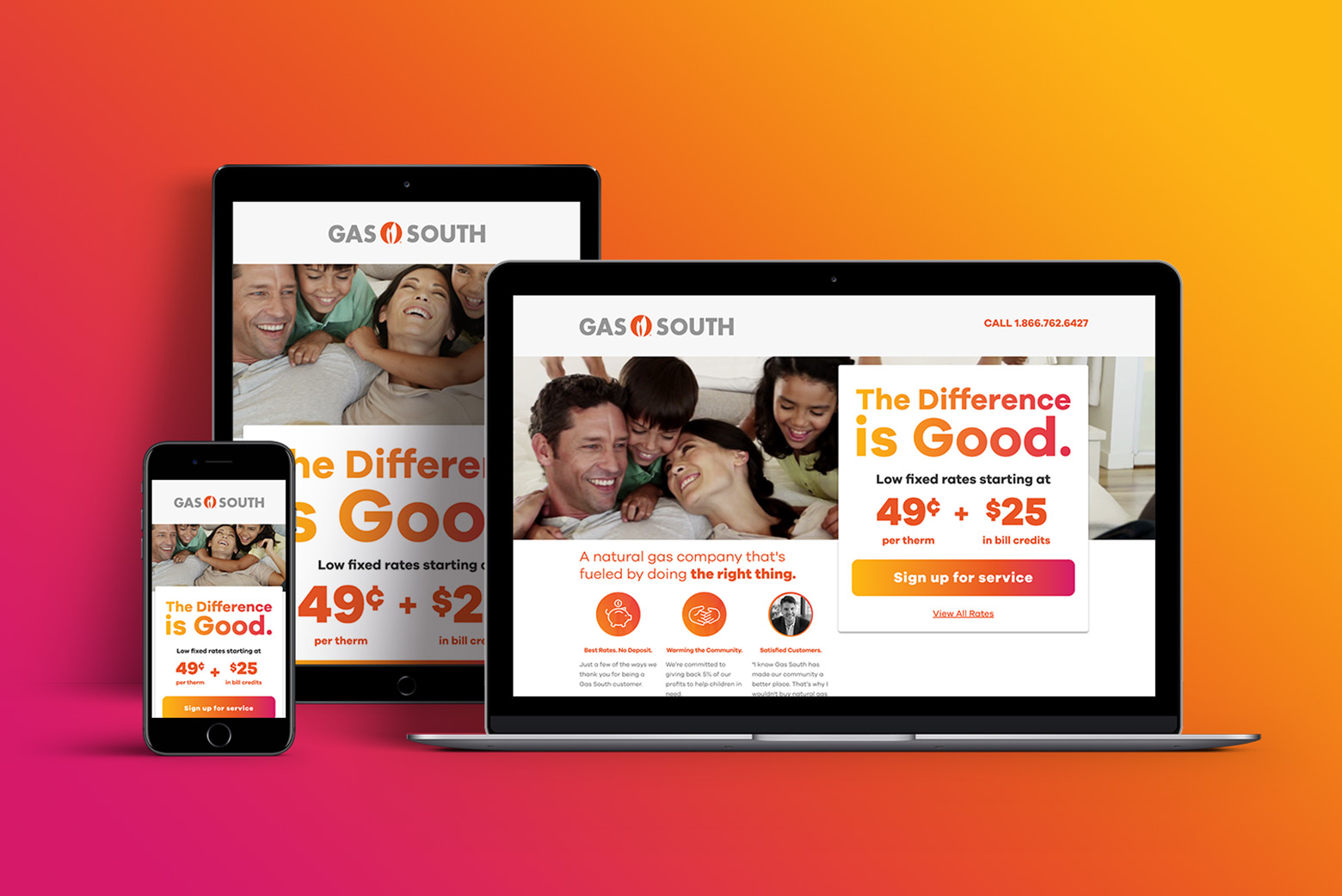 #MovingHacks
One of the key drivers of Natural Gas turn-on is when someone moves. To reach this audience early in their journey, we created a series of 10 social videos that provided tips and tricks for those getting ready to make a move.