A Holistic Approach to Reintroducing a Brand
Challenge
FLOR's unique benefits weren't clear to customers, which delayed or prevented sales.
Solution
Our integrated approach educated customers and removed barriers to purchase.
Result
We brought FLOR's brand story to life and reached our annual revenue goal in 6 months.
Bringing the Pieces Together
When carpet tile retailer FLOR closed most of their brick and mortar stores and shifted their focus to online and catalog sales, we had a huge opportunity ahead of us. First, we needed to rethink the brand strategy. Then we needed to create an integrated approach to reach customers at every step of their purchasing journey.
FLOR's previous campaigns focused on marketing carpet tiles and incentivizing with frequent offers. But this approach wasn't resonating with customers. Nebo began by reintroducing FLOR as an area rug retailer in order to align our language with how customers actually thought about the category.
While rethinking the overall strategy, we needed to bring product education to the forefront. We began by simplifying the product benefits and language into three consumer-facing brand pillars: Beautiful. Smart. Responsible.
Even though we didn't enjoy the same household name recognition as our competitors or have the budget to match their media spends, we had a savvy strategy and great creative on our side. Best of all, our approach paid off to the tune of record sales numbers within a few short months.
Email: We revamped the email strategy and creative to optimize the welcome series, automated cart emails, and post-purchase emails, while also telling the brand story.
Social Media: We integrated the website product feed to use product tagging, started an influencer partnership program that includes takeovers and giveaways, incorporated Like2Buy, and integrated our hashtag #myFLOR stream on the website.
Paid Media: We built more top-of-funnel prospects and increased the close ratio of deeper-funnel potential customers. Programmatic advertising targeted catalog recipients, shopping feeds and paid search reached deeper funnel buyers, while robust retargeting helped reduce cart abandonment and drive sale conversions.
UX: User testing helped us enhance the ecommerce platform by removing potential hurdles, rethinking navigation flow, and re-aligning messaging to more effectively improve overall conversion rate.
SEO: We removed technical hurdles and expanded FLOR's organic footprint to drive additional traffic.
Retail: Store signage helped us highlight tell brand story, highlight specific product attributes, and give street-level visibility to sales.
Catalog: We updated the seasonal creative catalog to address consumer pain points, and we also introduced brand storytelling spreads.
Full-Funnel Digital Advertising
Digital advertising reached consumers at every phase of the buyer journey and across channels. Programmatic display, social ads and native content helped build awareness, while robust paid search, shopping feeds and first-party data retargeting helped capture demand.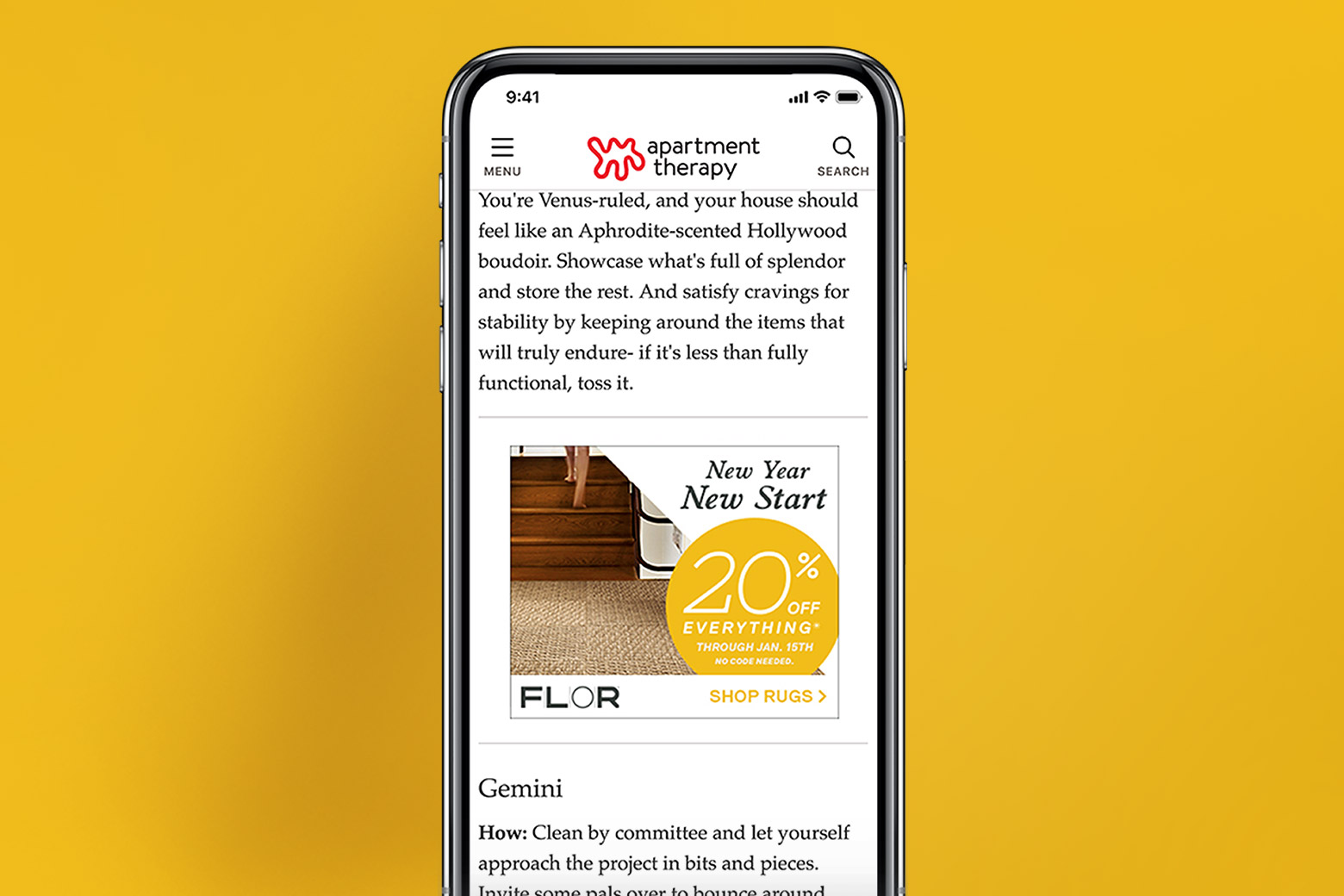 Captivating Catalogs
In the new catalog, we used more full-bleed imagery to shine the spotlight on the rugs. To address common barriers to entry, we included larger swatches, prices of common rug sizes, and customer stories.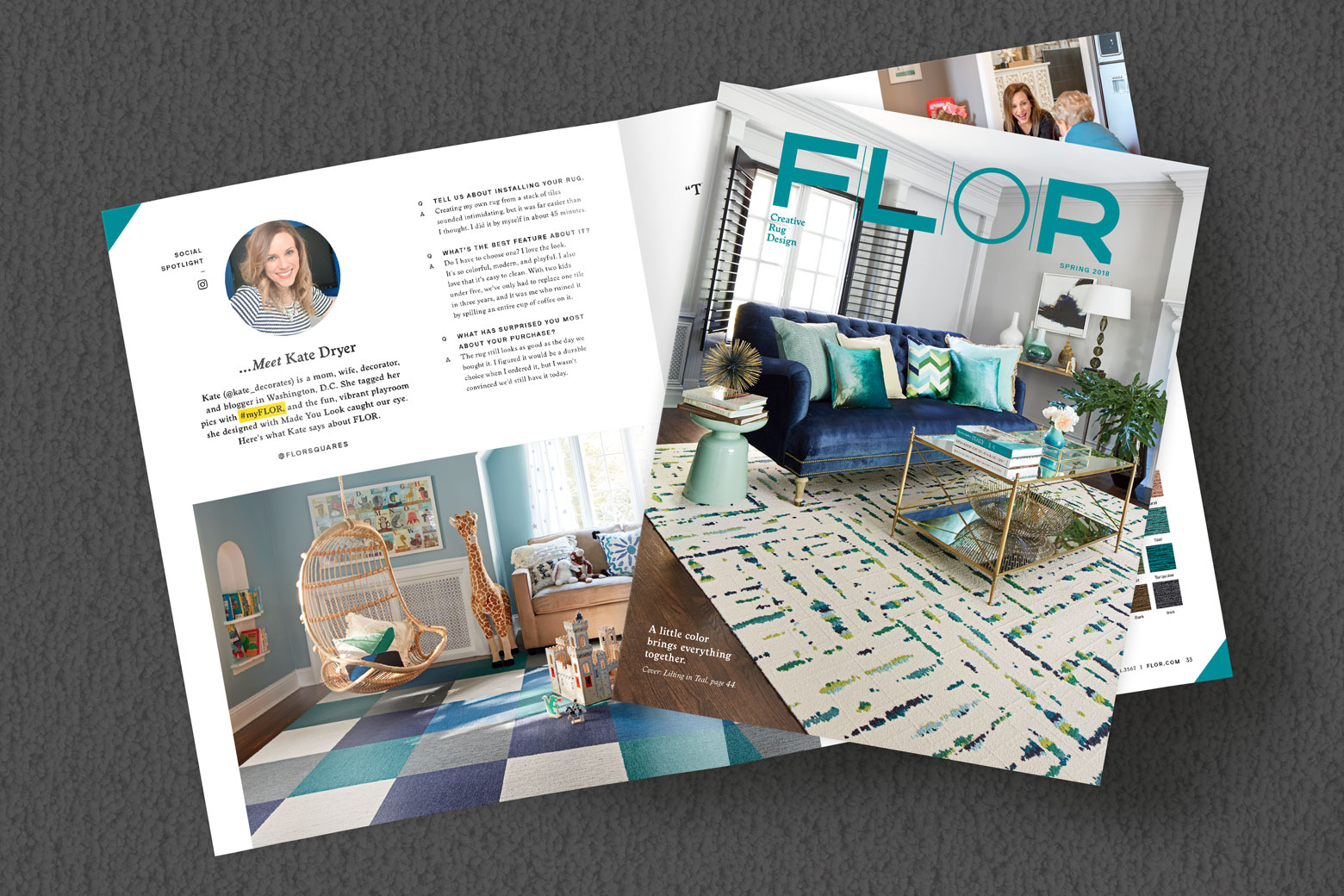 In-Store Signage
For FLOR's retail stores in New York City and San Francisco, we created a poster series to reinforce brand messages and tell seasonal merchandising stories.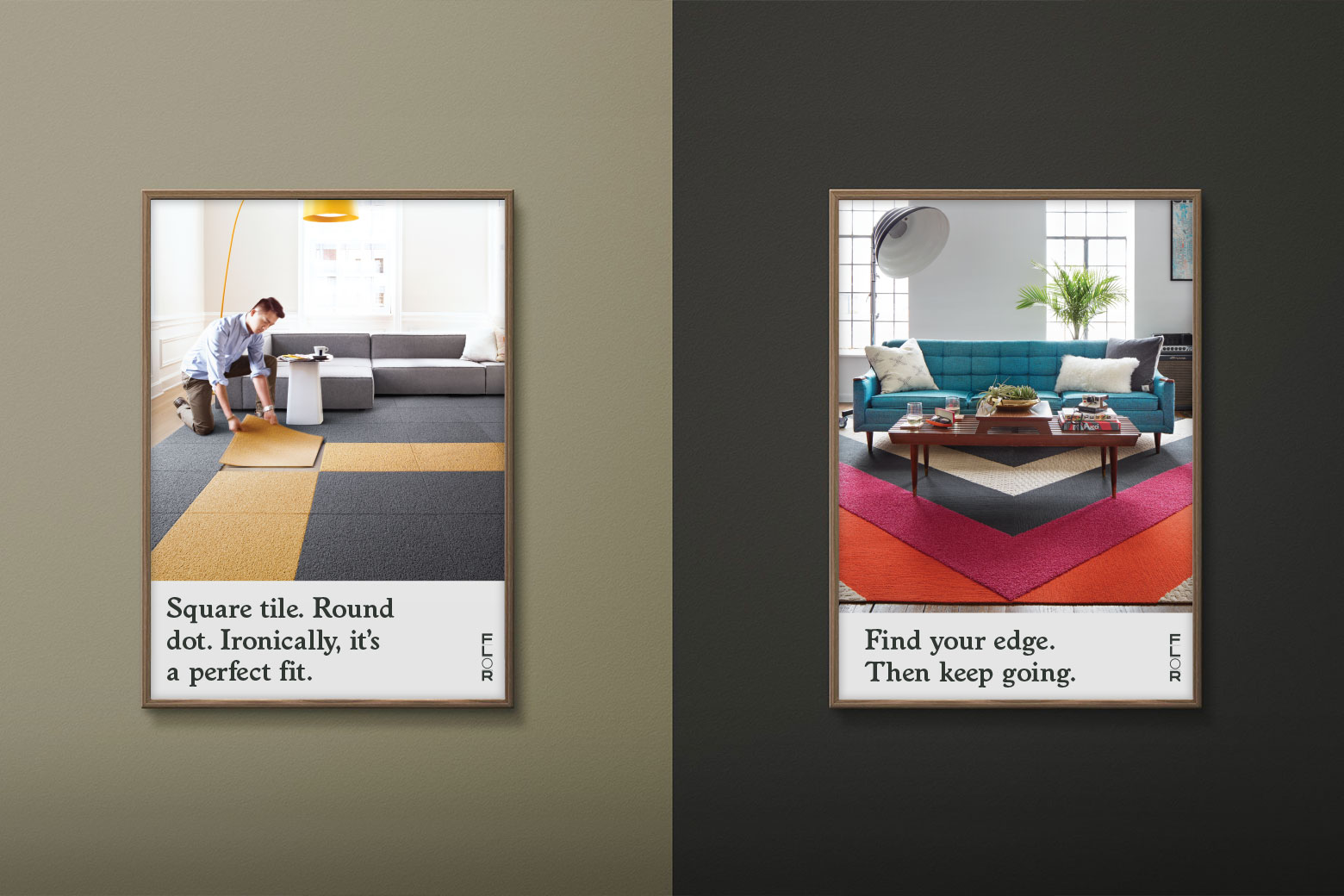 Driving Email Revenue
The existing email program was redesigned from the ground up with a key focus on blending sales-focused emails with brand storytelling.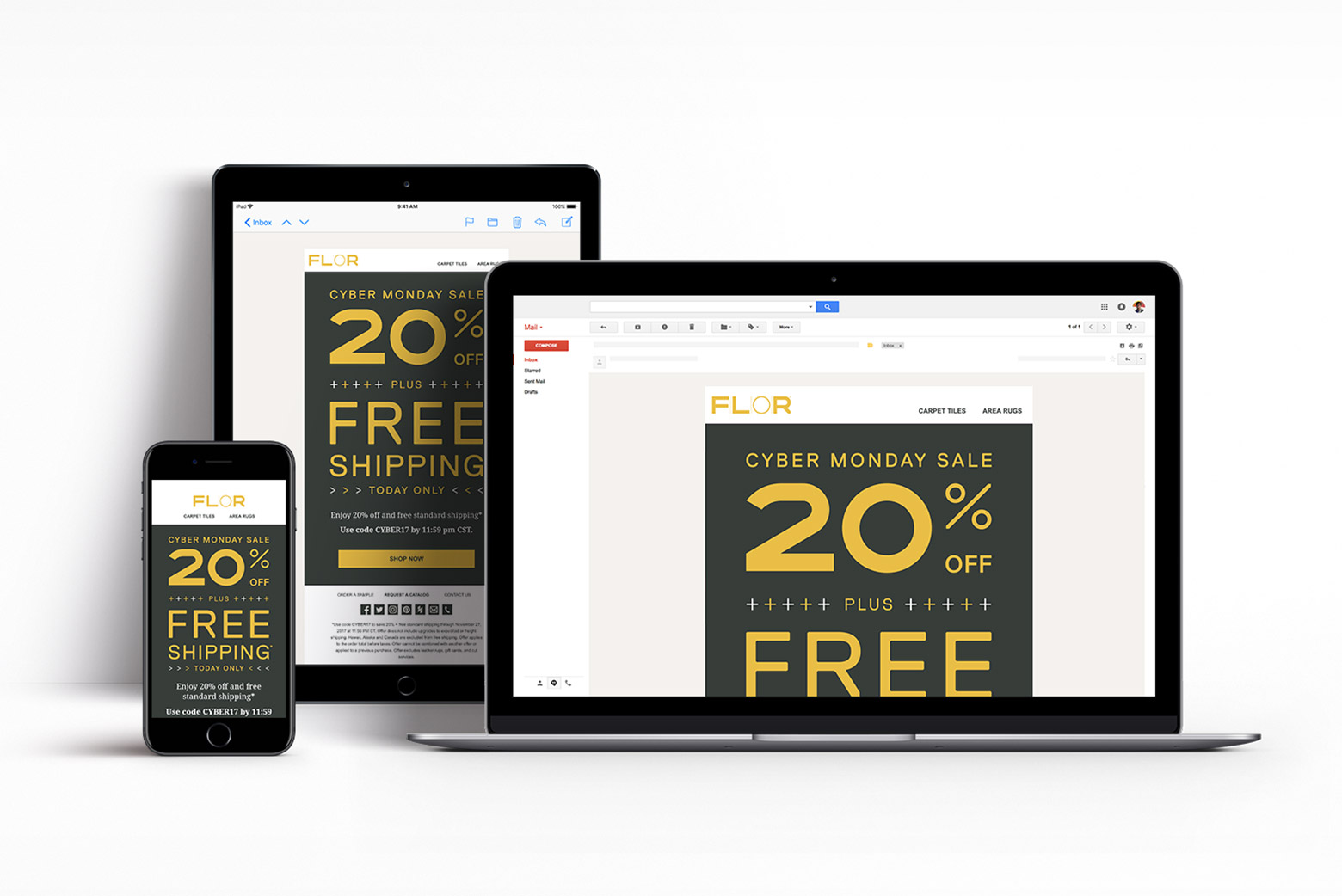 Savvy Social
Social campaigns leveraged user generated content showcasing #myFLOR. We also built a robust influencer program that leveraged interior design heroes to showcase the product in authentic ways. Beyond the standard social channels, we also built a robust Pinterest presence that drives consistent revenue.