Launching a New Streaming Service For Cinephiles
Challenge
Introduce a new live-streaming service to hardcore film lovers.
Solution
Developed a comprehensive marketing campaign for email, PPC and more, all while building the streaming site from the ground up.
Result
Tens of thousands of monthly subscribers.
Bringing Iconic Films to Fans
FilmStruck is a new streaming service created by the film lovers at Turner Classic Movies and The Criterion Collection. Offering the largest collection of indie films available anywhere, it is also the exclusive streaming home of The Criterion Collection.
Brand & Audience Insights
While mainstream movie-streaming services like Netflix are great, they're not made for the hardcore film lover. FilmStruck offers instant access to critically acclaimed films, hard-to-find gems and cult favorites from the world's greatest independent film libraries. FilmStruck is dedicated to film and film discovery, offering serious fans the opportunity to dive deeper with a constantly refreshed collection of iconic art-house, independent and foreign films, ranging from Le Samourai to Solaris and Pulp Fiction.
Solving the Problem
The first challenge was introducing this new service to the market. Prior to launch, Nebo created an email capture microsite teasing the service and allowing potential subscribers to sign up for a launch notification. Through the microsite, Nebo built a targeted list FilmStruck could immediately activate once the service was available.
Once the service was live, Nebo launched a more fully-featured responsive website that put arthouse films and auteurs at the center of the digital experience — introducing key benefits, promoting the free trial offer, showcasing device availability and allowing cinephiles to explore the films and directors offered on the service. Targeted messaging made the case that, through FilmStruck, viewers could experience the films and directors who shaped the history of cinema. And through user testing and A/B testing, Nebo optimized the experience in order to maximize subscriber conversion rates.
To support ongoing paid media campaigns, Nebo created hundreds of display ads highlighting various films, directors, genres and themes. Once users were exposed to the initial creative, retargeting creative highlighted the 14-day free trial offers. Social creative included targeting cinephiles on Facebook, Instagram and Tumblr, while custom takeover ads were designed for Indiewire, Amazon Fire and CNN.
In order to increase conversion rates for specific ads and keywords, dynamic landing pages were designed to support these paid media campaigns. The same dynamic approach was used for offline film-festival activations and giveaways. Allowing FilmStruck to quickly launch new landing pages and promotions as needed, these landing pages led to a 50 percent increase in conversion rates for targeted paid traffic.
An email welcome series was created to help onboard new subscribers, drive app adoption and decrease attrition after the free trial period was over. A weekly email newsletter program was also developed to drive continued subscriber engagement.
In order to capture excitement around the 2016 holidays and FilmStruck's pending inclusion in several major holiday gift guides, we built an add-on gift certificate shopping experience that allowed users to buy one-year gift subscriptions. This let thousands of customers give the gift of great film to their loved ones.
Results
As a result of Nebo's efforts, FilmStruck was able to generate tens of thousands of monthly subscribers and bring the gift of film to thousands of happy recipients during the holiday season.
Driving Subscriptions & Sign Ups
We designed a responsive website to introduce cinephiles and classic film fans to the service. Key functionality included gifting programs, dynamic landing pages and a custom CMS to make managing the site a breeze.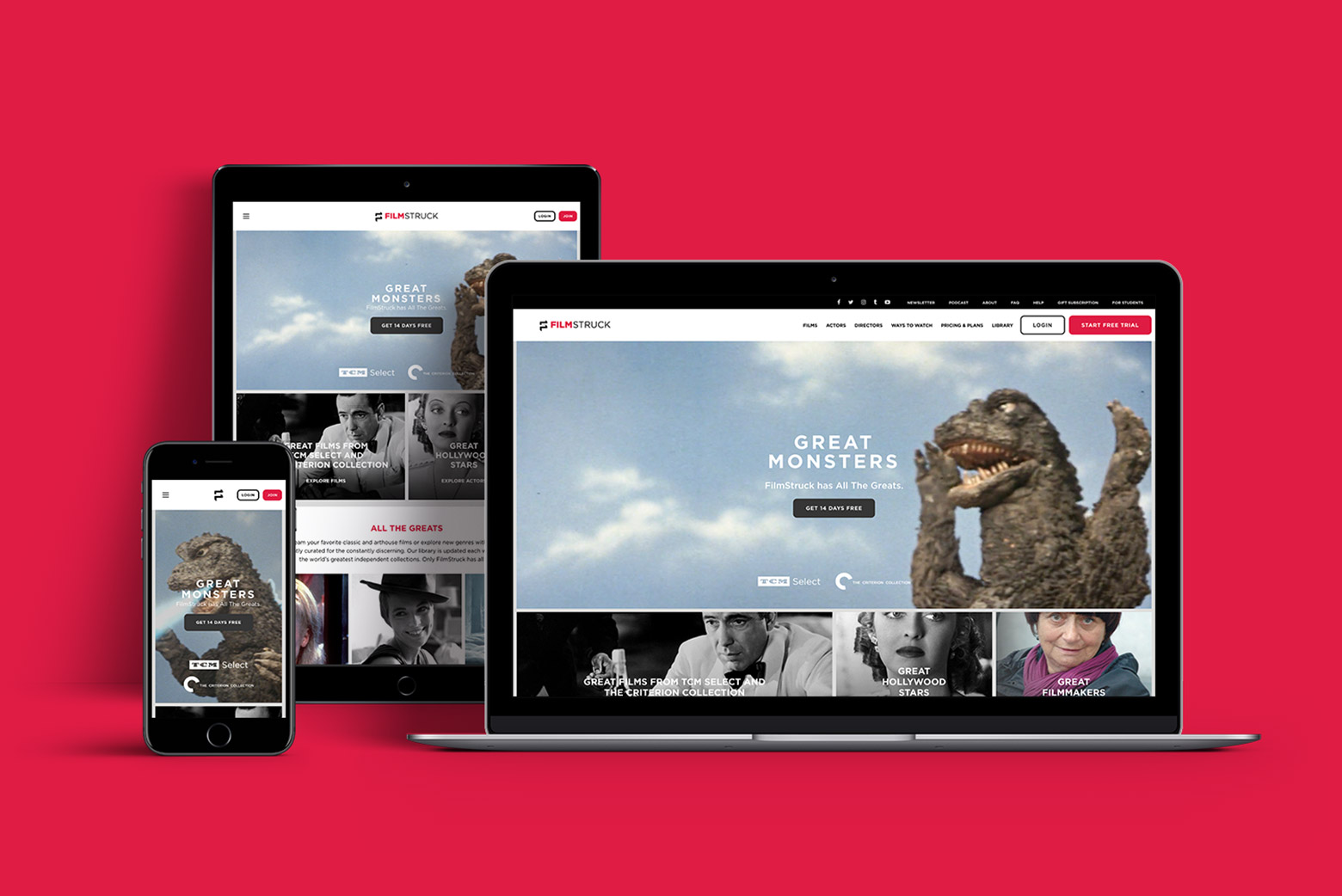 Getting Started on the Right Foot
As a crucial part of the user journey, we supported FilmStruck by creating a "Welcome Series" of emails, giving new FilmStruck subscribers the warm, welcoming greeting they deserved.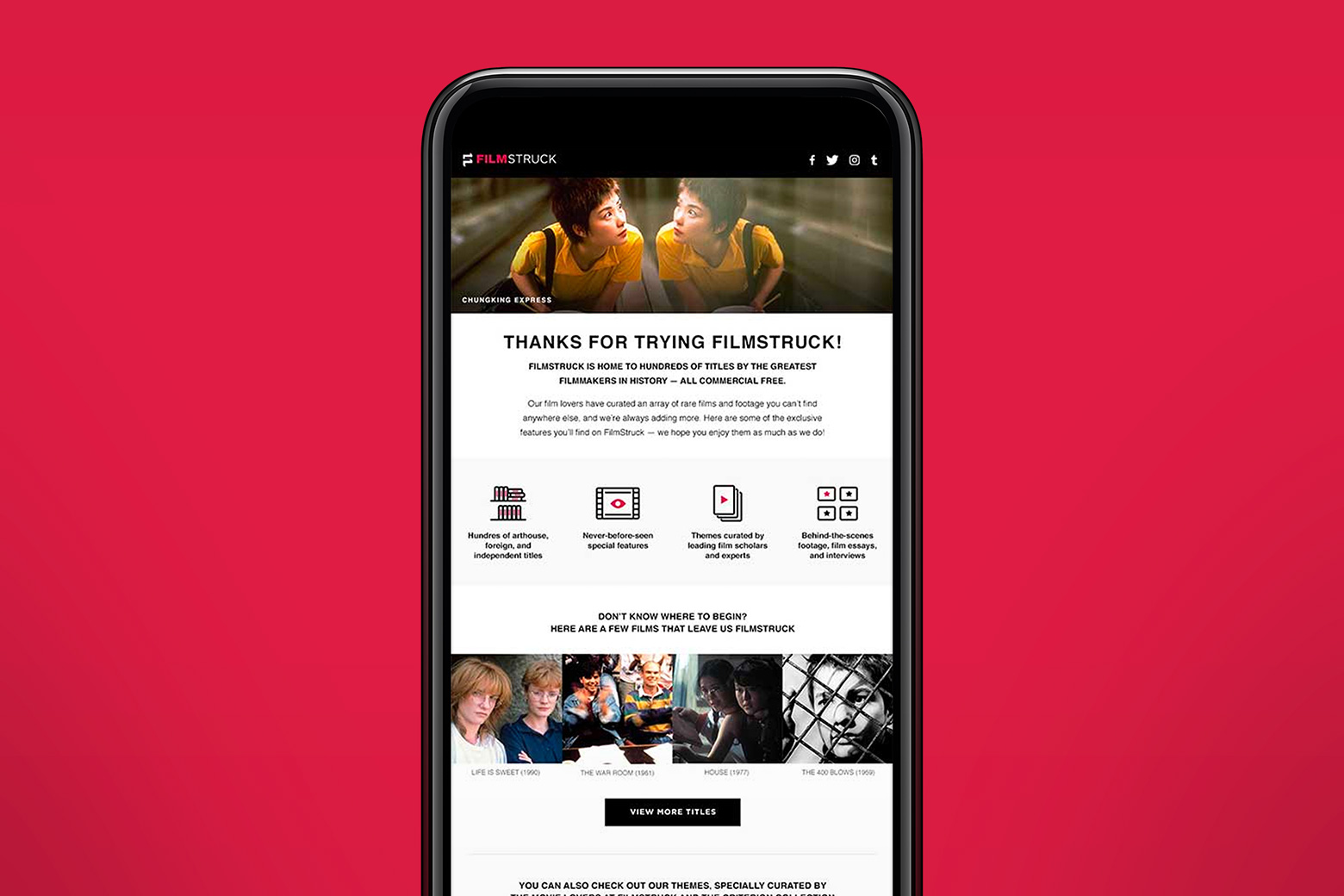 Multi-Platform Digital Creative
From interactive HTML5 ads that let users click through genres and films to see if FilmStruck was right for them, to OTT ads highlighting the service on Amazon and Roku — we created hundreds of ads to support the launch of the service.