Changing the Way a Bank Engages With Its Members
Challenge
Help a culturally traditional firm embrace digital tools and opportunities.
Solution
Redesign the entire digital experience, from website to apps.
Result
Over $2 billion in new revenue opportunities and 600% more loan applications.
Using Digital Innovation to Drive Business Success
FHLBank Atlanta is a member-owned cooperative of large and small banks, credit unions, savings institutions and insurance companies throughout the Southeast.
Operating as a cooperative gives these members the size they need to access global credit markets, which results in the ability to take out large, low interest-rate loans.
As the digital AOR, our team has worked closely with FHLBank Atlanta to define a comprehensive and integrated digital strategy, resulting in a simplified message, new digital assets and new marketing campaigns.
Over the course of the relationship, we've driven demand across numerous digital channels, resulting in $2 billion in new revenue opportunities. Projects have included microsites, email campaigns, video creative and new mobile apps, as well as a major website overhaul.
Historically, the bank had taken a passive approach to growth; however, interest rates were low across the market, which meant there was not as much shareholder demand for FHLBank Atlanta's low interest funding products—their best-known offerings.
As a culturally traditional firm, they had never really embraced the digital opportunity and needed guidance on how best to improve their digital experience and marketing efforts.
Driving New Members Via Targeted Digital Campaigns
In order to engage new potential members and increase usage for lesser-known products, we crafted a campaign called FHLBuilding Communities.
Based on the idea of building communities, the microsite features a custom 3D render of a floating city that users could interact with to learn more about FHLBank Atlanta, the role they play in the community and how their products and services can help various financial institutions such as credit unions, community banks and insurance companies.
In order to drive traffic to the microsite, we created a series of targeted emails tailored to both member and non-member audiences. Both the site and emails were responsive designs so that they worked seamlessly across mobile and desktop devices.
Redesigning the Digital Experience
In order to roll out FHLBank Atlanta's new brand positioning and improve the customer experience, the existing corporate website was redesigned from scratch.
Customer personas were developed, and a new responsive website was designed that was easier to manage, more graphically engaging and designed around the unique needs of each segment of their target audience.
The new responsive website automatically optimizes for large screens, mobile and tablet devices, providing a compelling experience across devices and platforms. The new site is also powered by a custom content management system that allows the FHLBank Atlanta team to easily update site content. The site also integrates with their mobile apps and their existing member services portal.
Building Apps to Engage Their Customers
We also created new mobile and web configurator applications for the bank's members and sales team to use.
Instead of taking a product/service-focused approach, the configurator tool allows the user to select their biggest challenge (e.g. Mitigating Interest Rates) and then leads them through a consultative process that helps them design complex financial transactions one simple decision at a time. Now, instead of sending complex spreadsheets, the FHLBank Atlanta sales staff can sit down next to their customer and easily configure a solution custom fit to their needs.
Three versions of this tool were created: a web-based version that lives on the site and an installable iOS application for iPhone and iPad. Product information for the apps is pulled from a centralized database.
Customers can also create their own configurations and send those directly to the funding desk for processing, saving time and making everyone's life easier in the process.
Asking the Right Questions
Institutional financial sales can be extraordinarily complex, but we realized that a bit of branching logic can make it much simpler for the end user. By building three separate apps, we made sound financial advice and related products and services available to prospective members with just a few taps.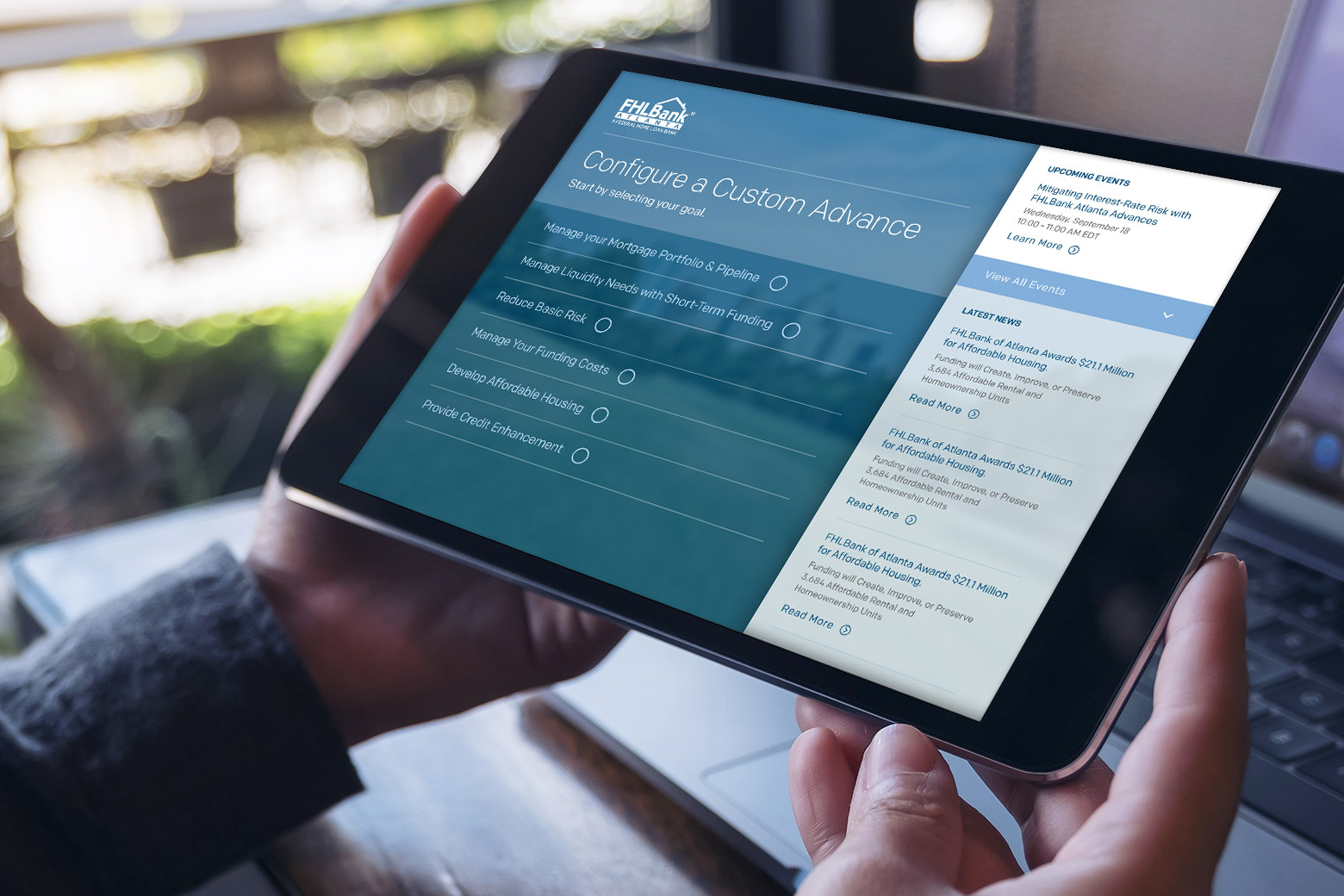 Putting Experience First
Knowing that the days of acceptably poor design in B2B sites had passed, FHLBank asked us to take their digital experience to the next level. Our responsive design provided their customers with a wide variety of information, all with easy management and administration.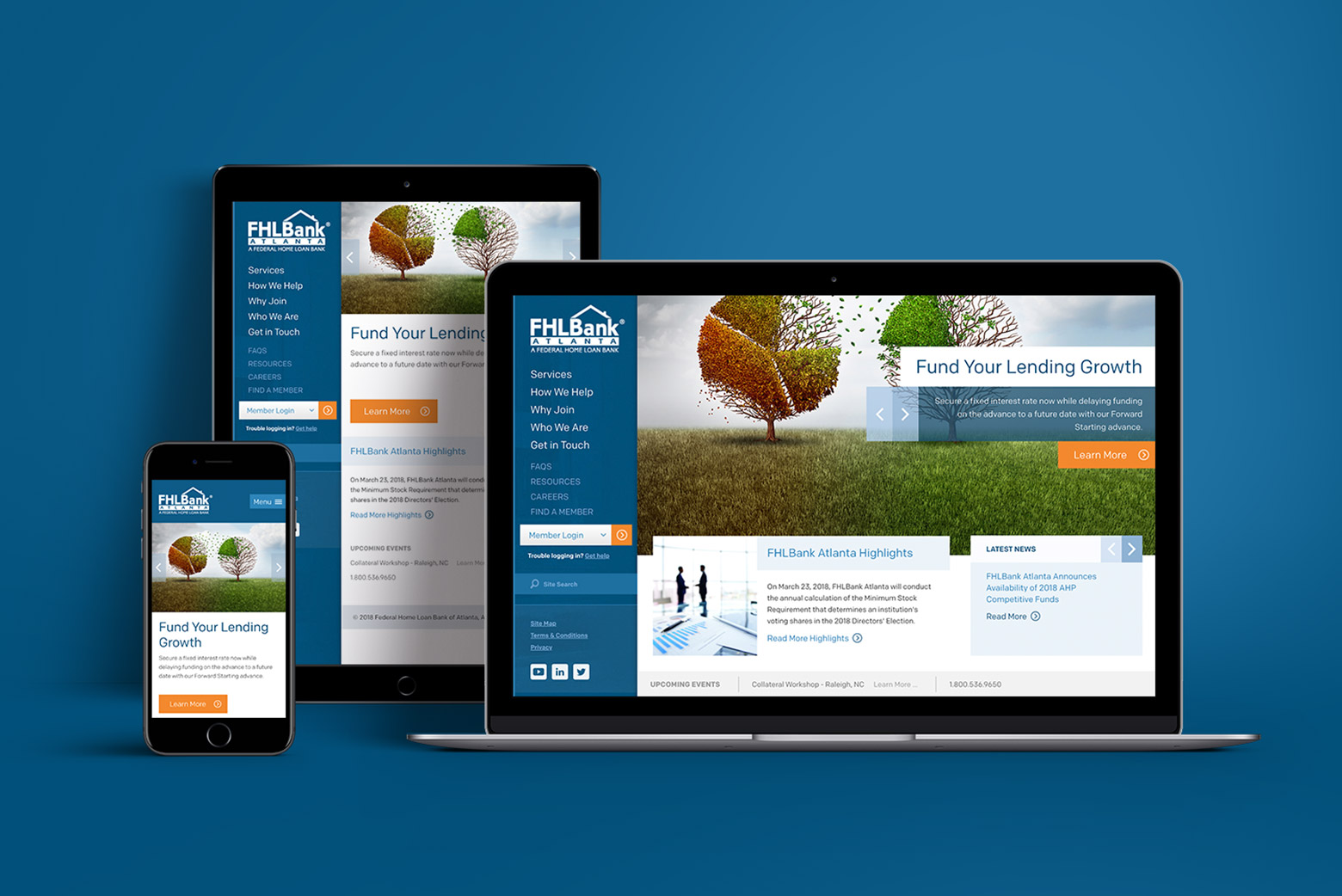 Driving Interest
Nebo created a microsite featuring a custom 3D render of a city, allowing users to explore their impact on communities and how financial institutions can benefit from membership. We also created a series of targeted responsive emails tailored to both member and non-member audiences used to drive traffic to the new experience.