Transforming Downtown Atlanta
Challenge
Introduce Centennial Yards to a skeptical public
Solution
Seed excitement through earned and owned media
Result
200+ media placements and strong social growth
Helping a $5B Development Break New Ground
Building excitement and momentum for the largest development project in Atlanta history.
BRAND & AUDIENCE INSIGHTS
Centennial Yards is a $5B, multiphase 50-acre mixed-use development project in the heart of Atlanta in the area formerly known as "the Gulch". Their vision is to build a community that showcases ATL culture to the world and provides opportunities for Atlantans to live, work and thrive while reconnecting historic neighborhoods by filling a hole in the downtown street grid.

Our goal with this engagement was to help build awareness and momentum for this transformative project in the lead up to their official groundbreaking. Keeping the community updated on progress, highlighting important milestones, and showcasing progress to help generate excitement and highlight the long-term potential of the site.

We wanted our audience to envision being a part of Centennial Yards and feel hopeful about it's potential to shape the future of Atlanta.
SOLVING THE PROBLEM
Nebo established an integrated public relations and social media strategy to tout the positive impacts of Centennial Yards. Messaging focused on our four strategic pillars: Downtown's potential transformation, showcasing progress, commitment to community, honoring ATL's legacy and bringing the long-term vision of Centennial Yards ro life. Aligning and implementing consistent messaging in media interviews and on social channels ensured we maximized impact and resonance with limited resources.

To reach our target audiences, we focused on media outlets covering businesses, retail, restaurants, development and general community news for Atlanta. Simultaneously, we built relationships with key reporters to garner earned placements in local outlets. We also prioritized proactive pitches highlighting progress updates and providing reporters exclusive tours while leveraging reactive opportunities to join community conversations.

Nebo also elevated and expanded Centennial Yards' social media presence, positioning the project as a leading development in the US and growing overall excitement for the project's long-term potential. Building out a social strategy focused on connecting, informing and inspiring our audience.
RESULTS
Nebo built positive relationships with reporters from online, print and broadcast outlets on behalf of Centennial Yards and secured more than 200 media placements in the course of a year. These placements had a 97% overall positive sentiment and more than 1.7 billion impressions. Nebo also grew Centennial Yards' social media accounts organically and gained nearly 5K followers in the span of 12 months. Overall impressions rose to 500k+.
Targeting Key Reporters
Nebo secured a Sunday Spotlight feature for Centennial Yards in the largest local print and online news outlet by offering a personal tour of the development to a key reporter contact and his photographer.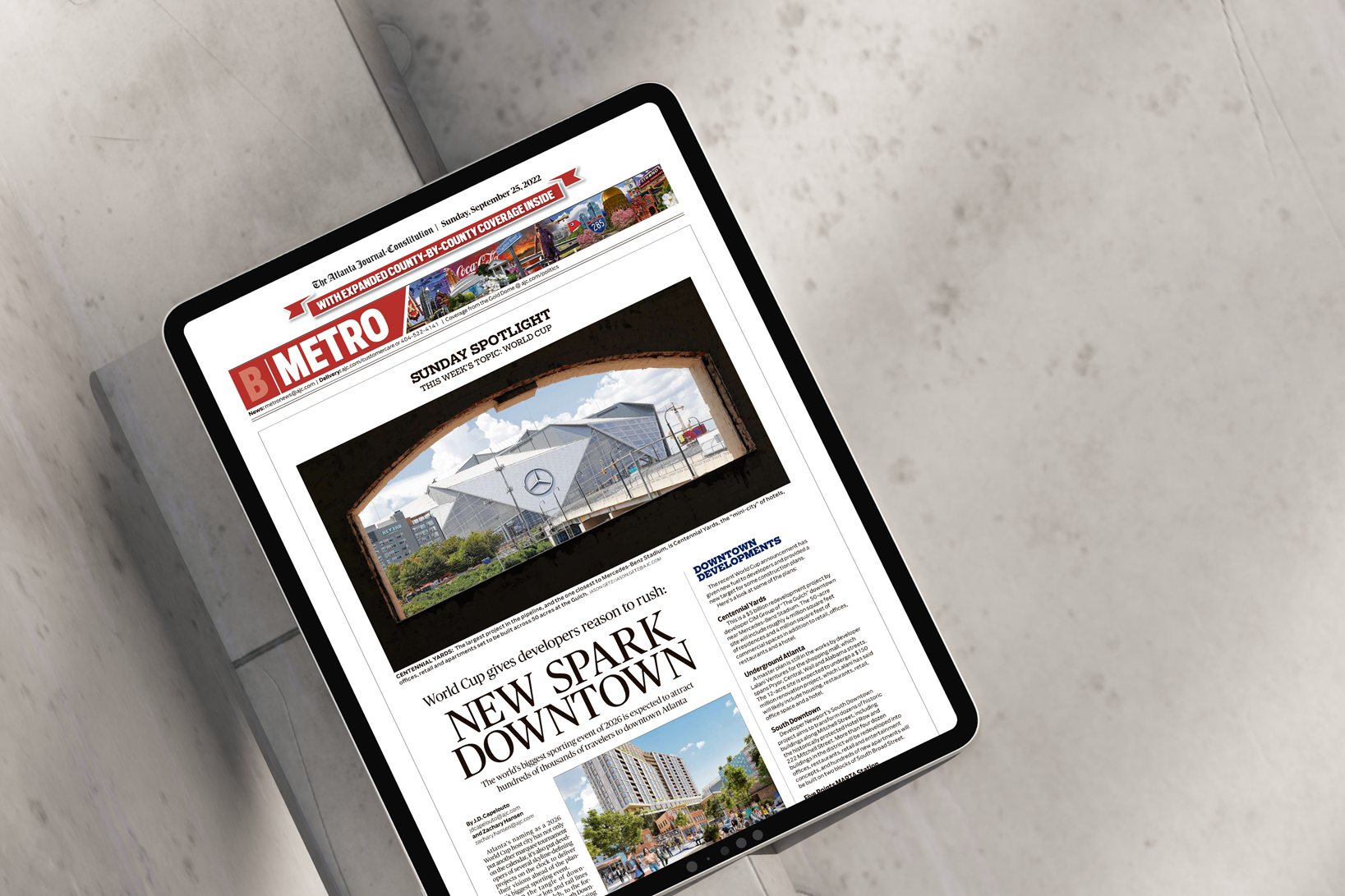 Capturing Atlanta's Spirit
Nebo brought the heart of Atlanta to Centennial Yards' social media content. From capturing major groundbreaking events to creating visually compelling graphics, Nebo brought the city's personality to life.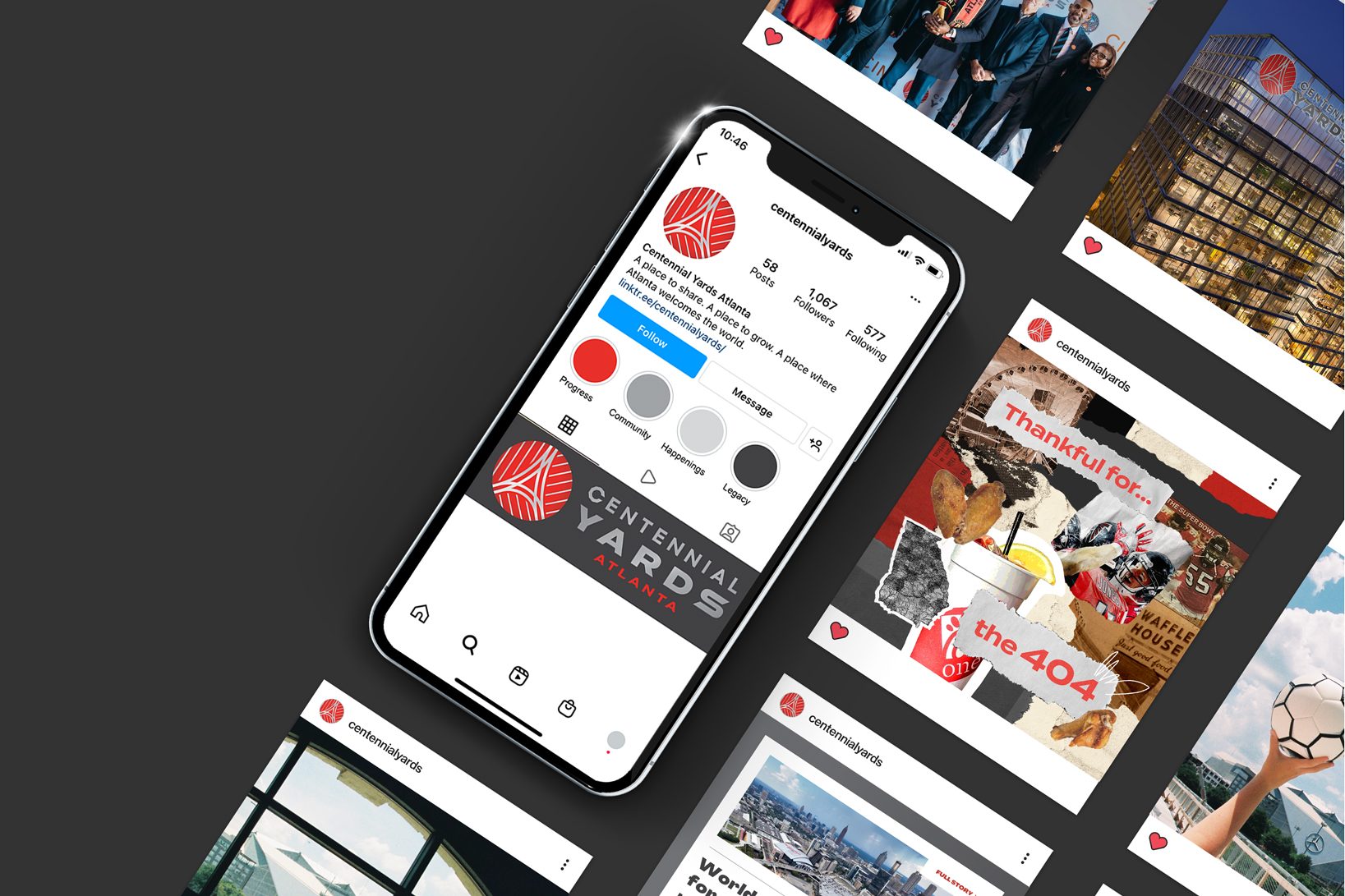 Rebrand Rollout
Nebo successfully planned and launched a new brand identity reveal through an integrated strategy, including news exclusives, a new website, social iconography and unique graphics.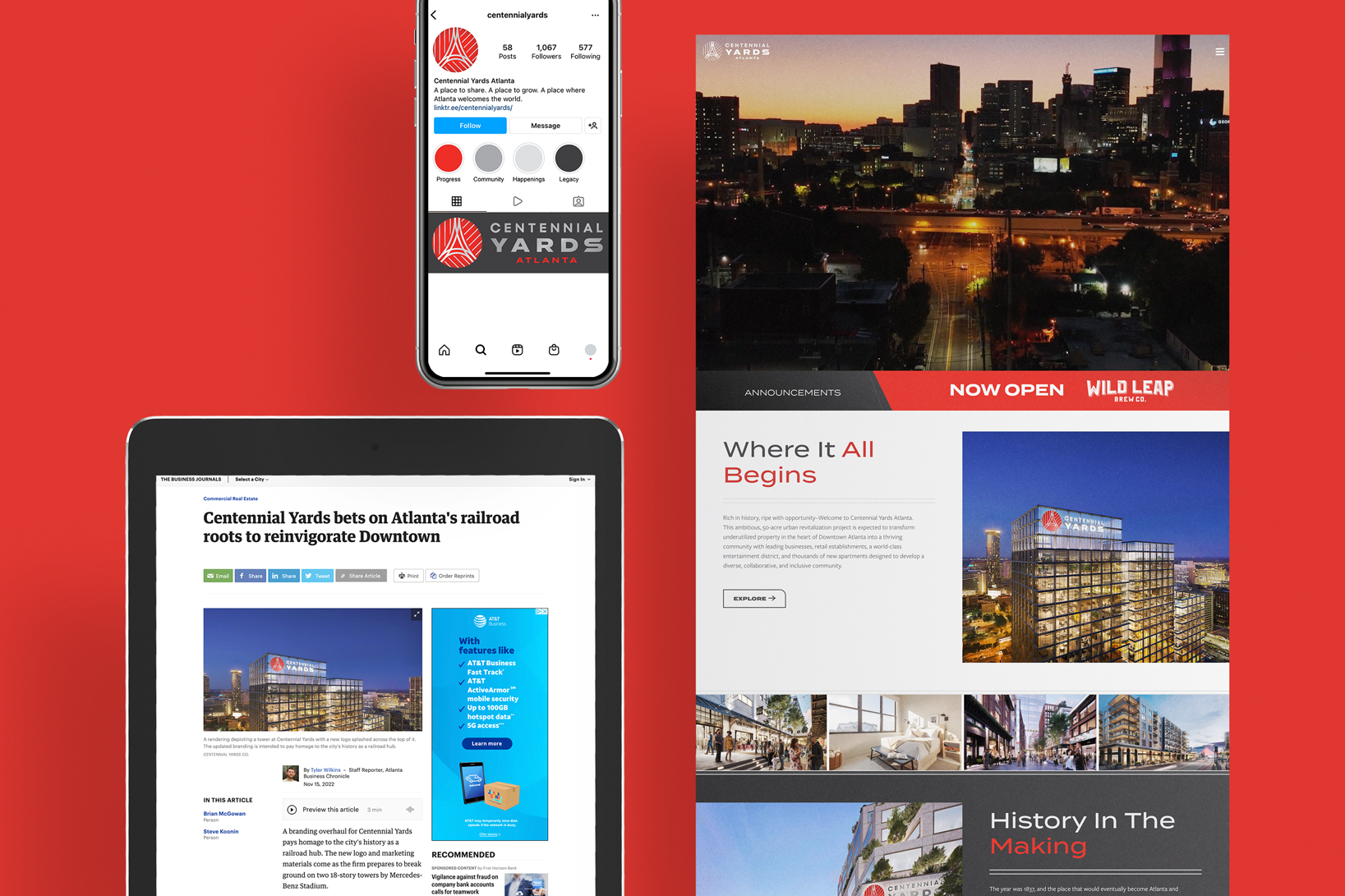 Breaking New Ground
Nebo created excitement around Centennial Yards' first ground-up buildings beginning construction by hosting a ceremony with reporters in attendance and a behind-the-scenes look provided via social.