Bringing a Garden to Life
Challenge
Cator Woolford Gardens was a hidden ATL gem but lacked a strong brand.
Solution
Create a new brand that showcased the Gardens
Result
A beautiful, timeless brand and website.
Cator Woolford Gardens
One of Atlanta's most meaningful hidden gems, the Cator Woolford Gardens provides a beautiful space for life's special moments — with all proceeds directly supporting the Frazer Center's mission of fostering inclusion and celebrating diversity in the Atlanta community.
The Challenge
Cator Woolford Gardens is more than a gorgeous landscape — it's a piece of Atlanta history and a space for special events like weddings, fundraisers and film shoots. It's also the home of the Frazer Center, a community center where adults with developmental disabilities and children with and without disabilities come together to learn and grow.
All proceeds from events held at Cator Woolford Gardens go toward the Frazer Center and its mission to create a more inclusive Atlanta. And yet, the Gardens didn't have a strong brand or a compelling presence on the internet.
Despite recent renovations, a longstanding history, and an uplifting mission, Cator Woolford remained a secret garden, unknown to many Atlantans. Nebo's job: to drive awareness by crafting a new brand identity from the ground up.
Solving the Problem
The new Cator Woolford website needed to serve several functions: showcase the beauty of the venue, provide detailed information to a variety of audiences, and allow users to book events and make payments online.
An Elegant New Brand Identity
The new logo was inspired by the natural beauty of the gardens and the brand was extended into a full visual identity that spanned print, digital and experiential elements.
One Website, Many Users
While building the new website for Cator Woolford Gardens, we needed to keep a variety of audiences in mind, from brides and event planners to film directors and photographers. We streamlined the website into two categories, "Weddings and Events" and "Photography and Video," where users could quickly and easily find information and make bookings and payments.
An Interactive Map of the Gardens
Beyond providing information about the venue, Nebo created a fully interactive map of the Gardens designed to both show the beauty of the grounds and help photographers, newly engaged couples and film scouts easily explore and assess the landscape and location prior to visiting.
Beautiful and Compelling Video
Video helps bring the feeling of strolling through the lush gardens to life. Aerial shots highlight it's hidden nature, and close up footage showcases all the details and beauty that make it so special and unique.
Online Booking, Scheduling and Payments
Without ample information about hours, tours and availability online, the Cator Woolford Gardens event planner was bombarded with calls and emails. We made sure the new website was integrated with Google Calendar and Calendly, as well as a way to make online payments with Paypal. With Google Calendar, engaged couples could quickly see availability for wedding dates, while Calendly allowed users to book tours and photoshoot appointments.
Results
With a new website and brand identity, Nebo and Cator Woolford Gardens planted the seeds for growth that helped fund their worthy social mission. Increased bookings by 33% year over year and leading to hundreds of thousands in revenue to support Frazer Center's cause.
Streamlined Information
With multiple audiences in mind, Nebo created a site flow that made information quick and easy to find for everyone from film directors to brides and grooms.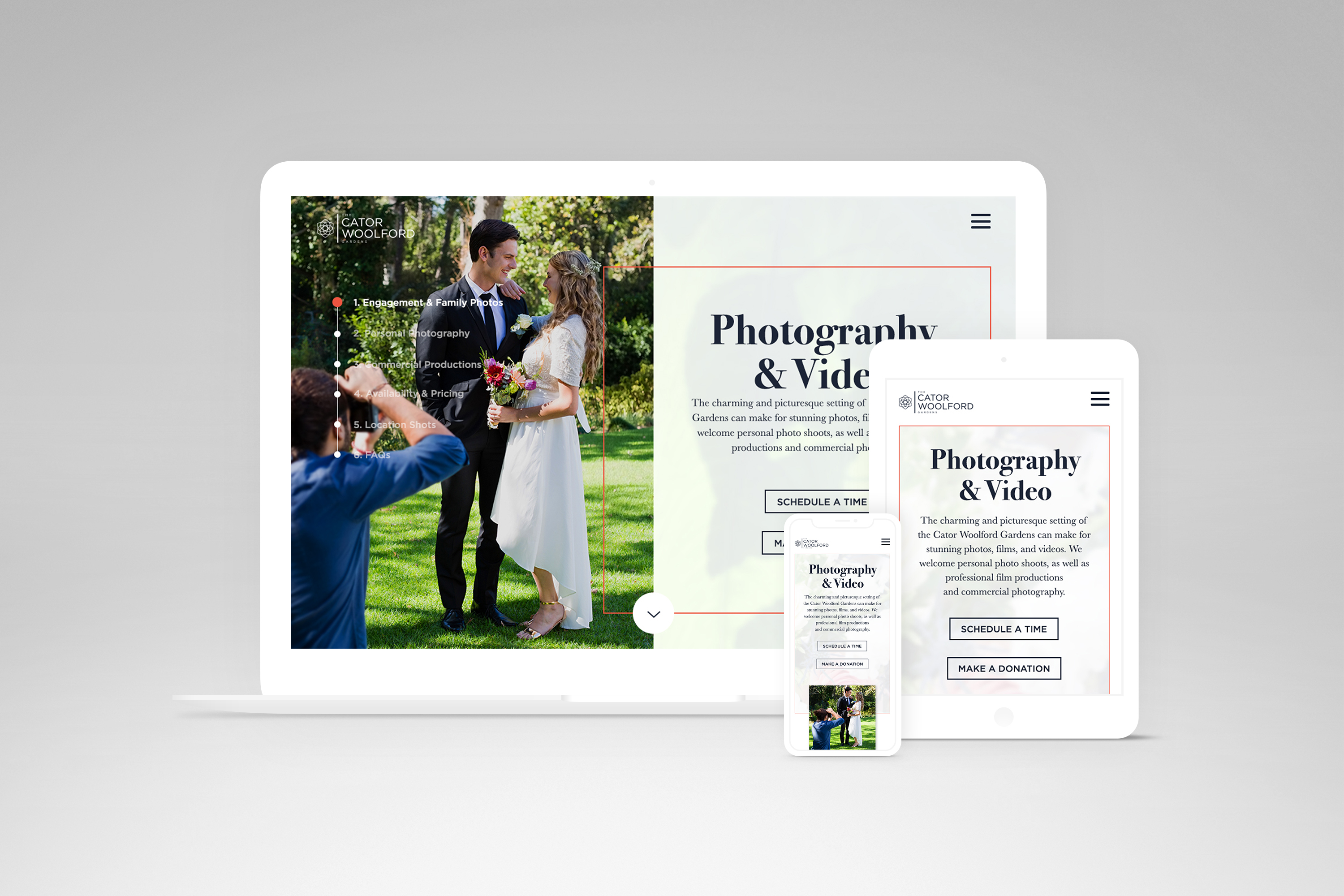 Beautiful Branding
Using photo and video assets and elegant design, we created a brand identity that showcases everything Cator Woolford Gardens has to offer.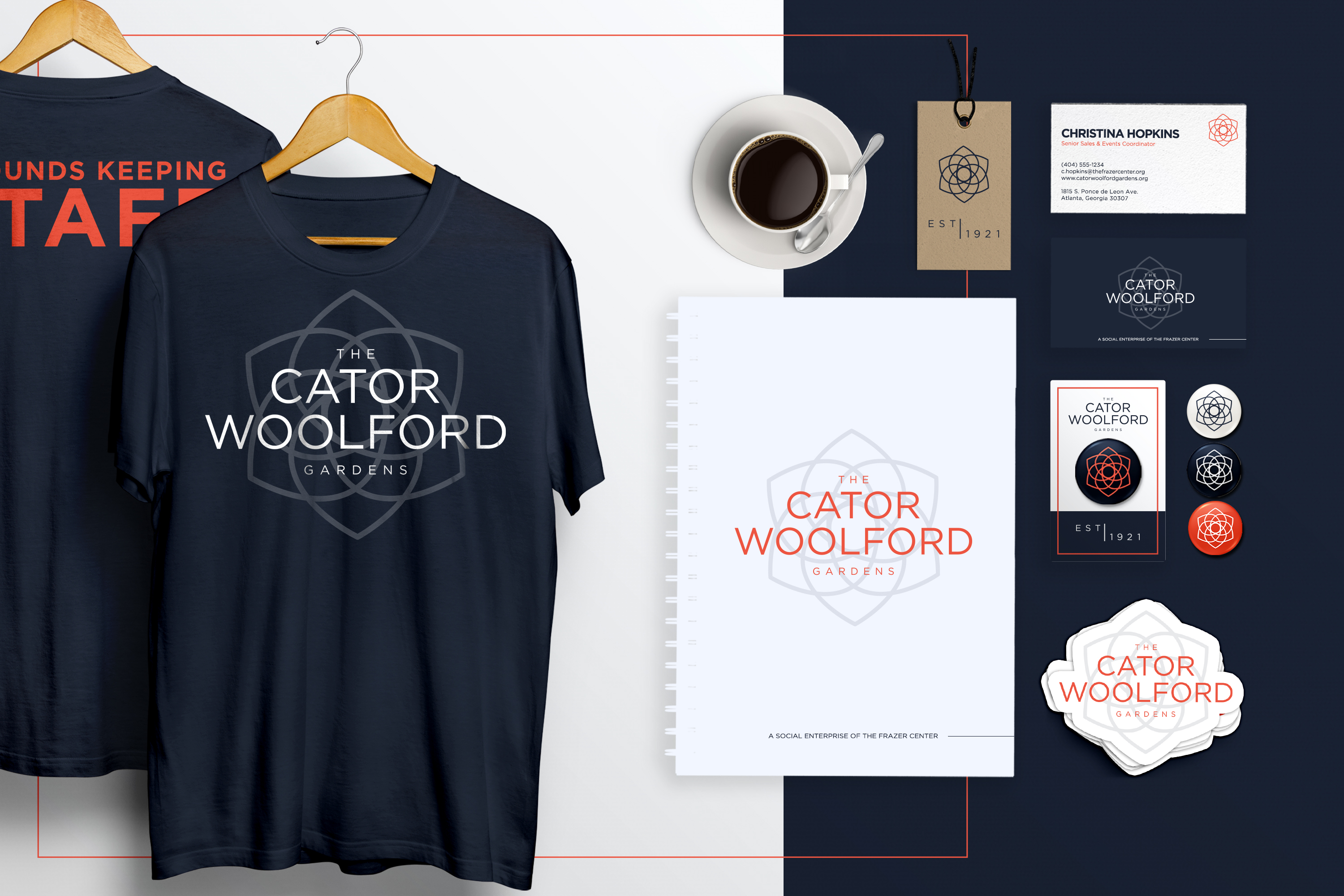 Multiple Use Cases
The new Cator Woolford Gardens site provides different functions for different types of users, from scheduling and booking to making payments.