Helping a sustainable textile company shift from storefront to digital
Challenge
Prioritize online sales after the pandemic disrupted recreational travel and caused nationwide store closures.
Solution
Developed a content-driven, full-funnel social media strategy to engage users and drive revenue.
Result
Exceeded revenue goals and ROAS benchmarks, transitioning Cariloha from a majority brick-and-mortar retailer to a serious e-commerce contender.
Cariloha Pivots to Digital and Thrives
Cariloha sells comfortable, sustainable clothing, bedding and bath goods made from eco-friendly bamboo. Founded in 2007, the brand initially started as an apparel-only retailer at tropical cruise port locations. However, after the COVID-19 pandemic limited travel, Cariloha knew they needed to shift operations toward online sales. To realize this effort, they brought on Nebo to consult on social media strategy, develop creative design, and manage promoted and paid social campaigns.
An Audience-Centric Approach
Cariloha knew their typical target audience: the cruise-going vacationer. However, they lacked insight into how their existing customers and potential new customers translated into digital and online channels. To inform our social media campaigns, Nebo leveraged U.S. panel data via Global Web Index to create three unique personas and corresponding buyer journey maps. This research initiative:
Established each audience's relationship to the brand and product category.
Defined audience attributes, affinities, demographics and lifestyle.
Highlighted digital, social media and shopping preferences and behaviors.
Mapped idealized buyer journeys with key messages, content and touchpoints.
Customer Acquisition Through Paid Social
After finalizing our target audiences and understanding their digital and social behaviors, Nebo moved forward with outlining a buyer journey-centric approach for paid social campaigns. To boost awareness, Nebo aimed to introduce Cariloha and educate consumers on the concept and benefit of their products, tailoring unique product benefits for each target audience with lifestyle imagery catered to each persona.
To reduce cart abandonment and drive purchases, a robust retargeting strategy was developed that segmented users based on website behaviors, past ad and page engagers and past purchasers. Our paid social retargeting creative efforts focused not only on evergreen content, but also seasonal promotional content to encourage users in the consideration stage to make a purchase.
A Revamped Organic Presence
To establish an authentic lifestyle brand for Cariloha, Nebo recommended pivoting away from utilizing organic social as a sales catalog. Instead, our focus was to create an engaging, content-driven feed that prioritized user-generated content and influencer partnerships.
Additionally, Nebo launched the #LiveCariloha hashtag to take advantage of the brand reputation and to show off what a Cariloha lifestyle looks like: beautiful, adventurous and sustainable. This was supported with a cross-promotional strategy that included giveaways, social media contests and brand partnerships. The #LiveCariloha hashtag garnered over 600k impressions within the first two months of launch.
To communicate a consistent lifestyle presence across all social media channels, Nebo developed Social Media Design Guidelines to complement our content strategy. The guidelines enhanced Cariloha's social-feed aesthetic while the designs and colors were intentionally chosen to appeal to Cariloha's existing and prospective audiences on social media.
The Results
Our audience-centric social media strategy allowed Cariloha to pivot quickly and shift to digital sales, exceeding revenue goals and return on ad-spend benchmarks. Informed by our research approach, our paid social campaigns prioritized customer acquisition while our organic social campaigns elevated the brand and drove user engagement.

Designing with Organic Social in Mind
Keeping social best practices in mind, Nebo brought Cariloha's design guidelines into social and created a unique look and feel just right for each channel.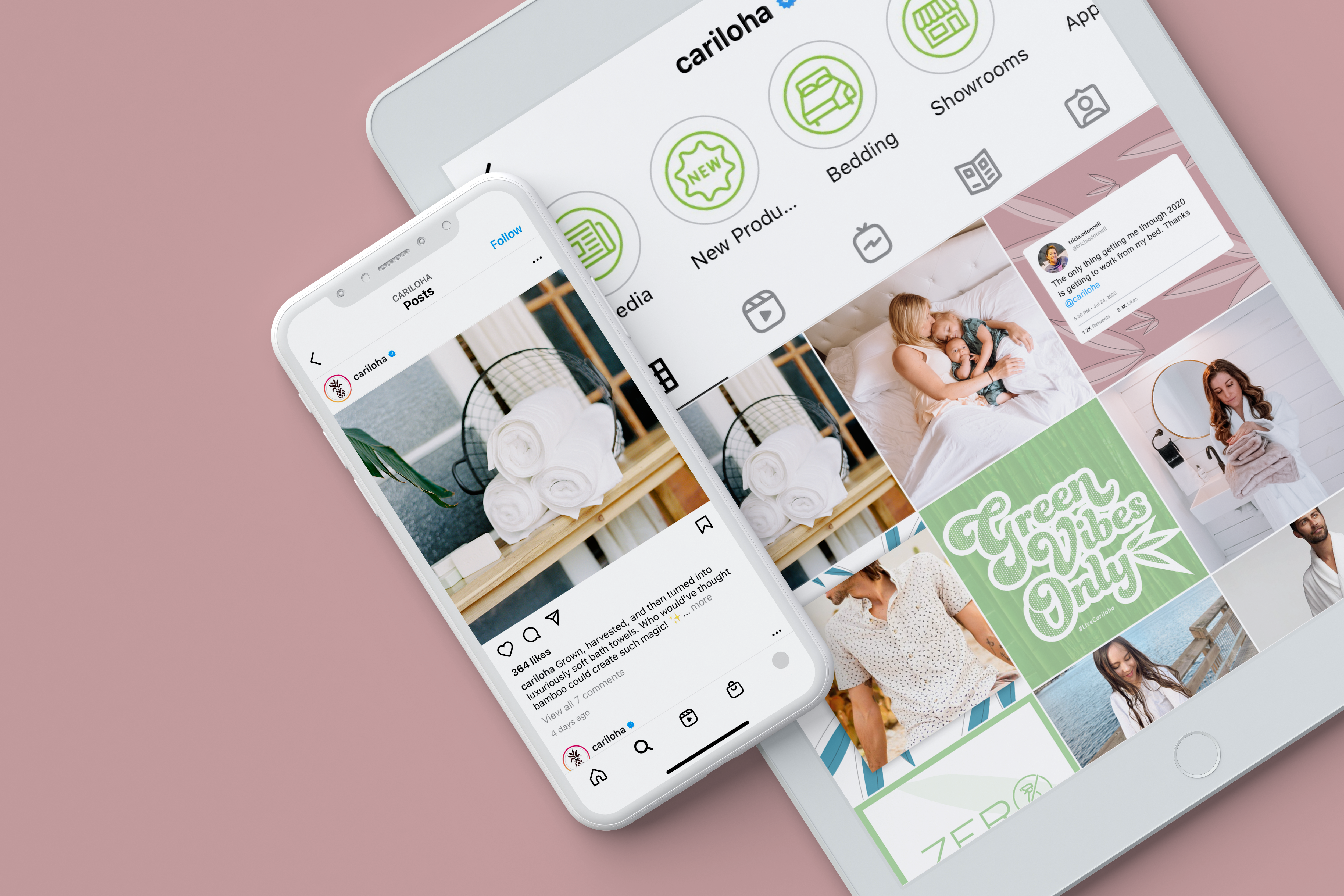 Elevating Pinterest
By creating beautiful, Pinterest-specific graphics we were able to raise the bar for creative while driving interest, intent and purchases with a new audience.
Taking Paid Ads to the Next Level
By repurposing existing UGC content, Nebo was able to create thoughtful, standalone paid ads that catch our audience's attention, drive revenue and represent the Cariloha brand meaningfully.