Redefining the Art of Aging
Challenge
Shift the negative narrative around aging to engage prospective residents and employees
Solution
Create a robust social strategy driven by strong content and an integrated promotion strategy across Brookdale's social platforms
Result
Surpassed every annual social goal and produced tremendous year over year improvements through the power of storytelling and effective strategy
Enthuse, Empower, Enlighten. A New Attitude Towards Senior Living.
Brookdale operates more than 800 senior living communities across the United States. They're the leader in their arena. From independent to assisted living, memory care to skilled nursing, they offer it all. After talking to Brookdale's passionate caregivers, driven execs and most importantly, their very enthusiastic senior residents, we fell in love with their story.
We set out on a mission to reframe the narrative about aging, support both seniors and loved ones transitioning to senior living and put the shine back into the golden years. Because let's face it — none of us are getting any younger.
The Challenge
Here in America, feelings about aging are mixed at best — and that's understandable. Aging is a complex, emotional experience. We grow wiser, and we spend more time with our loved ones during retirement. But we also need more assistance doing daily tasks. For many, this means making the move to a senior living community.
The journey to senior living is often a stressful one. Adult children face hard conversations with aging parents and must trust strangers with the care of their loved ones. Meanwhile, seniors move out of long-beloved family homes, trying to finance the move during retirement.
So when Brookdale Senior Living approached Nebo for social media services, we knew it could be a challenge.
Solving the Problem
Organic and promoted content focused on the following objectives:
Shift the negative narrative and celebrate aging
Provide support and motivate current residents
We formed creative campaign concepts to guide all content, including blog posts, videos and photography. Each campaign should enthuse, empower or enlighten our target audiences.
We developed suggestions for and created robust content pieces to be shared, promoted and incorporated into paid social campaigns. Here we could share celebratory stories, answer tough questions, nurture relationships and build trust to impact the quality of leads.
Our copywriters wrote thought-provoking and inspiring blogs, each shared and promoted on social. They included topics such as:
Celebratory interviews with seniors proving age is just a number
Wellness tips to improve health
Guidance for navigating finances in retirement
Resources for adult children who feel stress or guilt
We used Brookdale's owned content to showcase their residents and staff. Treeline Bamboo Partners, a production partner of Brookdale, performed photo and video shoots to produce heartwarming, celebratory and humorous content that share the true stories of caring associates, vibrant residents and their loved ones.
But organic content can only get you so far when trying to reach new audiences and introduce people to what could be their future home. To better target these audiences, we built a paid social strategy encompassing boosted content and dark ads. We implemented tracking, analyzed digital conversions, and analyzed sentiment to make weekly micro-adjustments based on what resonated with current residents, potential residents, and loved ones. Traffic campaigns lead people to Brookdale blogs or other Brookdale website efforts. Engagement campaigns focused on promoting images or videos of Brookdale's culture and communities. Each campaign and tactic was crafted around sharing the new narrative around senior living, inviting audiences to share in that narrative, and, ultimately, helping them find their home in Brookdale.
Paid and promoted campaigns were performing strongly throughout the year, but hit a major roadblock in August 2019 with the rollout of Facebook's Special Ad Category. Facebook advertising is one of the primary drivers for new resident leads for Brookdale-- a main priority behind our campaigns. This removed our options to target by lookalike audiences, age, zip code or many interests and behaviors. We optimized campaigns daily and experienced rebounding performance within two and a half weeks. Our inspiring, consistent and meticulously formulated content strategy withstood the challenge.
Results
By focusing on our objectives and implementing a holistic strategy, our organic and promoted content performed more successfully than imagined. Not only did we improve Brookdale's brand sentiment through social, we also helped drive customer leads to their business. We elevated seniors, helped demystify the senior-living journey and connected potential residents with a community to start this next phase of life.
Followers and page likes increased by +19%, and traffic to the website increased +49% compared to 2018. Promoted and paid campaigns yielded an increase of +365% for engagements, +259% for impressions, and +107% in lead inquiries year over year across Facebook, Instagram, LinkedIn, Pinterest, and Twitter.

The numbers could speak for themselves, but Brookdale's followers chimed in with their own feedback. Regarding Brookdale's "Celebrate Aging Film Festival", a LinkedIn follower commented, "So incredibly fun and a great way to break down the stereotypes of aging." A promoted tweet about a Brookdale resident playing Wii bowling brought the reactions of, "This is the best promoted tweet I've ever had." These heart-warming reactions confirm meticulous planning and strategic execution resonates with our target audiences.
Heartfelt Social Content
Brookdale's social posts are curated to engage, enthuse, and inspire. Centennial birthday posts show how Brookdale residents are thriving in later-life.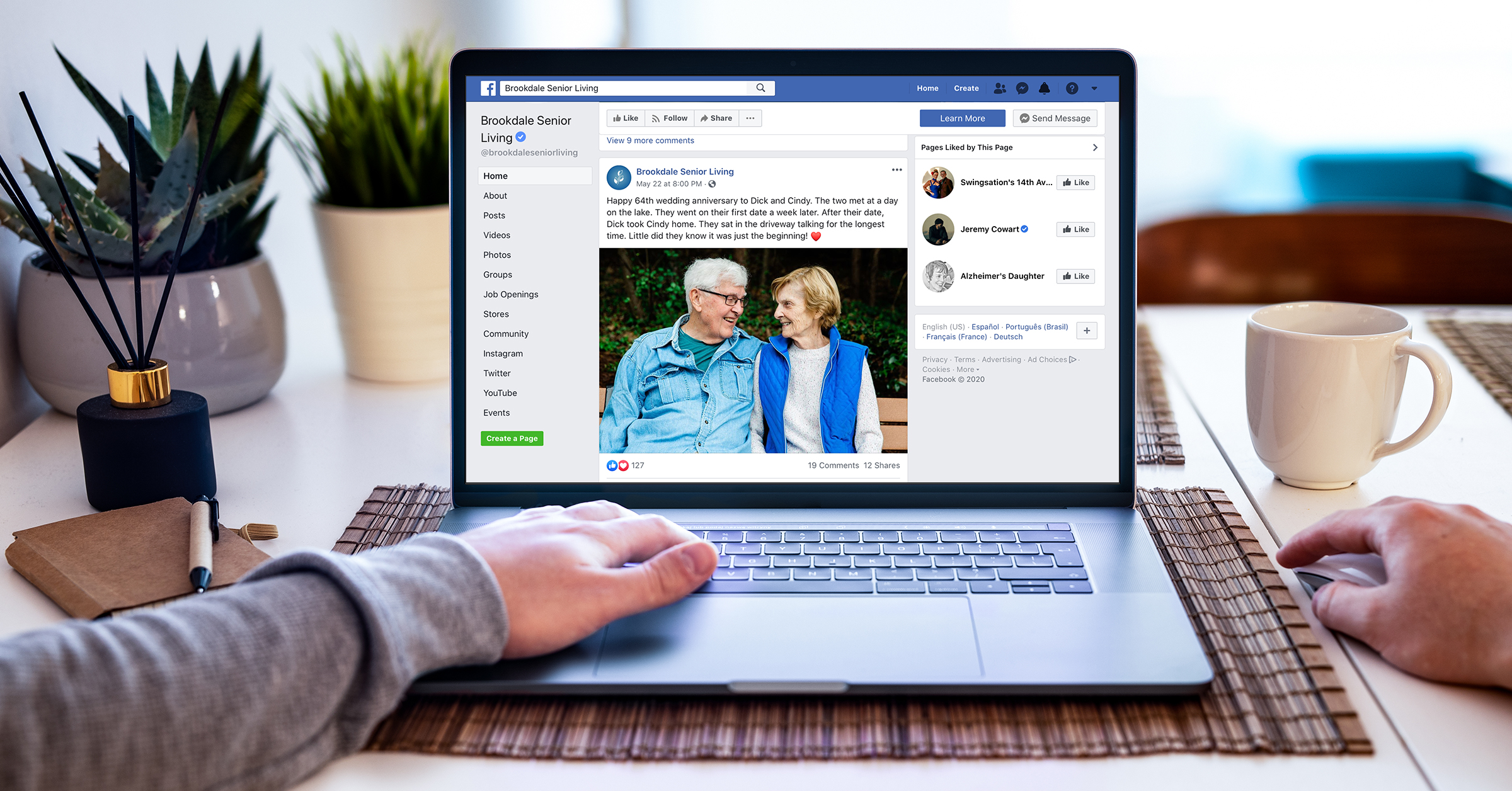 Original Episodic Videos
Visual storytelling gives us a glimpse into the worlds of Brookdale's residents and associates. Their heartwarming, original episodic video series produced by Treeline Bamboo Partners gives us a look into how a tasty meal or home makeover can bring residents the joy they deserve.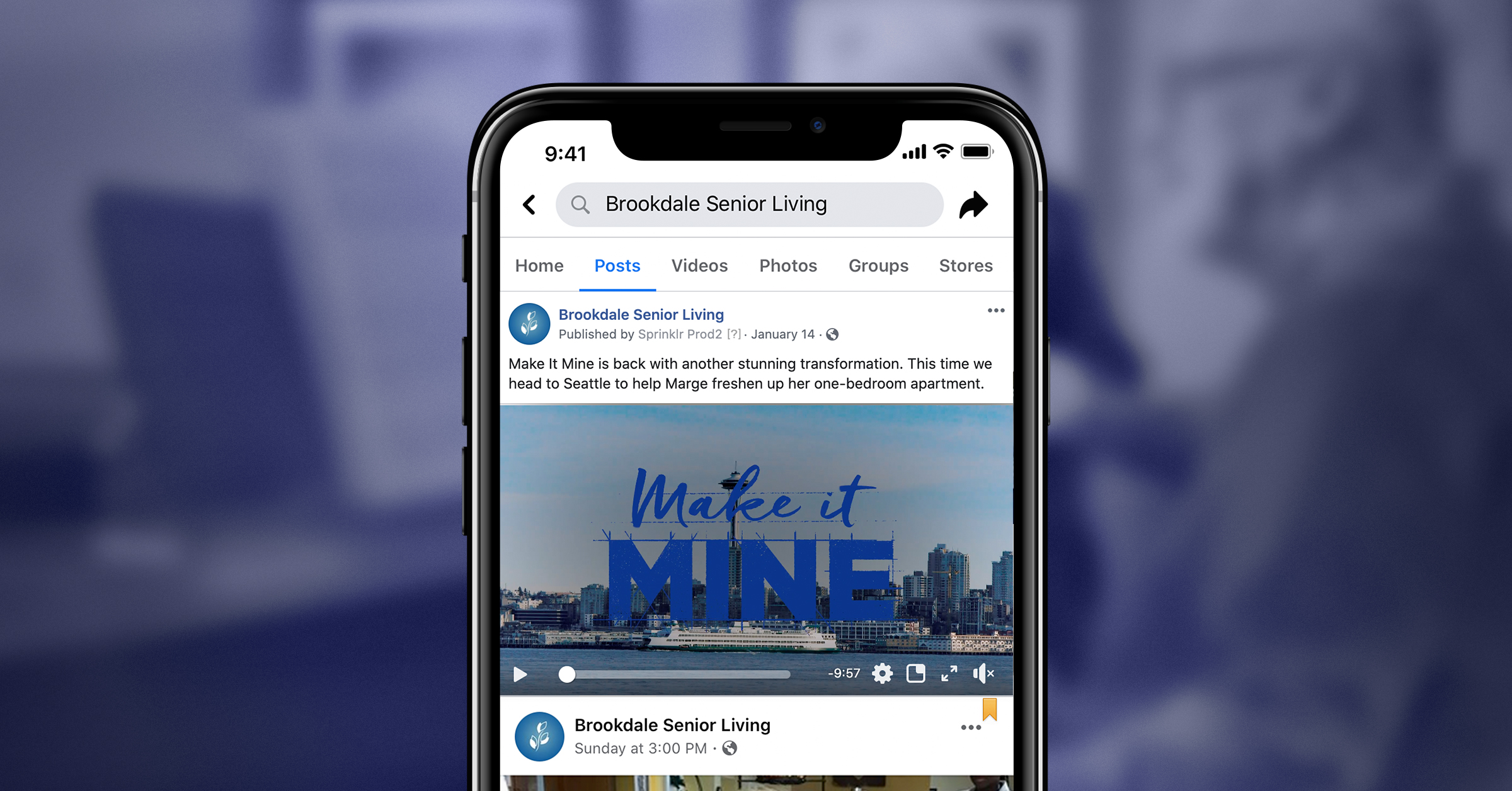 Meaningful Thought Leadership
Our copywriters produce informative, thought-provoking and heartfelt blogs to engage Brookdale's target audiences. This original blog content displays Brookdale's expertise in the senior living industry.