Redefining Senior Living
Challenge
Understand an emotionally charged buyer journey and connect to a variety of audiences with unique needs.
Solution
Launched an integrated campaign based on audience-centered messaging.
Result
More than doubled resident move-ins and tripled the return on ad spend.
Providing a Helping Hand with a Hard Decision
With more than 1,000 senior living properties in the U.S., Brookdale is a leader in providing care in the form of Independent Living, Assisted Living, Memory Care, Continuing Care Retirement, Skilled Nursing and more. Their facilities offer a wide range of services for rehabilitation, fitness and educational programming, as well as health services to ensure residents thrive in this stage of their lives.
Brookdale hired Nebo to create an integrated campaign that would optimize their digital efforts across channels, reach their key audiences and educate them on the benefits of senior living.
Brand and Audience Insights
Selecting senior care is a very emotional decision-making process for families and loved ones, and it often brings about feelings of guilt, fear and anxiety.
In order to reach our goals, we knew that a one-size fits all approach wasn't likely to work. Each core audience, from Potential and Current Residents to Family Members and Loved Ones, and even Caring Medical Professionals, had unique needs and concerns. If we were to be successful, we needed to craft a strategy that was effective in persuading each audience that Brookdale was the right choice.
Solving the Problem
Nebo's first step in transforming Brookdale's digital efforts was to overhaul their paid media and social media marketing strategy. We performed a comprehensive audit of their current and past efforts in order to identify strengths, weaknesses, untapped opportunities and areas needing improvement.
From the start of the audit, it was clear the paid media campaigns were not set up in a way that supported their reporting and budgetary needs. From a budget standpoint, Brookdale's five divisions each have their own, while 49 "Focus Markets" also have separate budgets outside of what is allocated per division. In addition to these considerations, each of Brookdale's 1,000 communities has different digital marketing needs that needed to be addressed properly. Brookdale wasn't efficiently spending their paid media budget, so they were left with an extremely high cost per move-in and a low return on ad spend. From a social perspective, Brookdale didn't have a strategy in place for their corporate account or local community profiles. All channels were leveraging 3rd party content, with similar messaging across every platform, making their social profiles less engaging and not representative of the compassionate, caring and strong brand that Brookdale has.
Previously, Brookdale wasn't mapping their paid media strategy to their audience's buyer journey. They were also relying on older tools and processes that created a disconnect between data collected through web forms, their call center, and their online chat platform. This disconnect caused crucial attribution data and insights to fall through the cracks and led to inaccurate conclusions regarding the performance of their digital efforts.
To immediately set Brookdale up for success, Nebo restructured all their existing paid media campaigns based on the findings of the audit. New division and focus market campaigns were created to allow for greater budgetary and messaging variation control, and campaigns were structured to better align with how seniors and their influencers make decisions.
Brookdale's focus market and division paid media campaigns allowed Nebo to pay special attention to struggling markets, and new strategies were set up based on geo-targeting to better reach the 6.5 million people across the U.S. in Brookdale's target audience. In year 2 of our work together, Brookdale realized they also needed our help with social media. We formulated a specific strategy for each social channel that mapped the buyer journey to content pillars that worked for the key audiences on each platform. We knew what users wanted on Facebook varied drastically from Twitter, Instagram or LinkedIn, and we carefully mapped every post theme to each channel to ensure we were leveraging the different channels to their full potential. Nebo also implemented new tools, platforms and strategies that allowed for better tracking and analysis of digital conversions from web traffic, online chats, social channels and phone calls. But it wasn't enough to just track leads that came from an initial ad click. We worked with Brookdale's internal analytics team to identify the holes in data and developed a plan for tracking and reporting in order to address this. Working with together, we were able to track campaigns from lead to community visit, and ultimately to a move-in.
Understanding that social is an awareness and engagement channel, our campaigns didn't focus on conversions as much as they focused on growing followers and building a brand on social that was excited to interact with our core audiences. We completely revamped the content mix and frequency per channel, and focused on leveraging the new strategy at the corporate and local level through enhanced community guidelines, community editorial calendars, and ongoing content support. We worked to educate and reassure loved ones on Facebook while also caring for and supporting residents, we retooled Twitter to be a source for industry news and leveraged Twitter chats to position Brookdale as a leader in the Senior Living space, we focused LinkedIn on supporting existing and potential employees in their career, and we used Instagram to showcase everyday life at Brookdale in an engaging way to connect with residents and allow loved ones to peek into the day-to-day of Brookdale communities.
Brookdale was also struggling to increase conversions because they lacked the breadth of content and specific landing pages that would encourage users to click, call or fill out a form based on a wide range of keywords. Nebo brought in the content and design teams to create new content that addressed all new key social content pillars, and ad-specific landing pages to assist with driving paid media conversions. In addition to revamping older landing pages that were out of date or not performing well, the teams took an integrated approach to building new landing pages that could better target specific audiences while addressing key topics of concern to them in the senior living buyer journey.
To better take advantage of the opportunity posed by social media, we conducted research to understand how each audience utilized social and crafted a new strategy focused on supporting each audience across all their core channels. We began seeing significant growth in both engagement and followers.
Results
The results of our efforts speak for themselves, and we've successfully laid a strong foundation for continued, sustainable growth.
Brookdale community move-ins increased +60% YoY (2015 vs 2016), despite a decrease in ad spend

Return on Ad Spend increased +130% YoY (2015 vs 2016)

Lifetime Value increased +127.55% YoY, and since our engagement began we have driven more than $245 million in lifetime value

Trackable visits from paid media increased +28% YoY

Brookdale's conversion rate reached an all-time high in July 2016 at 6.39% (2016)

Engagement on social has increased 153% year over year, with a 136% increase in Facebook engagement, a 141% increase in Twitter engagement, a 301% increase in LinkedIn engagement and a 70% increase in Instagram engagement (2017 vs 2016)

Fans and followers on the corporate profile broke 100k and have seen a 28% increase year over year, including doubling fans on Instagram (2017 vs 2016)

Increased frequency and presence has made users more likely to interact with the Brookdale brand on social, with a 328% increase year over year in messages received on social, reaching almost 8k messages in a single quarter alone (2017 vs 2016)
Telling Brookdale's Story
We created robust campaigns that span platforms and devices, reaching prospects at every stage of their buyer journey.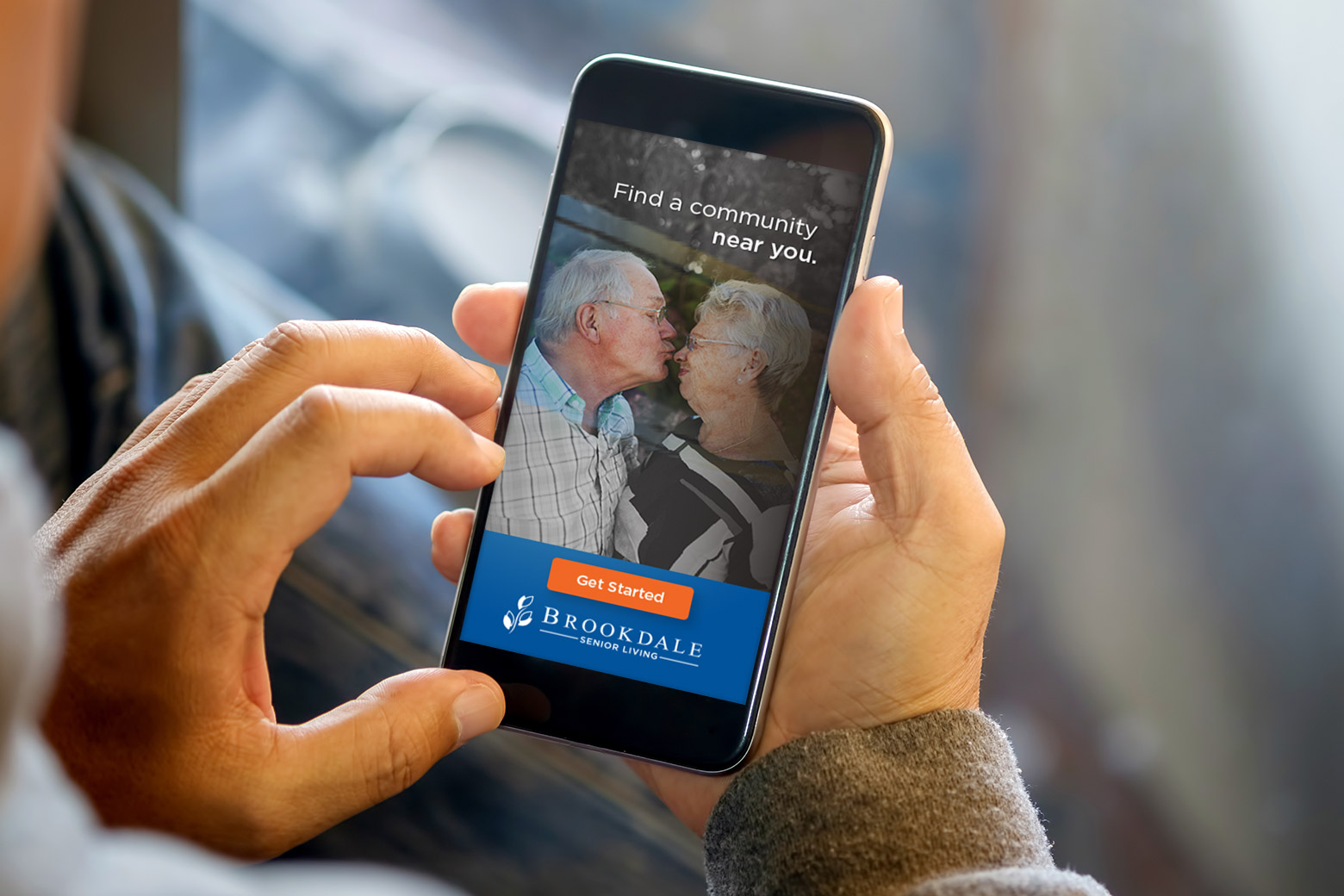 Driving Meaningful Discussion
Our work with Brookdale's social media focused on driving conversation and interest in addition to conversions, not just clicks, likes and shares. With strong and growing metrics, social has become a valid platform for Brookdale.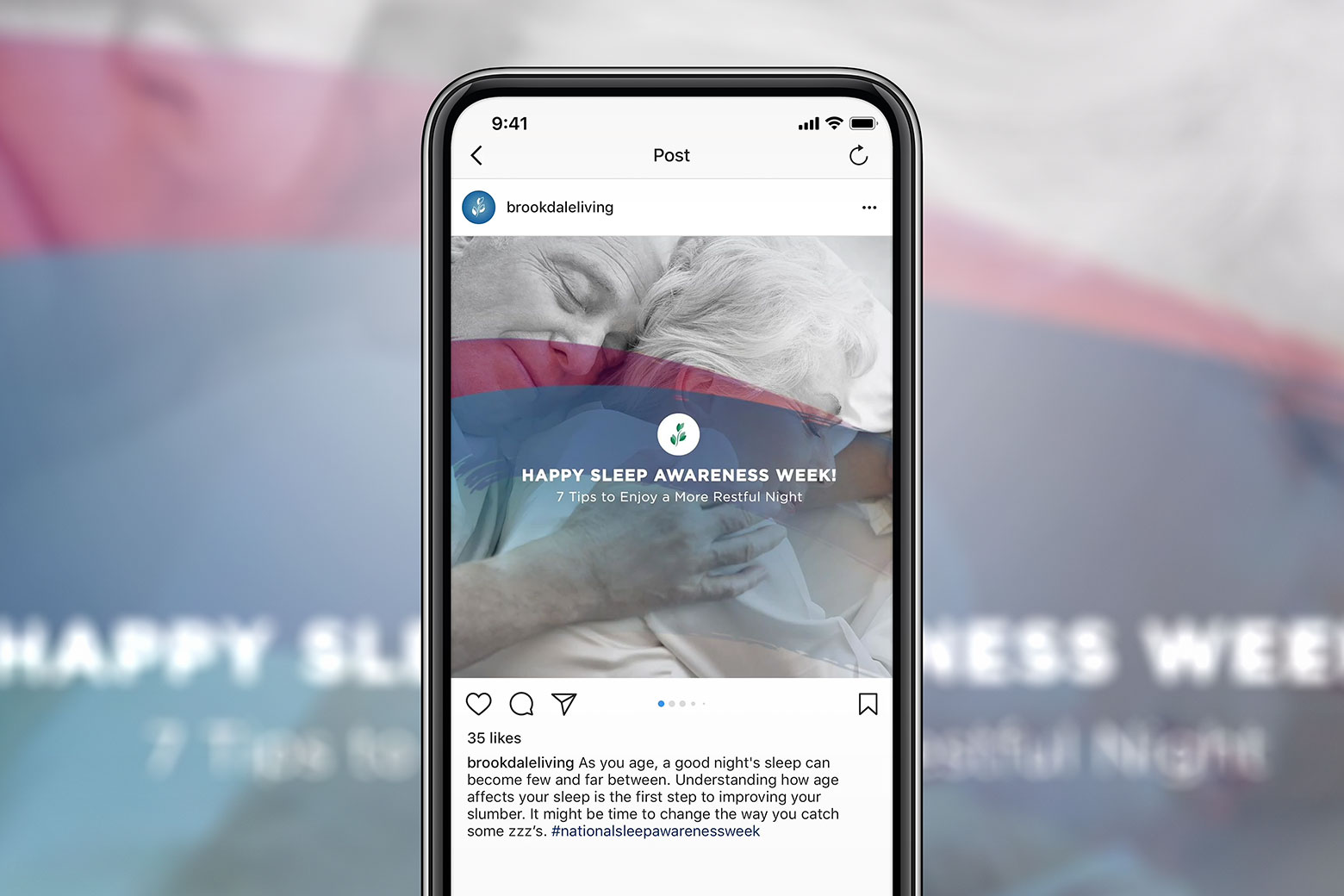 Local Presence
With over 1,000 communities, maintaining a local presence is key. Social ads and hyper-targeted display ads ensure that buyers in-market are only a click away from their nearest community.