Winning in an Infested Marketplace
Challenge
Solve complex SEO challenges and launch paid campaigns in only weeks.
Solution
Solution-focused digital strategy for SEO and paid media.
Result
Across-the-board improvement, from organic sessions to conversion rate.
Best Practices and Strong Strategy Can Overcome "Impossible" Timelines
Arrow Exterminators is a family-owned business that provides pest control and protection services to customers in an environmentally responsible manner. They're the sixth largest pest control company in the U.S., and are home to four main brands: Arrow Exterminators, Hughes Exterminators, Nader's Pest Raiders and Stark Exterminators. Arrow asked Nebo to help them continue to grow, and to solve their SEO and Paid Media problems.
Arrow Exterminators began with a challenge: each different branded site was exactly the same, which was damaging their search rankings. The four sites had not been optimized from an SEO perspective, they contained duplicate content across each domain and weren't being indexed properly. Arrow brought us on right as their busy season was ramping up, so we had to hit the ground running to launch SEO, Content and PPC efforts. Rather than months to get everything going, we only had weeks.
We set objectives to get SEO and PPC efforts launched on that tight deadline. We also wanted to support their ongoing growth by generating more leads for them, increasing their conversion rate (via form submissions and calls), and making sure each branded site was getting enough digital visibility and ranking high on search engines.
We started off by performing an extensive technical audit of all of the four existing sites and followed that with recommendations on facilitating crawling via robots directives, removing low quality pages, and improving site architecture through internal linking structures.
Nebo also worked with Arrow Exterminators to relaunch their backend, including a comprehensive strategy and updated XML sitemaps, to a more manageable system to allow for streamlined edits to each website. Site content was also optimized with new metadata and unique content for each page that would speak effectively to the desired location.
Nebo's PPC team reorganized all of Arrow's campaigns to create a strategic and localized approach. Geo-targeted campaigns were further refined by brand, pest types, and service offerings to encompass the wide range of solutions that Arrow offers. PPC-specific landing pages on each brand's site for individual regions drove increased relevancy, and assisted in driving the year over year increase in conversions.
Through an integrated approach with SEO, we were able to craft ad copy that spoke to each user as an individual, combining local solutions and special offerings that Arrow provides while ensuring there was no cannibalization of organic rankings.
Nebo's efforts in SEO and PPC with Arrow's four brands have driven improvement in metrics across the board. From 2015 to 2016, Arrow saw increased conversion rates and a decreased cost per conversion. Organic traffic increased for three of their branded sites, while local organic traffic increased for all four branded sites.
Making an Impact
Nebo's work to reorganize and restructure the Arrow website has paid off big-time, resulting in higher search result rankings and the subsequent organic traffic increases, plus easier navigation between pages and less confusion between sites.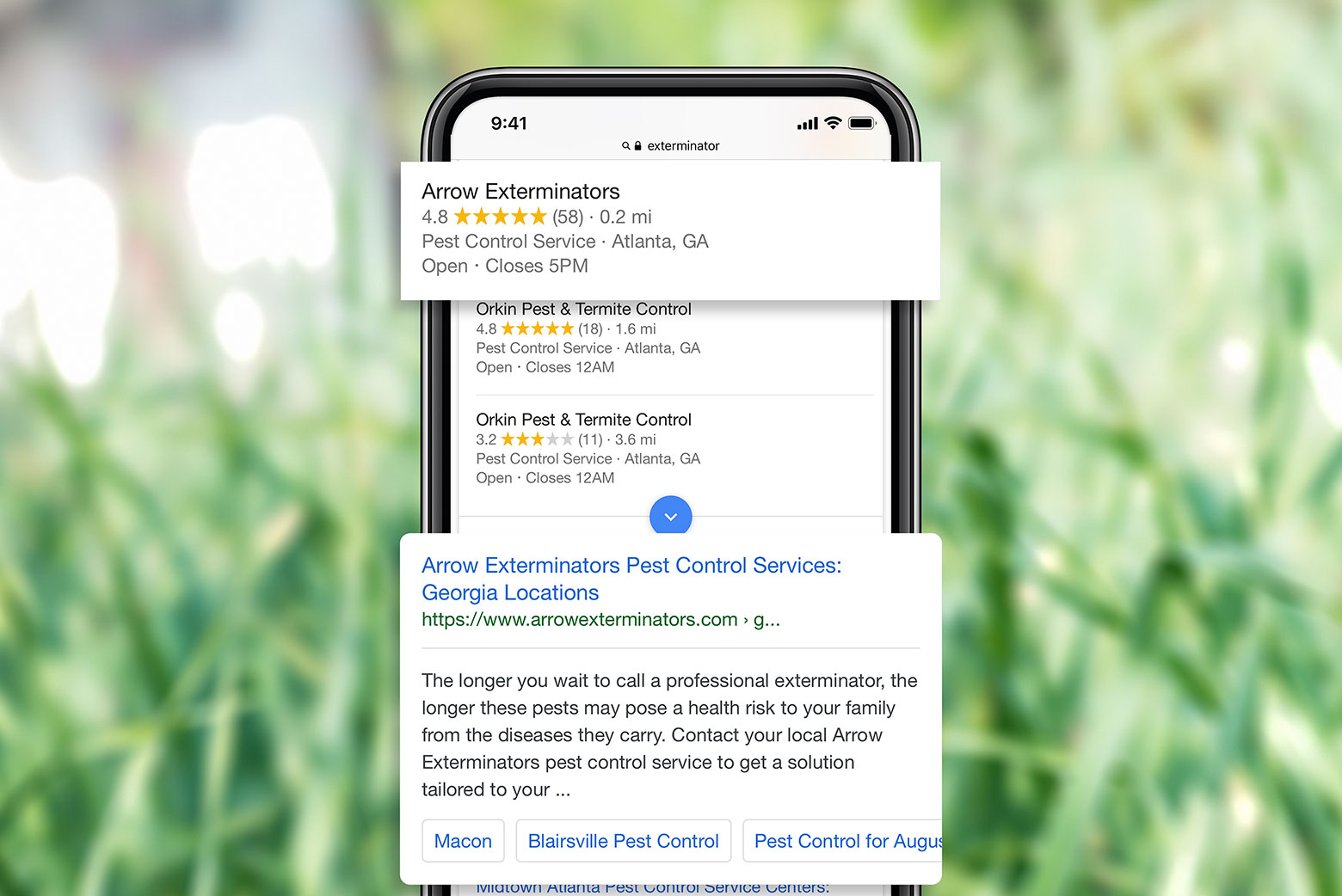 Avoiding the Yuck Factor
Pest control isn't the most pleasant topic. In order to avoid filling people's social feed with scary images, we utilized a fun and light-hearted illustration style that engaged users and made the topic approachable.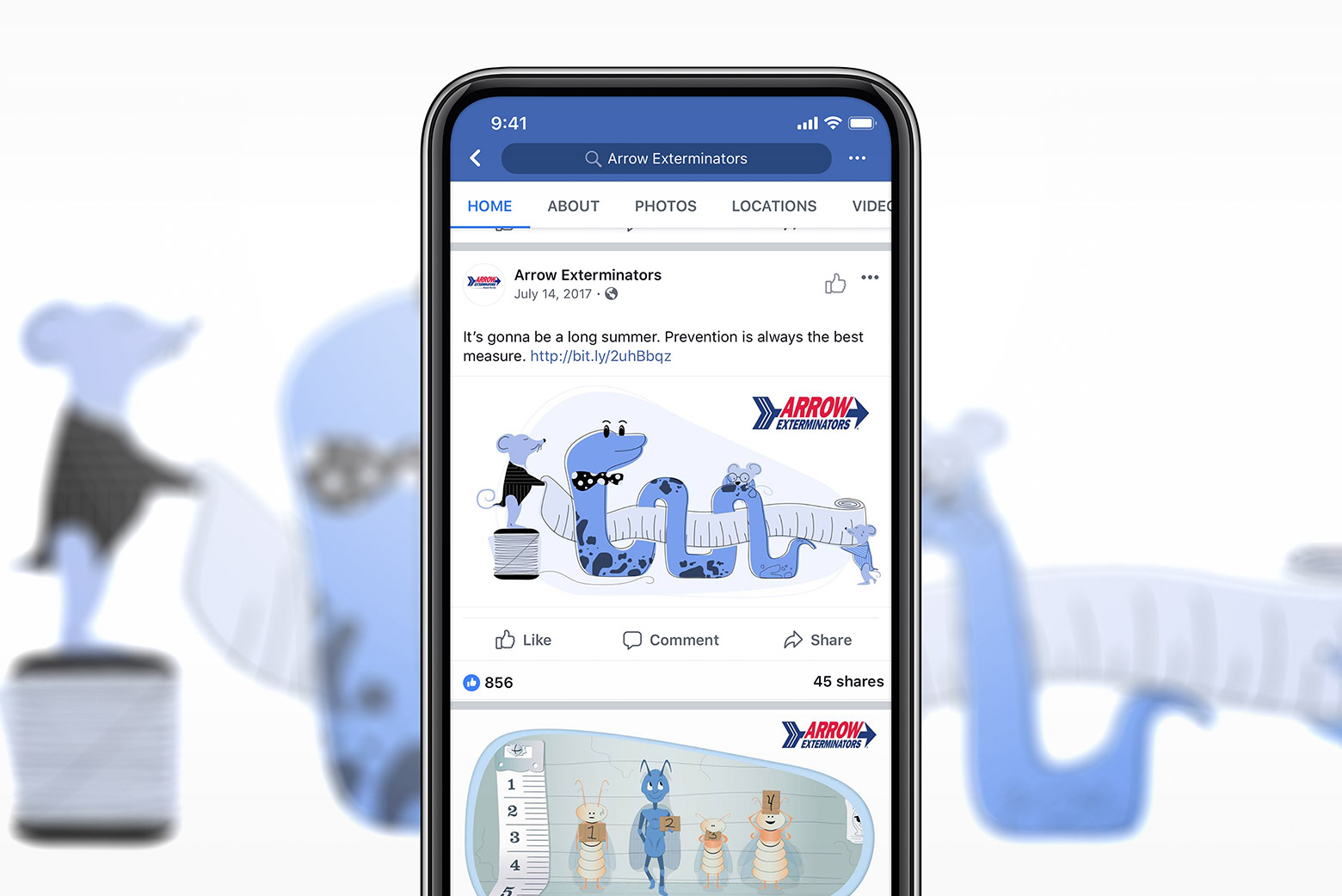 Bite-Size Visual Stories
Infographics helped Arrow tell seasonal stories around pest control in a compelling way.