Who Will Win the Streaming Wars? Early predictors of OTT streaming services in 2020 have seen a major shift thanks to shelter-in-place orders and a massive increase in streamers who are stuck at home. One would think the pivot in new users would set some of the new streaming apps up for success, but some providers are still struggling to tweak their offerings in a hope to increase new downloads and subscribers.
The future of OTT streaming in 2020 and beyond will ultimately be decided by which new streaming apps sink or swim among the continuity-crowded app pool, and who will be nimble enough to survive.
Setting the Scene
CTV and OTT — both are widely used acronyms in digital marketing, but what's the difference?
OTT or over-the-top are providers that stream content via an internet connection, bypassing traditional forms such as broadcast, satellite and cable. Think Hulu, Netflix, and Disney+. Meanwhile, connected TVs (CTVs) are televisions that connect to the internet and support OTT apps and channels. These would be your Roku and Amazon Fire TVs.
While there are a fair amount of CTV providers and companies out there, the CTV industry is nothing compared to the world of OTT. 2019 was the year of new players in streaming, as well as consolidations — which means 2020 is officially the year of the streaming wars. As the space continues to become more fragmented, what can marketers expect in 2020? Our team at Nebo predicts consolidations and lots of them.
With so much disruption in the space, one of the biggest concerns is that the amount of consumers who spend money on OTT streaming is not growing with the number of emerging platforms. The number of cord-cutters continues to climb, but not as quickly as the number of emerging streaming services. With shelter-in-place orders taking effect earlier this year, streaming services saw an unprecedented jump in viewers searching for new forms of entertainment. But will the popularity of streaming last beyond quarantine? Only time will tell if the number of streamers stays consistent when life goes "back to normal" (whatever that may look like).
Disney+ emerged in 2019, along with announcements for companies like Quibi, HBO Max and Peacock from NBCUniversal. With over 50% of US adults estimated to be cord-cutters by 2021, it's no surprise that networks and streaming services are clamoring to get a piece of the pie.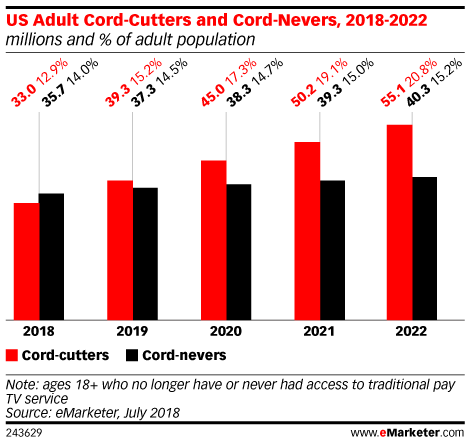 Standing Out in a Saturated Market
To be successful in a space with so much competition, streaming companies will need to be innovative, nimble and flexible to change. Companies will need to fight for the consumer dollar. According to eMarketer in an August 2019 polling by PC Magazine, 40% U.S. internet users who subscribe to a video streaming service were only willing to pay up to $20 per month for streaming video services. Only 29% were open to paying more than $40 per month.
Services like Apple TV+ are finding innovative ways to corner their share in the market. Apple is giving customers a free year of Apple TV+ when they purchase a new laptop, iPad, or iPhone, hoping to hook consumers to where they will continue their membership once the year is up.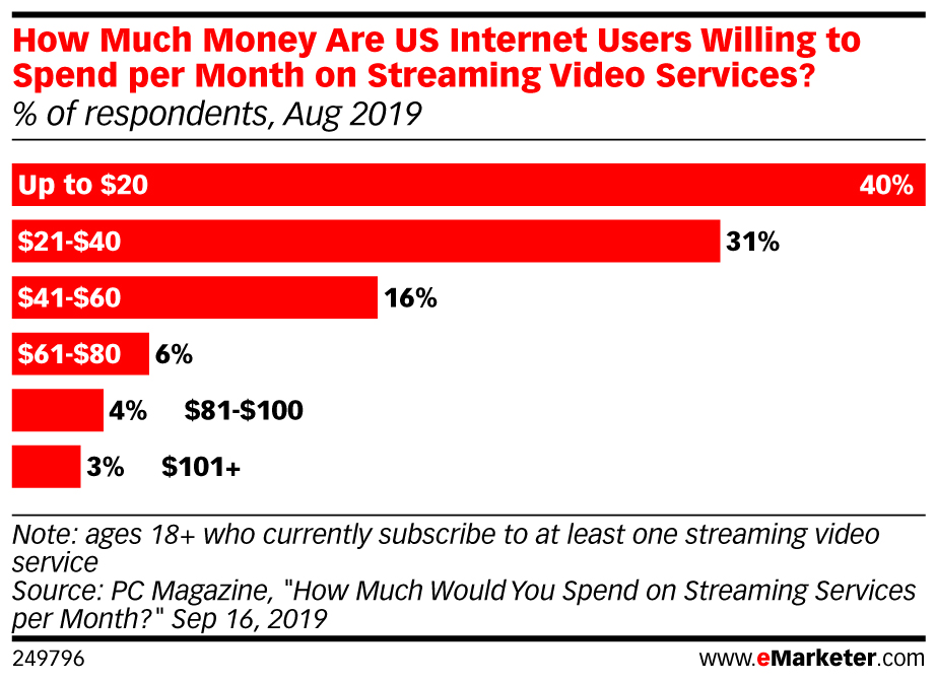 Quibi, a newcomer in the world of streaming, shook things up when it launched in April 2020. Quibi stands for "quick bite," so named for its short-form content specifically meant to be consumed on mobile phones. Quibi videos are no longer than 10 minutes apiece, and were made to be viewed during commutes, lunch breaks, in waiting rooms and anywhere else you might be looking for a quick break for entertainment. However, shelter-in-place orders threw a wrench in Quibi's business model. After launching, Quibi quickly realized viewers who were stuck at home still wanted the option to watch Quibi on TV, and pivoted from their mobile-centric experience to allow viewers to cast Quibi shows to their smart TVs.
The new streaming platform has snagged some big names in Hollywood to create original Quibi content, including bringing back some fan favorites like Reno 911 and Punk'd. Chrissy Teigen, Joe Jonas and Andy Samberg, just to name a few, will be hosting their own shows for Quibi. The famous Stephen Speilberg will be creating a horror show called Spielberg After Dark, which will only be available after dark in the viewer's time zone.
Pricing Models to Stay Competitive
More and more streaming services are offering tiered pricing structures. Hulu offers a pricing structure, basic at $5.99 with ads, $11.99 for premium with no ads, or you can opt for bundles like Live TV and basic for $54.99, or Live TV and premium for $60.99. Throughout the rest of 2020, we predict that more streaming services will start doing the same.
Quibi offers a plan at $4.99 a month where users will be shown only one ad per episode. For $7.99 a month, you can stream ad-free content. Peacock, NBCUniversal's newest streaming platform offers tiered pricing models as well. Their free version is ad-supported with next-day content available, with a premium option for $4.99 that has everything available to stream, but still shows commercials. And if you are a Comcast customer, it's your lucky day. For just $4.99, ($9.99 for the rest of us chumps) you can stream ad-free.
What does all this mean? Options, options, options. Just how badly do you not want to see commercials? How many platforms are you willing to subscribe to? With low-tier pricing points that are ad-supported, streaming services are hoping to win you over — until you wake up one day and realize you are spending $100+ on a myriad of streaming services and question your financial decisions.
Bundling
Some companies are finding that in order to be top dog — or just survive — in the OTT marketplace, acquisitions are necessary.
A handful of acquisitions are happening based on technologies and data. Telaria (formerly Tremor Video), a specialized CTV platform for publishers, was purchased by Rubicon in December 2019. The union of Rubicon's ad exchange and Telaria's optimization platform will create one of the biggest sell-side programmatic platforms (SSP) in the game.
These mergers are helping mend our extremely fragmented space. A marketer can only hope that these tech stacks will make our lives easier by helping us plan, optimize and report on OTT campaigns.
TapAd is no stranger to partnerships. In 2019 alone, it partnered with Acuity, Retargetly, Knorex and Lifesight. According to TapAd, their partnership with AcuityAd's DSP will help marketers optimize cross-device campaigns and performance, while increasing their reach across additional digital screens.
And perhaps one of the biggest mergers and acquisitions of 2019 was Roku's acquisition of Dataxu. That means the OTT giant now has its own active DSP, giving media buyers direct Roku inventory, hoping to provide a more holistic approach to planning and buying. Due to the merger with Roku, Dataxu will no longer carry Amazon Fire inventory.
Symbiotic Partnerships and Bundling
Amazon has inventory on its own DSP for Amazon Fire, and have kept a stronghold on that inventory by being very picky about which DSPs they let access that inventory outside their own. The tech giant is now looking to sell ads for streaming services outside of their own, like Apple and Android TVs, plus gaming consoles like Xbox and Playstation. One of the many benefits of buying inventory through the Amazon DSP for other platforms would be
the ability to layer on Amazon's first-party data
, which includes shopping and browsing behavior collected from its own ecommerce websites and apps.
Many publishers find it difficult to sell all of their inventory on their own. This relationship could prove fruitful for both parties involved. Amazon will be able to sell a portion of the inventory and is promising to do it at a higher price than other platforms as well.
Meanwhile, some companies are bundling up for the sake of offering extended shows and services for customers in order to survive in this aggressive streaming market. Thanks to Disney owning ESPN and having a stake in Hulu, Disney was able to offer a Disney+, Hulu, ESPN bundle for just $12.99, comparable to Netflix's subscription rate. The more bang for your buck, the better the value add.
The Future of OTT
Streaming services, DSPs, SSPs — they are all learning how to band together to survive the fragmented ecosystem that is OTT. And with new streaming services launching this year, who's to say it will stop there? The competition is heating up, and as consumers, our dollars will determine who is successful and who fails.