2020 Is a Year of Growth for First-Party Data Capabilities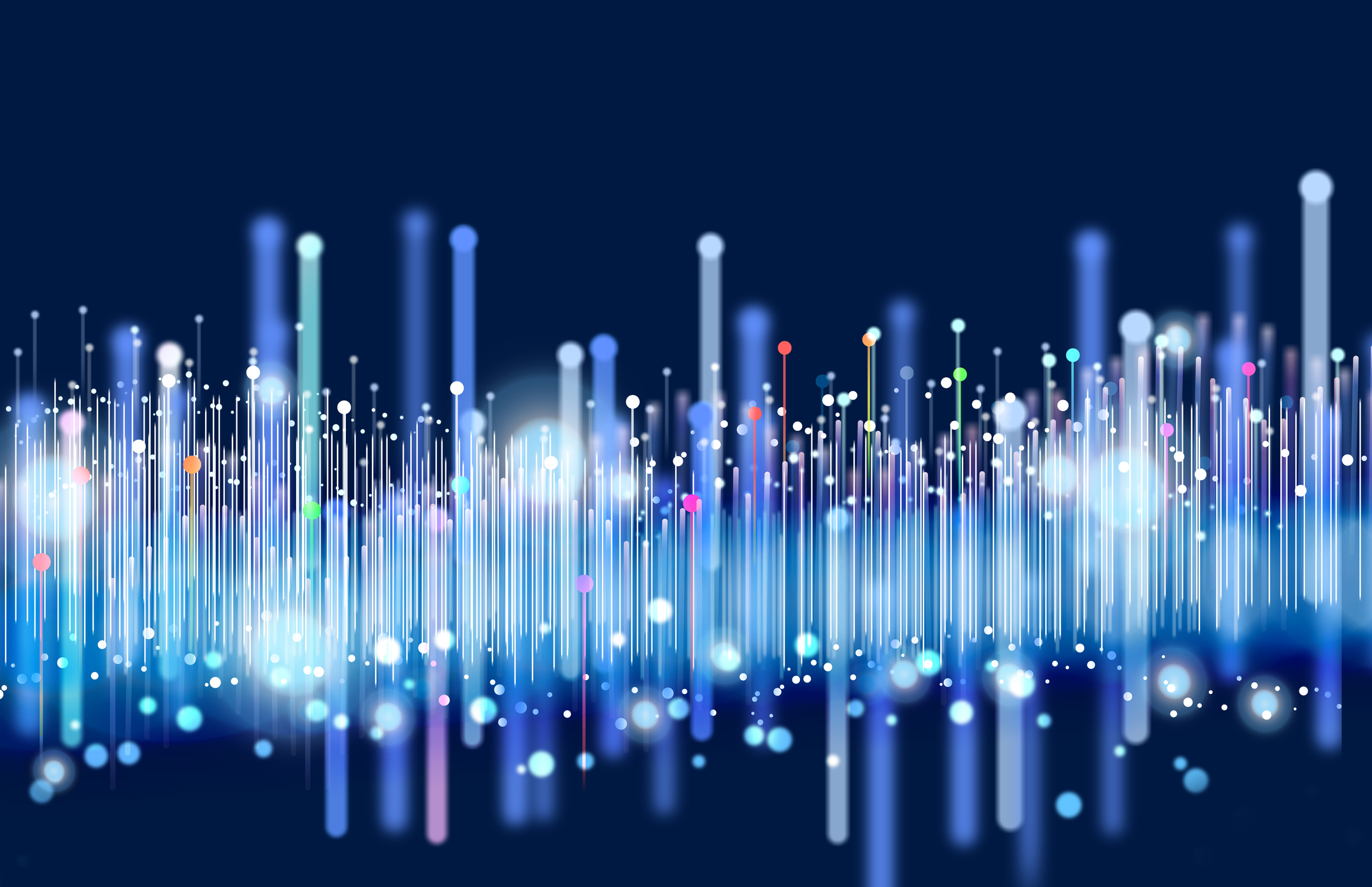 Coronavirus has drastically changed the landscape of everyday life — and it has reshaped the landscape of first-party data, too.
During quarantine, people have turned to apps and services to purchase their necessities for pick-up and delivery. With a majority of Americans homebound, people have found themselves relying more heavily on online ordering, opting to have products, goods and groceries delivered. After all, why wander down grocery store aisles when you can easily peruse an app, and in some cases receive free delivery? Of those who bought groceries online during the first few months of the pandemic, one survey found that 41.8% had never ordered online groceries before.
This influx of new customers and users has only aided the ever-growing first-party advertising space, allowing companies to garner more audience data than ever before.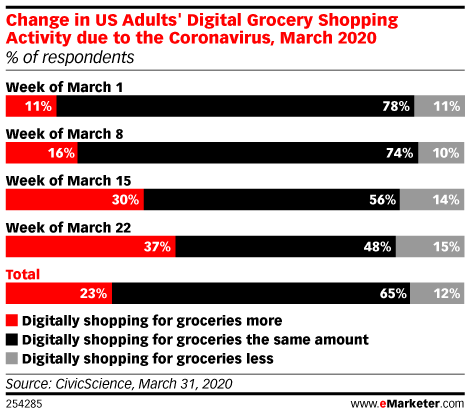 The past year has seen the rise of first-party data, unlocking more new and interesting ways to engage with audiences and promote products. With the death of the third-party cookie imminent, marketers are shifting their gaze to first-party data providers. Companies have been collecting audience data sets including shopping behaviors, purchased product details, demographics and a handful of other audience insights, from online shopping information to account and rewards-based initiatives.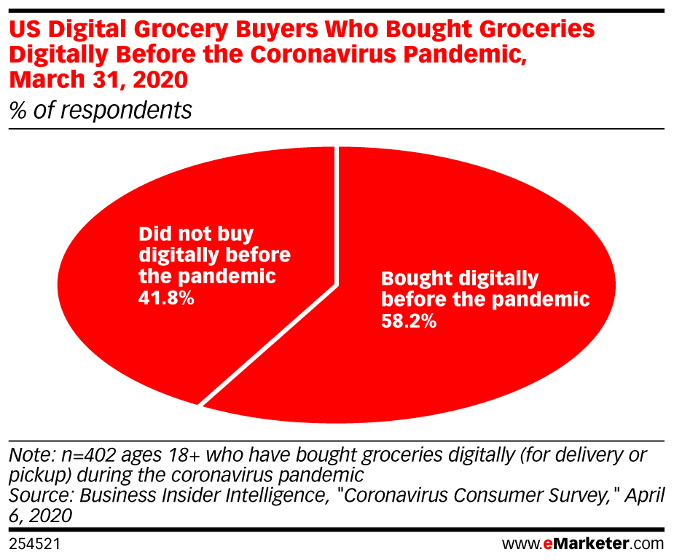 A handful of companies and brands are starting to capitalize on their first-party data, the two most notable being Walmart and Amazon.
As an early adopter of capitalizing on first-party user data, Amazon established themselves early on as a first-party media-buying tool, creating their own DSP and self-service platform. Amazon started to work on their advertising capabilities in 2008 and have been expanding their offerings ever since. Amazon has their own DSP, allowing advertisers to purchase ads for display, video, CTV and audio programmatically across the web. You don't need to be an Amazon advertiser to take full advantage of their data sets. The self-service offering allows Amazon sellers and non-Amazon advertisers to scale and reach a highly targetable audience based on their Amazon purchasing behavior, as well as attributes collected from Amazon-owned sites like IMDB. Amazon has allowed marketers to create a full-funnel approach, solely utilizing their DSP. The DSP also allows you to access and layer third-party audiences on to Amazon's first-party audiences.
Besides their vast CPM offerings, Amazon also has CPC-ad capabilities. Amazon's sponsored products promote seller's listings on the Amazon platform. In order to use this feature, a marketer does need to be an Amazon seller or vendor. This is necessary since the primary function is to promote items in the Amazon store for purchase.
More recently, Amazon has expanded their offerings by launching sponsored display ads. Similar to Google Display Network, this allows Amazon marketers to quickly launch display ads. The offering is primarily geared toward current Amazon sellers and vendors who are looking to retarget users across the web. Advertisers have the ability to retarget users who have viewed your product on the Amazon platform, serve banner ads to users who have viewed similar products on the platform and utilize interest-based targeting. This is a good alternative and stepping stone for advertisers who are looking to eventually expand to a full programmatic approach with the Amazon DSP.
Walmart, Amazon and other online grocery apps have seen monumental growth during the pandemic. Walmart's president stated that "the number of new customers using pickup and delivery had increased fourfold since mid-March," when shelter-at-home orders began in the U.S.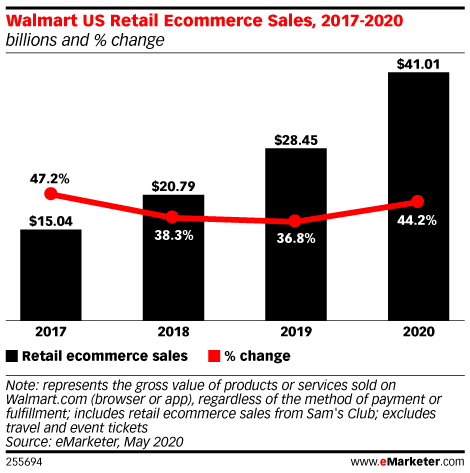 With 160MM customers visiting Walmart.com on a weekly basis, it only makes sense that Walmart jumped into the self-serve marketing game. Walmart offers an omni-channel approach, offering promoted products online and promising to report back offline and online sales, stating that 87% of sales still happen in-store. Walmart's offering also focuses on lookalike audiences, helping you reach new customers based on past purchases and creating a more defined target audience, helping marketers extend their reach past Amazon.
Following the likes of Walmart, Instacart, the online grocer, launched a self-serve platform where brands can insert products into online shoppers' feeds. Users can be sent targeted banners and served featured promoted products in their search queries. Advertisers on Instacart are even able to optimize towards sales and view ROAS based on sales within the app. In the grocery space, Kroger has also launched a self-serve ad platform with the ability to attribute offline and online sales. Utilizing Microsoft PromoteIQ, Kroger's advertising platform allows advertisers to promote products and serve banner ads. Kroger Precision Marketing (KPM) has prioritized advertisers measurement needs by only applying 100% verified transactions to determine ROI.
And Kroger continues to further develop their capabilities. This June, Kroger was named a launch partner for Roku's new shopper data program. The partnership will further CPG advertising and measurement, by allowing marketers to not only see deeper insights and measurements from OTT performance, but Roku's platform will also allow Kroger marketers to measure performance of linear buys.
Target also jumped on board the ad-platform offering last year. Utilizing target insights based on first-party customer behaviour, marketers can craft campaigns using Roundel, Target's programmatic ad-buying platform. With the promise of connecting marketers' ad spend to sales, the Roundel platform offers display, social, CTV and audio-advertising opportunities. Roundel boasts a handful of case studies, all focusing on Target's first-party data coupled with further contextual and behavioral targeting to drive brand success and ROAS.
Perhaps one of the newest players to the ad network game is CVS. The neighborhood pharmacy is rolling out the CVS Media Exchange later this year. It will include display, social and search ads. CVS's main difference from other retailers is that it will initially be managed service only and offer dynamic creative capabilities. The dynamic capabilities will enable brands to change their messaging based on location, demo and other targeting factors, including past shopping behavior and history.
The coronavirus pandemic has forced marketers to look past their regular media buys for new ways to reach their target audience and increase scale across a multitude of different platforms while using first-party data like never before. Amazon, Walmart and other online retailers have seen inexplicable growth in 2020, opening up new and exciting advertising capabilities that will continue to persist beyond the pandemic as users become more accustomed to shopping online for daily necessities.